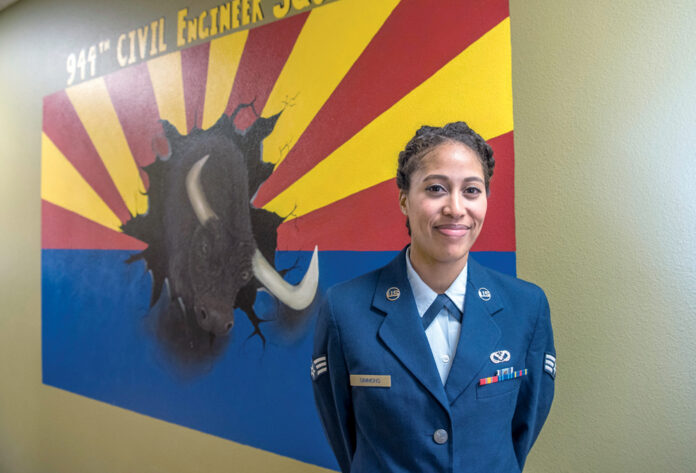 When Senior Airman Psalm Simmons saw a void in her workplace, she took the initiative to share hidden talents with her squadron.
As an accomplished artist, Simmons saw an opportunity to share her abilities with her squadron. Through crafting a mural depicting the squadron heritage and logo, Simmons is credited with not only boosting morale, but helping to sustain the squadron's heritage.
"I started getting serious about art back in 2014 after I graduated," Simmons said. "People are usually really surprised that I'm artistic. I usually keep it to myself."
Simmons, an operations management specialist with the 944th Civil Engineer Squadron, is the epitome of a well-rounded Reserve citizen airman. As a traditional reservist, a student, a dental administration specialist, and an artist running a small business, she brings a diverse background of skills to her workplace.
"The contributions of each Airman come from different perspectives," said Maj. Patricia Hartman, 944th CES commander. "The Air Force looks at the well-rounded individual who can come in and build something more."
Additionally, Hartman spoke to the value of Airmen, not only bringing more to the table than what is asked of them, but also the sacrifices they go through to do so.
"So much of what we do in the military is not about what we are ordered or asked to do, but rather when we see a void, be it on a wall or otherwise, we fill that void," Hartman said.
Hartman emphasized that the time it took Simmons to depict the squadron's heritage was done on her own time. The time and resources were not available to put Simmons on orders for this project. However, Simmons saw the importance of maintaining her squadron's heritage and volunteered her own time to do so.
According to Hartman, the future looks bright for Simmons or any Airman who contributes more than what is asked of them.
"It speaks volumes of where she can go and what she can achieve along the way," Hartman said. "We have Airmen that can give in so many other ways."