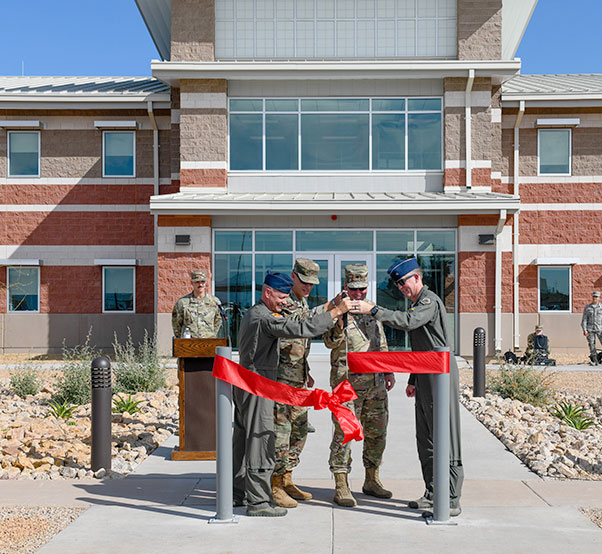 The new consolidated 56th Communications Squadron facility opened with a ribbon cutting ceremony Feb. 20, 2020, at Luke Air Force Base. Ariz.
Consolidating from four separate communications buildings to one centralized building allows the squadron to efficiently connect Airmen by delivering cyber capabilities.
The 56th CS mission is to connect Luke's members through the ongoing installation, operation and maintenance of its technology.
"We'll be able to do [our mission] better out of this facility," said Lt. Col. Nathaniel Edwards, 56th Communications Squadron commander. "We've got all the 'Comm-Bats' under one roof. We can talk to each other, build better teams and patch systems faster. We're going to help you move to the next phase and keep these jets flying as high and proud as they always do."
The military contract (MILCON) has been slated for completion since 1999. The project planning began in 2014 and ground-breaking progress happened in 2018.
"On behalf of the Airmen in 1999 who put this MILCON project on the list, to those 20 years later who saw its completion, thank you." said Col. Ryan Richardson, 56th Mission Support Group commander.
Extraneous planning and time was needed to complete this project. It took approximately two years to construct the facility.
"We started with the design, reusing the 2011 design," said Master Sgt. Michele Polachek, noncommissioned officer in charge of plans and programs. "We worked with the Army Corps of Engineers and looked at how our squadron has changed since the last design and made the appropriate changes as necessary."
Brand new communications facilities are a rare sight in the Air Force, said Edwards.
"I have worked probably 30-plus MILCON projects in my career," said Polachek. "I've seen one other communications facility in my career and it had just finished. This is the very first MILCON contract that I've been able to work from the very beginning of design through construction and actually get to sit in the building."
The hard work paid off when the facility officially opened up.
"I know there were trials and tribulations but this is the right communications facility at the right time for the fifth generation fighters and the largest fighter wing in the world," said Richardson. "Congratulations 'Comm-Bats,' it's a great day to celebrate a new facility."