The Saguaro Skies FamCamp is now open at Luke Air Force Base, Ariz.
Sam Harvey, 56th Force Support Squadron recreation complex manager, first envisioned a FamCamp at Luke in 2005. However, without adequate space to build, the project didn't take off until the ideal location presented itself in 2012 and the paperwork was submitted to get the ball rolling.
"I saw a need and completed a large survey to make sure the market would bear it, and it did," Harvey said. "We've had a lot of requests for this."
Luke AFB is located just outside Phoenix, which is the fifth largest metropolitan area in the United States, offering travelers everything from sporting events and museums, to endless hiking and dining options.
"Generally, FamCamps do very well, particularly on bases where people like to travel and Phoenix is certainly one of those places," said Col. Ryan Richardson, 56th Mission Support Group commander.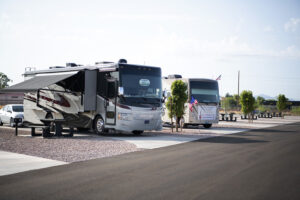 "Traveling, glamping (glamourous camping), FamCamping and traditional camping; even under COVID-19 conditions, have represented persistent opportunities and activities for people to do and do safely. So we are very excited about it," Richardson continued.
The FamCamp has 61 pull-thru spaces that are 60 feet long, with 30- and 50-amp electrical service, water and sewer to each.
"Saguaro Skies also has men's and women's restrooms with showers, a community room with books, television, mini kitchen and desk space, as well as washers and dryers free of charge for FamCamp guests," said Harvey.
At $30 a night, guests can stay for up to 21 days and potentially longer if space is available at the conclusion of their 21-day reservation. Active duty service members can make reservations up to 60 days prior to their check-in date, and all other Department of Defense ID cardholders can make reservations up to 30 days in advance.
"Under COVID-19 our Morale, Welfare and Recreation Fund has certainly taken a hit," said Richardson. "This offers yet another opportunity to restore critical resiliency platforms across the installation."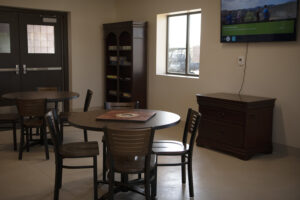 The FamCamp is located within walking distance of the Commissary, Shoppette and Base Exchange, providing convenience for guests and additional revenue for partners which helps maintain Morale, Welfare and Recreation Funding that ultimately comes back in programming for service members and their families.
"We're confident that it's going to be successful, but we also welcome feedback and may need to make adjustments in regard to traffic flow and business operations moving forward," said Richardson.
Guests pulling trailers and driving RVs may only enter Luke AFB through the South Gate entrance. Signs are posted along the base roads to guide guests to the FamCamp.
For questions and reservation requests, please visit the Luke AFB FamCamp Facebook page, www.lukeevents.com or call the Outdoor Recreation office at 623-856-6267.