Maj. Gen. Phillip Stewart, 19th Air Force commander, and Chief Master Sgt. Justin Apticar, 19th Air Force command chief, visited Luke Air Force Base, Ariz., Feb. 15, 2023, and engaged with Luke Airmen to gain insight on the successes and challenges unique to the 56th Fighter Wing.
This is Stewart's first visit to Luke after taking command of the 19th AF in August of 2022.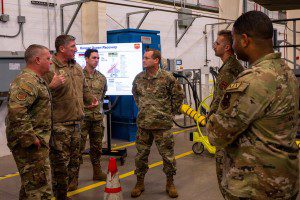 During their visit, Stewart and Apticar toured premier fighter squadrons, aircraft maintenance units and base facilities including the 61st FS, the 62nd AMU and the 56th Maintenance Group munitions squadron.
At the 61st FS, Stewart spoke with pilots on the importance of Luke's coalition training.
"One of the most important things to the Air Force is training integration with our coalition partners," said Stewart. "We fight side-by-side as a coalition, and Luke is shaping the future of F-35 training."
After their tour of the squadrons, Stewart and Apticar held an All Call event where they introduced themselves, discussed their priorities and expectations, and fielded questions from Airmen.
At the All Call, Chief Apticar spoke to supervisors about being frontline leaders for their Airmen.
"Without trust, you're just a supervisor," said Apticar. "To be a frontline leader you have to build trust and communicate with your Airmen. A frontline leader listens to their people and shows them respect so everyone has full capability to complete the mission."
Later on, Stewart and Apticar met with Brig. Gen. Jason Rueschhoff, 56th FW commander, and Chief Master Sgt. Jason Shaffer, 56th FW command chief, as well as members of the Balfour Beaty Communities Housing Office to discuss initiatives and future plans surrounding the Luke AFB housing community.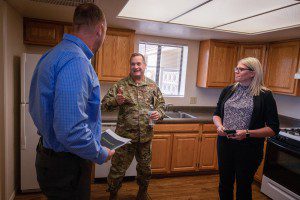 "At the end of the day, we're here to make our Airmen's lives better," said Stewart. "Holding town hall meetings gives us an opportunity to address the concerns of our people directly as well as discuss the best solution for problems."
Stewart and Apticar culminated their visit with a briefing from the Community Initiatives Team. They visited with Luke AFB community and civic leaders to discuss extensive growth surrounding the base, the Auxiliary Airfields, and the actions taken to preserve Luke's long-term mission.
The 19th AF commander thanked Airmen and their families for their hard work and support while Luke continues the mission of training the world's greatest fighter pilots and combat ready Airmen.
The 19th AF oversees the 56th FW and is responsible for the training of more than 30,000 U.S. and international military students annually, in a variety of specialties ranging from manned aircraft aircrews, remotely piloted aircraft crews, air battle managers, weapons directors, Air Force Academy Airmanship programs, and Survival, Escape, Resistance, and Evasion specialists.