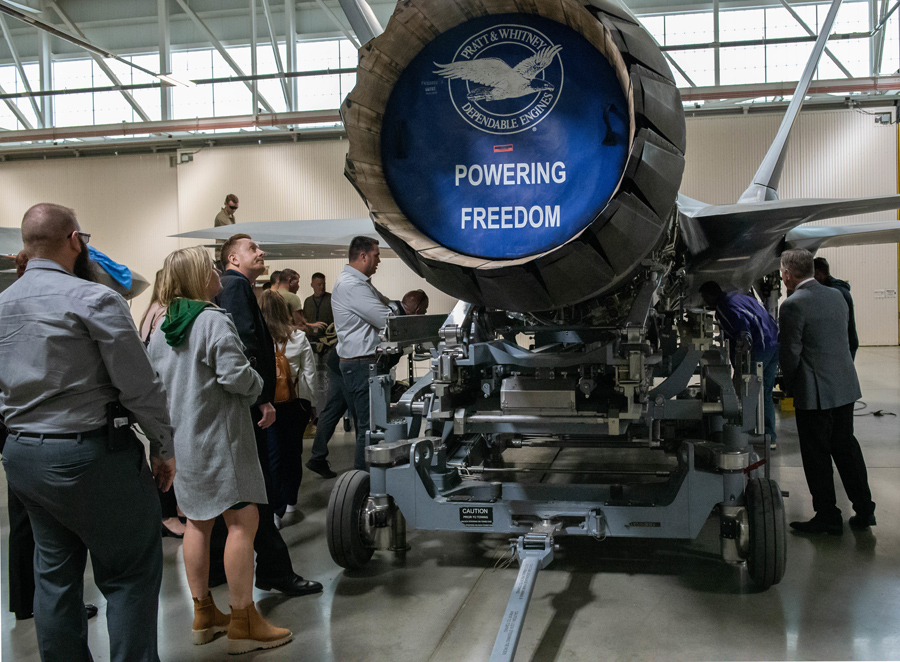 The 56th Fighter Wing hosted Phoenix-area educators for a West Valley Educators Immersion Tour at Luke Air Force Base, Ariz., March 31, 2023.
"From pharmacy technicians to air traffic controllers, fighter pilots to maintainers, our educators got to see a little bit of everything during their visit to Luke AFB," said Brig. Gen. Jason Rueschhoff, 56th FW commander. "We were proud to host the West Valley educators for this visit. Education is not only about imparting knowledge, but also about instilling positive character and values in our youth."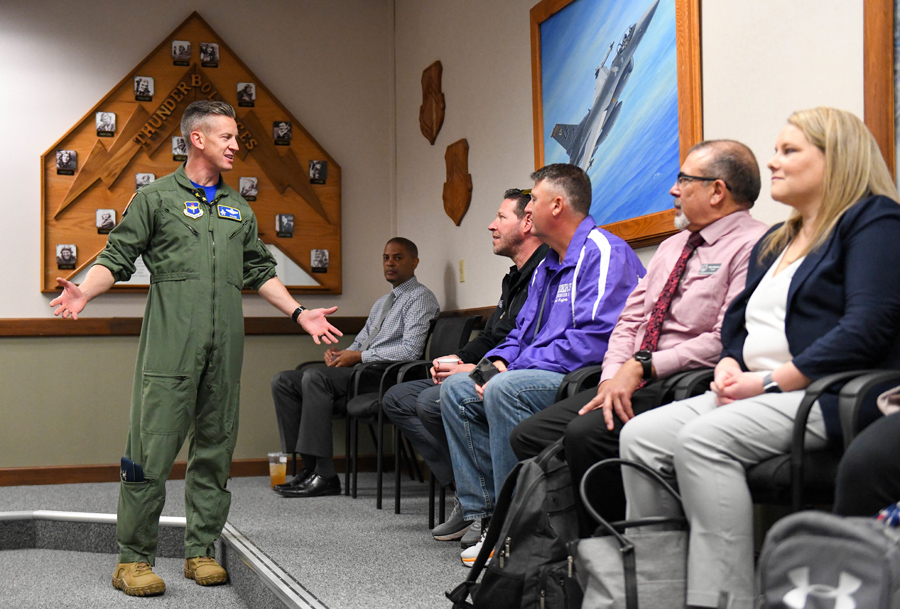 A total of 27 educators toured the base, receiving information on the wing's mission and gaining insight on opportunities available to students interested in joining the U.S. Air Force.
"It was an honor to host our educators and let them see behind the curtain for a day," said Rueschhoff. "The military has a lot of fantastic options for our youth to keep learning and growing if they choose that path."
Base tours offer opportunities for wing leadership to storengthen community partnerships and contribute to public knowledge of base operations.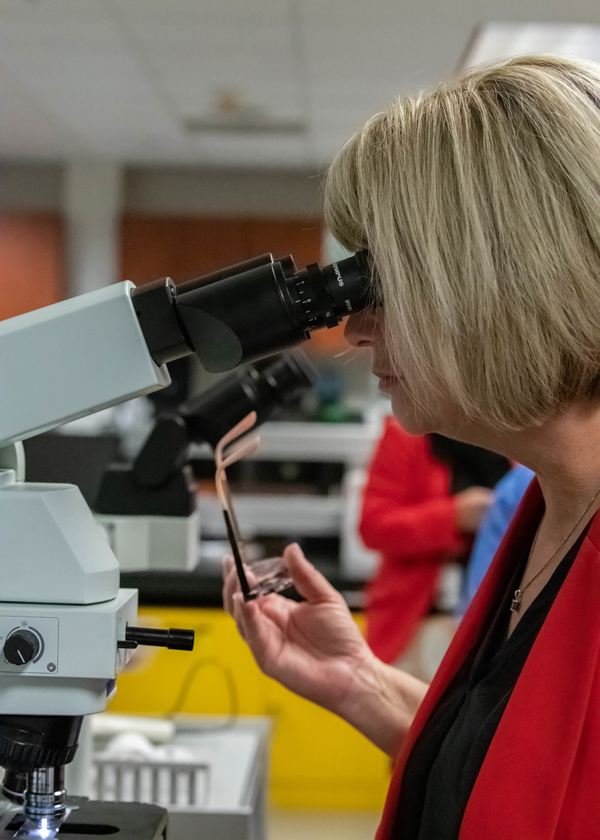 "This immersion allowed the educators to come out to Luke AFB, and make a connection with base leadership, Department of Education, and the School Liaison Officer," said Stacey Holland, the School Liaison Program Manager. "We wanted everyone to get a better understanding of how we can work together to support our military-connected students."
As the school liaison officer for the 56th FW, Holland is familiar with many resources available to military families and serves as the connection between base leadership, families and the schools in the community.
Phoenix is the fifth largest city in the country and over 13 thousand active-duty members and their families stationed at Luke AFB attend over 500 schools in the West Valley. Holland also expressed how educators not only educate military-connected students, but can also provide support as they transition across the world with their military sponsors.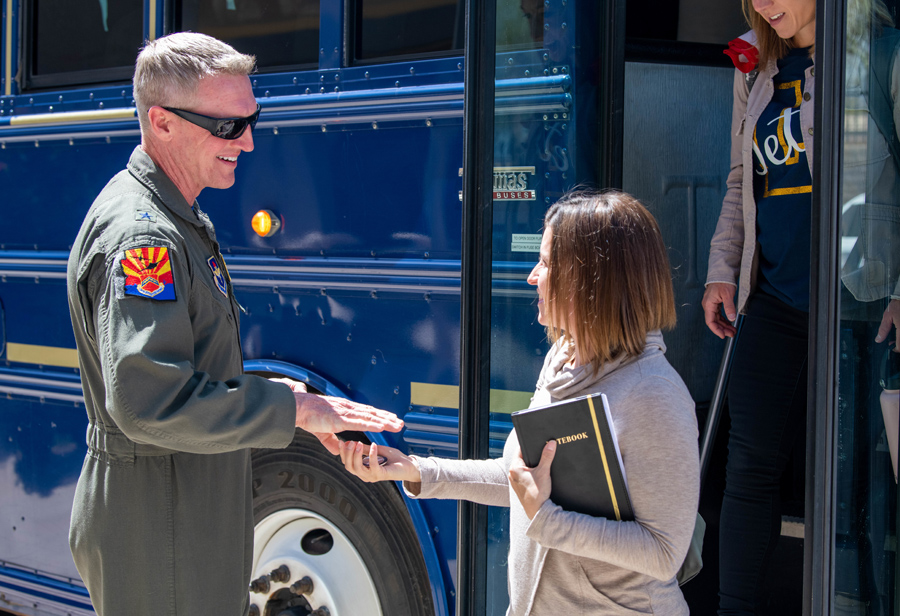 "It also allowed the educators to see the many career opportunities, as well as the beauty of Luke AFB," said Holland. "They can go back and relay to their students how the Air Force can be a great option for their future!"
The tour visited the 62nd Fighter Squadron, the 62nd Aircraft Maintenance Unit, the 56th Communications Squadron and the 56th Medical Group, introducing them to multiple Air Force career fields.?The educators had face-to-face conversations with Airmen and hands-on experience with equipment at each location.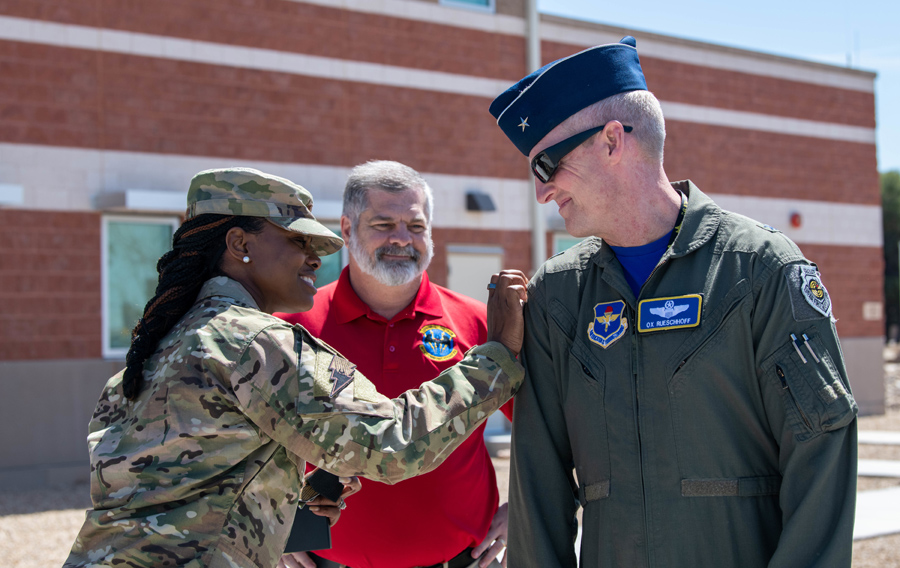 Participants ended the day with a discussion on the different mission sets within the fighter wing and additional resources for students potentially interested in the military.
"Thank you to all our West Valley educators and fellow community servants for visiting Thunderbolt Nation," said Col. Anthony Mullinax, 56th Mission Support Group commander and Military State Representative for the Military Interstate Compact. "Your selfless service is an inspiration, and we were honored to host you."