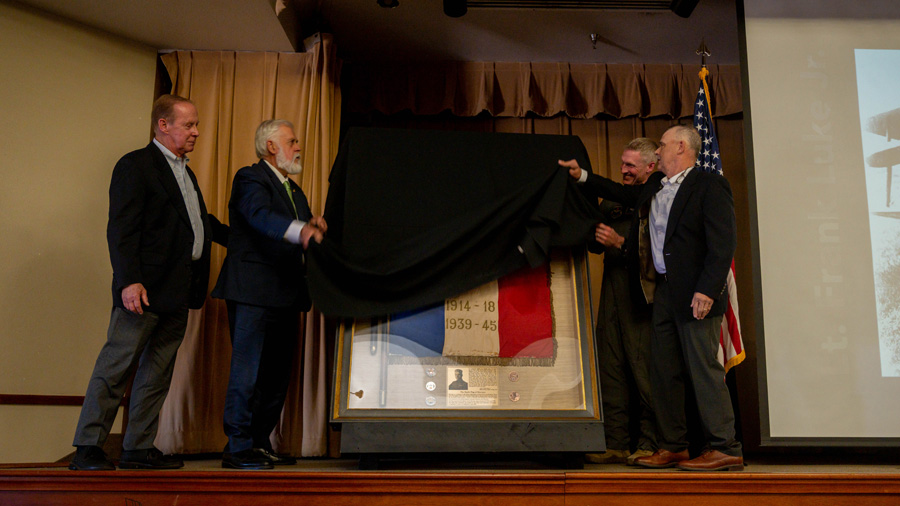 In an April 7, 2023, ceremony, leadership from Luke Air Force Base, Ariz., unveiled a flag from the grave of 2nd Lt. Frank Luke Jr. in Murvaux, France, April 7, 2023.
The flag was gifted to 56th Fighter Wing leadership in 2018 by the mayor of Murvaux during the 100th anniversary ceremony honoring Luke's death and is now on display at Club Five Six at Luke as a heritage item.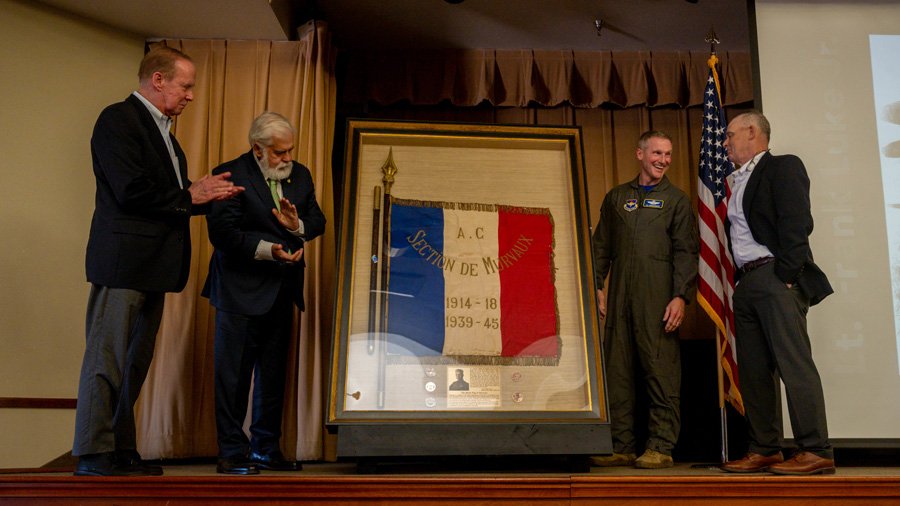 "The flag is part of Murvaux's history," said retired Lt. Col. Rick Griset, former 56th Fighter Wing historian. "It is significant that the mayor wanted to gift this historic item to the representatives of Luke AFB in order to commemorate the skill and courage of Frank Luke."
Luke was an aviator during World War I and Luke AFB, where the Murvaux flag currently resides, is his namesake.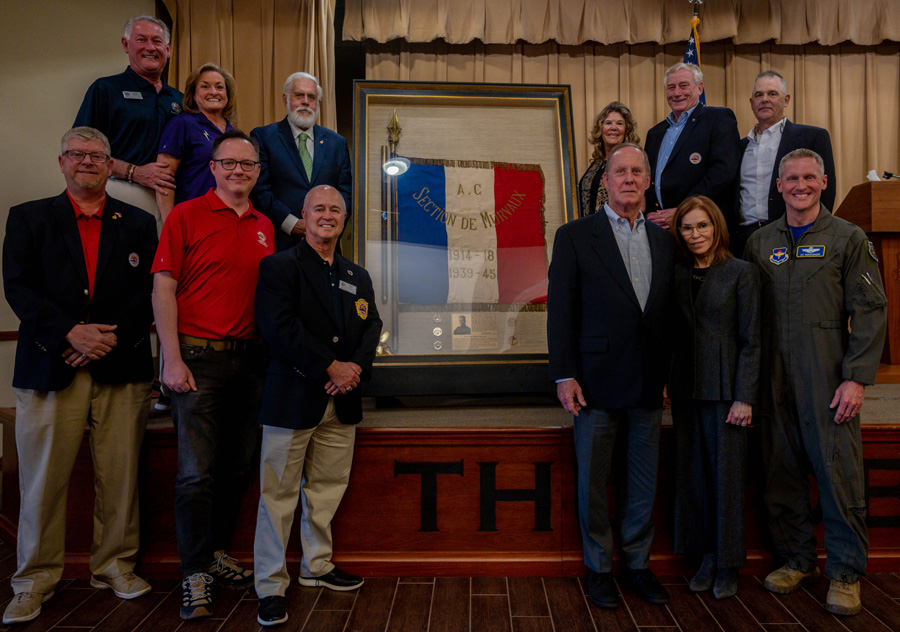 "The Murvaux flag is associated with the town where Frank Luke's last mission ended," said Griset. "That mission earned Frank Luke a Medal of Honor."
On Sept. 29, 1918, while under heavy fire from ground forces and the active pursuit of eight German planes, Luke successfully shot down three German war balloons. After finishing off the third balloon, Luke was forced to land due to injuries sustained during his aerial assault. He continued firing on enemy ground troops in his descent, killing six more German soldiers. Once his plane landed, the mortally-wounded Luke drew his automatic pistol and defended himself until he fell dead from a chest wound.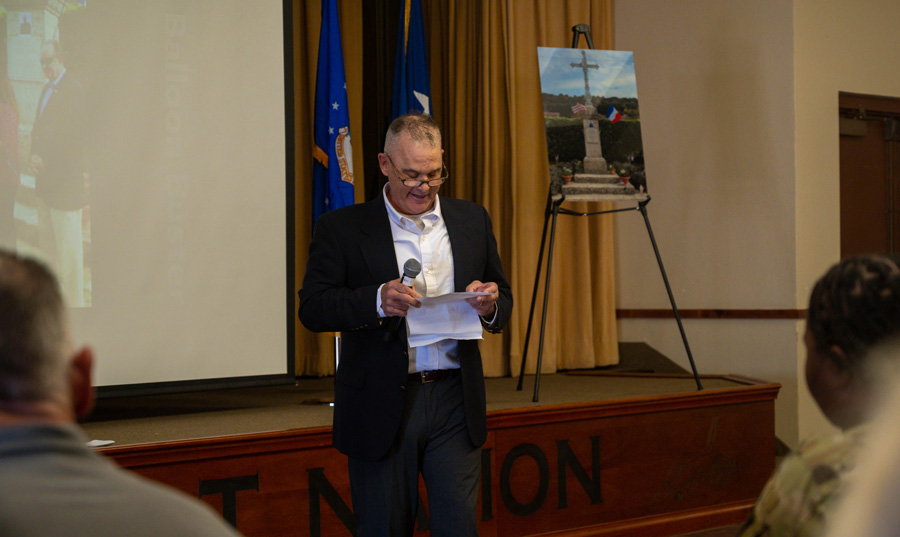 A group of farmers from Murvaux witnessed the event and buried the then unknown American aviator nearby. They later signed a statement given to the U.S. Army retelling their eyewitness account of Luke's heroism. This account led to Luke becoming the first aviator to receive the Medal of Honor.
"We are honored by the town of Murvaux gifting us this piece of our base's history," said Brig. Gen. Jason Rueschhoff, 56th Fighter Wing commander. "We strive every day to honor the legacy and heroism of Lt. Frank Luke Jr. here at Luke Air Force Base. It was his pursuit of excellence and willingness to give the ultimate sacrifice that continues to inspire our own efforts today."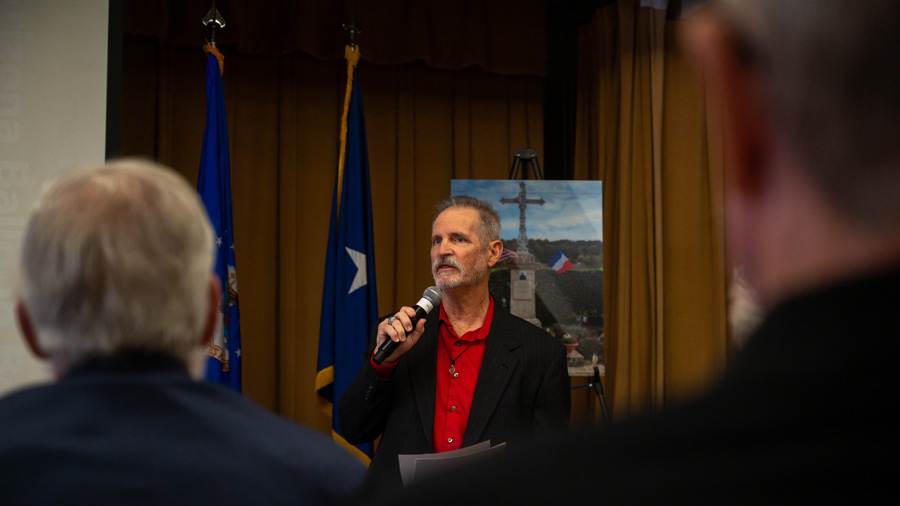 The U.S. Air Force has a long tradition of honoring the courage, integrity, and dedication of service members who made the ultimate sacrifice.