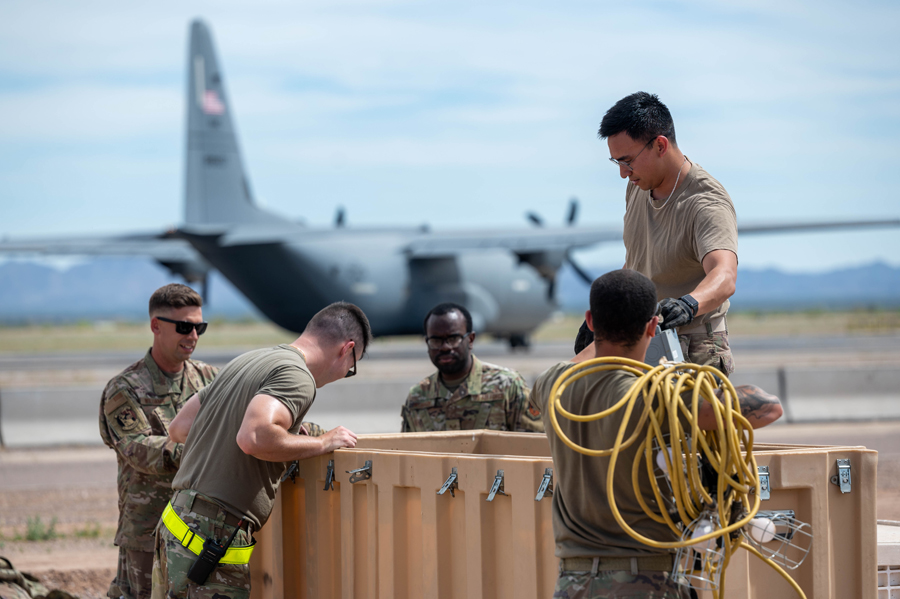 Airmen from the 56th Fighter Wing, Luke Air Force Base, Ariz., and the 317th Airlift Wing, Dyess AFB, Texas, executed Agile Combat Employment tactics during exercise Wild Coyote, April 12-13, 2023, at Gila Bend Air Force Auxiliary Field, Ariz.
The two-day training exercise included three different groups from the 56th FW operating alongside two C-130J Super Hercules aircraft assigned to the 40th Airlift Squadron.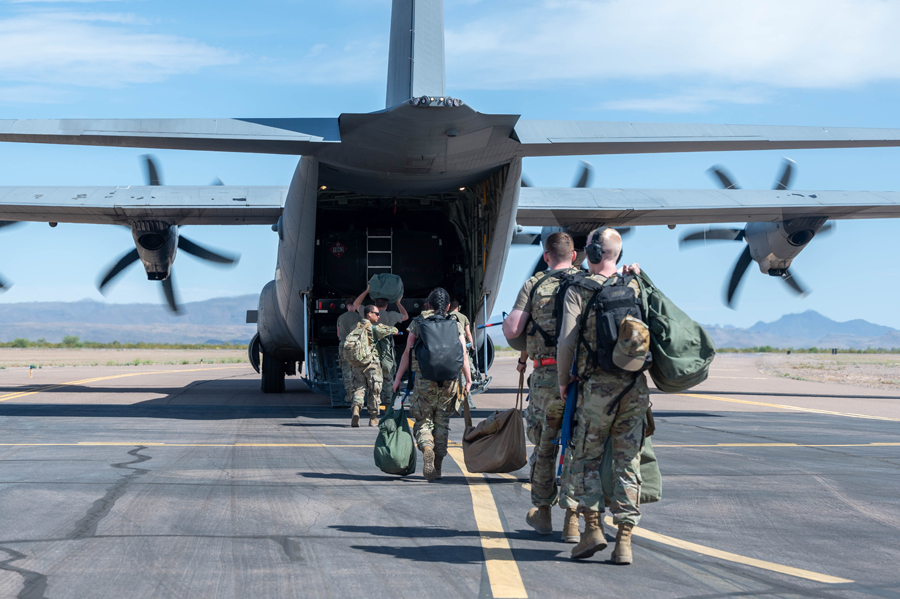 "Having (the 317th AW) join us adds vital training value for both wings," said Capt. Nicholas Carter, 63rd Aircraft Maintenance Unit director of operations. "With the different mission sets, it gives the Airmen a chance to view more of the Air Force, and gain experience that they can take to a deployment or a different command."
Focused on rapid deployment of F-35 Lightning II aircraft, Airmen executed hot pit refueling, where aircraft are immediately refueled upon landing. This drastically reduces refuel time and aircraft can return to the air in potentially under 30 minutes.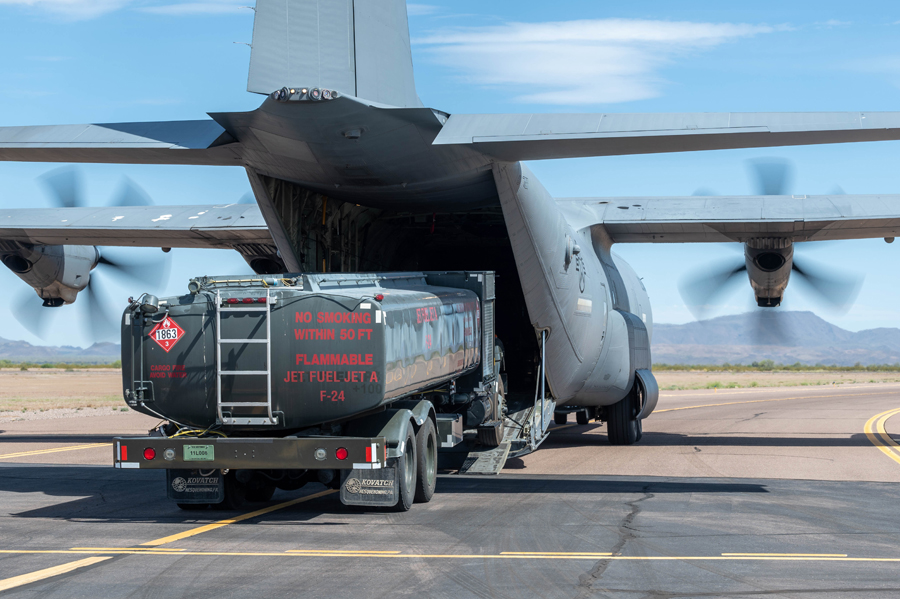 "Hot pits are not only useful for the pilots, but great training for the aircraft maintenance unit," said Carter. "It's a whole different process to perform a hot pit versus a normal refuel."
Alongside hot pits, Airmen participated in a wet wing defuel of a C-130J, where fuel was taken from the aircraft and used to refuel F-35's during the hot pits.
"The C-130's are playing a big part in the exercise," said Carter. "Not only are they helping the refuels, but they're providing transportation for our personnel and cargo."
Airmen were also involved with tasks outside of their career fields, such as setting up infrastructure and maintaining security of the airfield.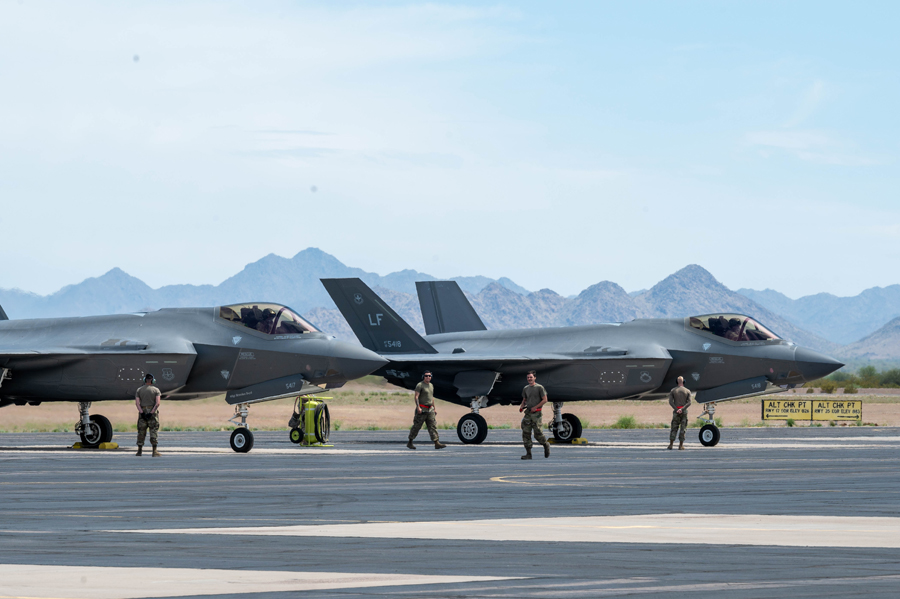 "Training Multi-Capable Airmen is crucial," said Carter. "When the maintainers aren't working on the aircraft, we need them to help with things like security, living quarters, and facilities."
According to Air University, the ACE concept was developed in response to advances in 21st century weapons capabilities and reconnaissance. Instead of relying on key central infrastructures, ACE allows the U.S. Air Force and its partners to run operations from smaller, geographically separated locations.
"(ACE) is a key concept in the Air Force right now," said Carter. "At a training base like Luke, our Airmen don't get to experience it as much, so this exercise allowed them to get that experience before they go off to another command where it's more prevalent."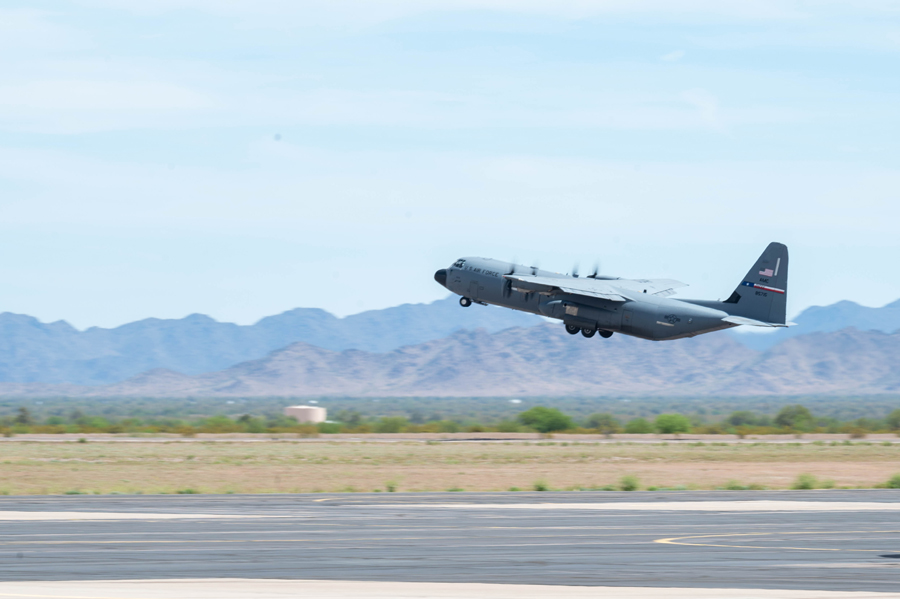 Col. Anthony Mullinax, 56th Mission Support Group commander, emphasized the importance of exercises like Wild Coyote for the 56th FW and the U.S. Air Force.
"These exercises allow us to make mistakes and learn from them," said Mullinax. "We would rather make the mistakes out here in a simulated environment than making them in a deployed environment."
Exercises like Wild Coyote enhance readiness and prepare Airmen for the future as the U.S. Air Force continues to redefine the way it projects combat power across the globe.