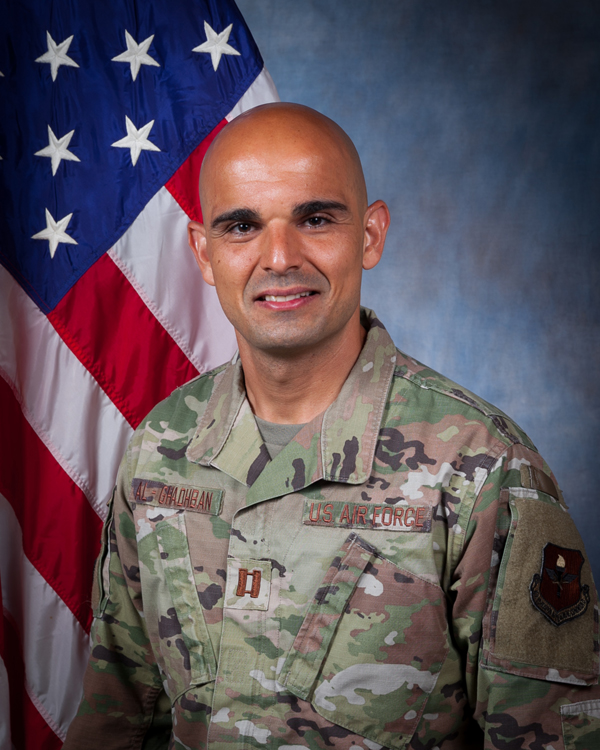 "When I first arrived in America I could not sleep for weeks. There were no bombs, no gunshots or sirens. It was just so quiet."
Capt. Ahmed Alghadhban was born and raised in a middle-class family in Karbala, Iraq, about 60 miles south of Baghdad.
"My father owned land and a farm, so my brother and I had basically everything we needed," he said. "But everything changed for me in March 2003 when I was 16 years old."
On March 19, 2003, the U.S. and coalition forces invaded Iraq following intelligence that the country and its dictator, Saddam Hussein, were developing weapons of mass destruction. This invasion marked the first day of the Iraq war.
"My alarm clock for the morning was bombs dropping on military bases outside Karbala," he said. "My father said we needed to leave, but there was nowhere to go. Baghdad was under massive attack. We were stuck in Karbala."
Weeks after the first day of the invasion, Baghdad, the capital city, was captured on April 9 and the terrorist regime led by Hussein fell.
This development ignited a sudden aggravation of an ongoing civil war between Sunni and Shi'ite Muslims causing an even bigger problem for Ahmed's family.
"Karbala is known as the holy city of Shi'ite Muslims. My family migrated here about 200 years ago as Sunni," he said. "So, we have always been out of place here as Sunnis, but we got along fine mostly. But after the Saddam regime fell, so did the Iraq police force. No police, or Iraqi Army, no security forces; and that is when the cleansing of Sunnis began."
Ahmed and his family were forced to leave their home; all their possessions and land were seized by the Iraqi government. Fortunately, the family had enough money to get his parents out of the country and move his brother to United Arab Emirates after graduating.
Ahmed, on the other hand, was only 16. He could not work and needed to finish school. From 2003-2004 he stayed with whoever could take him in for only a couple months at a time.
"This continued until I was accepted into a college of engineering in Baghdad. I moved there and got a job at the peak of the civil war."
Ahmed moved to an area under control of Abu Musab Al-Zarqawi, a Jordanian terrorist group leader also known as the founder of the Islamic State of Iraq and Syria (ISIS).
"This was the only place I could live as Sunni," he said. "I lived under Al-Qaeda for four years because the rest of the area was controlled by Iranian militia where I would be killed because of my Sunni name."
Over the years, Ahmed was arrested multiple times and kidnapped by the Iranian militia for his family name.
Despite the ongoing war in Iraq, Ahmed managed to graduate from college in 2008 and obtained a job as an electrical engineer at a power station in Baghdad.
In 2010, Ahmed saw an advertisement sponsored by the U.S. government about the Fulbright program. The U.S. Embassy was offering grants for qualified Iraqi students to study at the graduate level in the United States. Seven of the 1,200 applicants would be chosen.
"At the time, I had zero faith I would get selected," he said. "I was living essentially in a refugee camp, because I couldn't afford anywhere else. I was sending most of my money to my parents in Syria. I worked twelve-hour shifts and had to share my bed with another refugee while I was away. I did not think the odds were in my favor."
That same year, he was arrested once again for his family name, but this time was different than the rest.
"I was held hostage in a small room with 35 other men," he said. "This time, I thought they were going to kill us all. I did not think I would make it out alive. Luckily my uncle had some money to get me out."
Shortly after his final release from jail, Ahmed was notified that he had been accepted for the Fulbright program. After years of dedication to his schooling, he was finally heading to America.
"I had two choices," he said. "One, surrender to the fate many Iraqi men my age fall into; joining a terrorist organization or militia because there is no hope for a better life. Or two, just keep fighting. I chose the latter. It was a simple decision to me."
Ahmed explains that his dedication to school came from the values embedded in him by his parents.
"I worked hard, but I was also very lucky. I had parents that taught me the value of books and education," he said. "My mother was not allowed to go to school when she was younger, so she did everything in her power to give me that opportunity. My father always pushed my brother and I to read books and think for ourselves. My parents have been behind me every step of the way."
After being selected to study in the U.S., Ahmed's first stop was the University of South Alabama, Mobile, Alabama, where he earned a Master's in electrical engineering and a doctorate in biomedical science.
Though he was glad to finally be out of his situation in Iraq, he had trouble adjusting to the culture upon arrival.
"The music was different. The food was different. There's running water and lights at all hours of the day. And of course, the silence at night was so strange to me. After a month or so, I was able to sleep without worry, knowing I was safe."
He didn't know anyone in America until he met his first roommate Hunter Garcia.
"When I saw him at the gym for the first time, I could tell he wasn't familiar with the place," said Hunter. "I grew up in a melting pot of diverse cultures in California. When I found out Ahmed was an Iraqi refugee and had no family here in the U.S., I made sure to invite him to vacations and holidays with my family. Our friendship grew from there and my family treats him as one of our own."
Though his roommate was polite enough, Ahmed's life in Iraq had taught him to stay guarded around outsiders.
"I'll admit I was suspicious of him in the beginning," Ahmed said. "Where I am from, you have to be weary of any new person that are not a part of your group because they could be out to get you. But he kept asking me to hang out and made me a part of his life and treated me like family."
To this day, Ahmed visits Hunter and his family every year for major holidays and camping trips. Ahmed was eventually able to make friends, travel the U.S. and adjust to American culture.
After graduation, he worked as an application scientist for 3 years before joining the U.S. Air Force in 2020, serving as a bioenvironmental engineer for the 56th Fighter Wing, Luke AFB Arizona.
Alghadhban's commitment to higher education and resiliency are in accordance with the highest traditions of the U.S. Air Force. His story illustrates the importance of a diverse and inclusive total force.
"Coming to America saved my life," he said. "I felt I was obligated to join the U.S. military and serve the country that was so generous to me. I am so grateful and I hope those who read my story will see that there is always hope for a better life as long as you are willing to sacrifice for it."