The 56th Fighter Wing hosted the 10th annual fighter pilot competition Haboob Havoc, April 26th to 28th, 2023, at Barry M. Goldwater Range, Ariz.
Haboob Havoc is a total force competition that provides an opportunity for pilots from various bases to demonstrate their skills across a diverse range of aircraft while also testing their abilities in different mission sets such as simulated dogfighting, strafing, and gun runs.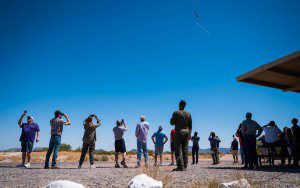 The competition showcased a diverse range of aircraft. 56th Fighter Wing participation included F-35 Lightning IIs from the 61st Fighter Squadron, 62nd FS, 63rd FS, and 308th FS along with F-16 Fighting Falcons from the 309th FS.
A-10 Thunderbolt II aircraft assigned to the 47th FS and 354th FS from Davis-Monthan AFB, Ariz., and F-16 aircraft assigned to the 152nd FS at Morris Air National Guard Base, Tucson, Ariz., also competed.
In addition, international partners currently training at Luke AFB were involved, including Norway, Italy, Denmark, and the Netherlands.
"This event showcases the incredible skills and capabilities of our fighter pilots and highlights the importance of supporting their training and combat readiness," said Charles Buchanan, 56th Range Management Office director. "We are honored to contribute to the ongoing success of our pilots."
The competition takes place at the 1.7-million-acre Barry M. Goldwater Range, which provides sufficient airspace for the pilots to compete against each other in basic fighter maneuvers and air-to-surface attacks.
"Haboob Havoc not only allows us as pilots to showcase the capabilities of these aircraft but also provides an opportunity for us to learn from each other and improve our readiness for any mission," said Maj. Christopher Kirk, 56th Operations Support Squadron chief of weapons plans. "By participating in friendly competition, it allows us as pilots to improve our readiness for real-world scenarios."
Haboob Havoc is an annual training event that allows pilots to sharpen their skills alongside many of their fellow Airmen, as well as strengthen interoperability with foreign nations. This aids in maintaining the overall effectiveness of our military forces in combat situations.
Events like Haboob Havoc continue to empower Airmen at Luke to uphold the mission of training the world's greatest fighter pilots.