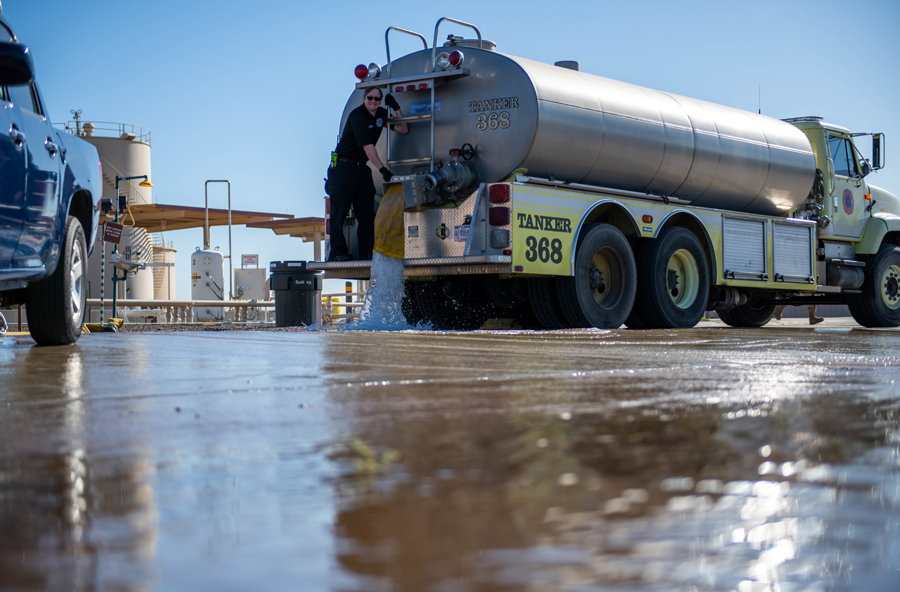 The 56th Fighter Wing Inspector General hosted a Defense Logistics Agency fuel spill exercise May 4, 2023, at Luke Air Force Base, Ariz.
The IG team conducted the test to ensure installation safety and minimal environmental impact in the event of a hazardous fuel spill emergency with the help of base recovery agencies.
"We have to be cognizant when responding to these emergencies," said Master Sgt. Roscoe Mayes, 56th Fighter Wing Inspector General lead instructor in-charge of inspections. "In exercises you can make mistakes and there is no harm, no foul. We don't want Airmen to have to deal with something like this and be unprepared."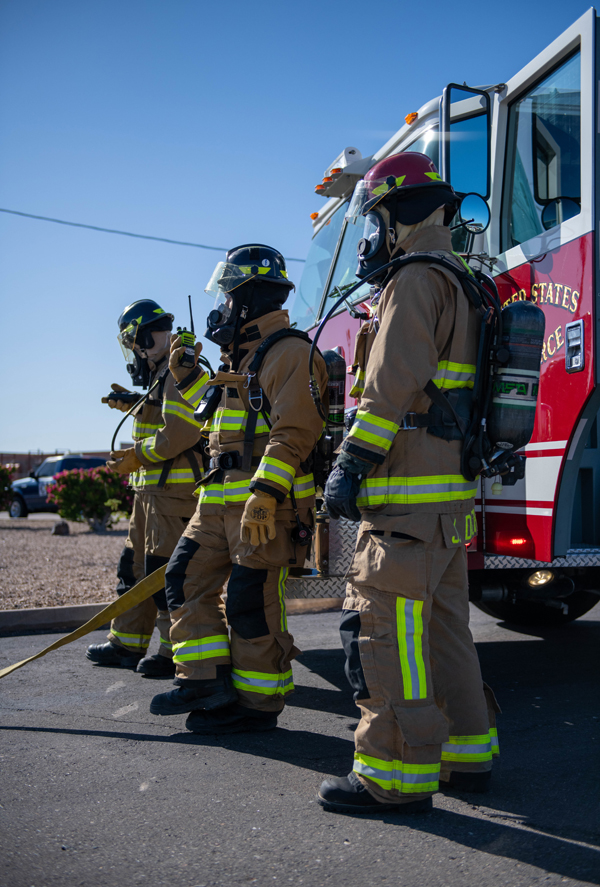 The emergency scenario involved a contractor's truck backing up into a storage unit and spilling 2,000 gallons of simulated fuel.
The DLA conducts fuel spill exercises annually and coordinates with appropriate companies to meet the requirements put in place by the Oil Pollution Act of 1990
"All participating players are subject matter experts in their specific field," said Tracey Taylor, project coordinator for the DLA exercise. "When you bring those subject matter experts together, you create a cohesive team that knows how to respond to every aspect of the emergency; where the spill is going to go, what it's going to impact, clean-up and removal, etc."
Members of the Luke AFB Fire Department, 56th Security Forces Squadron, 56th Wing Safety office, 56th Operational Medical Readiness Squadron, bioenvironmental department, 56th Logistics Readiness Squadron and their civilian contractor counterparts all participated in the isolation, mitigation and containment of the simulated fuel spill.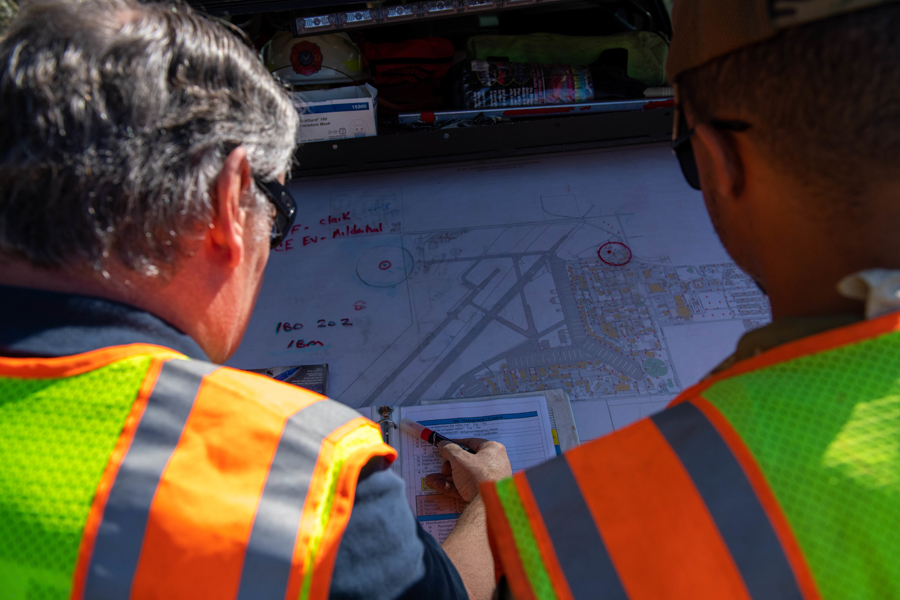 "The fire department's main concern is to maintain the fuel and keep it from causing further damage to the environment or people," said David Givens, 56th CES assistant fire chief of operations. "Once we mitigate it, we call in experts from different fields like bioenvironmental and Wing Safety to brief them on the situation for them to take over."
The 56th SFS is also one of the key players in the initial response team.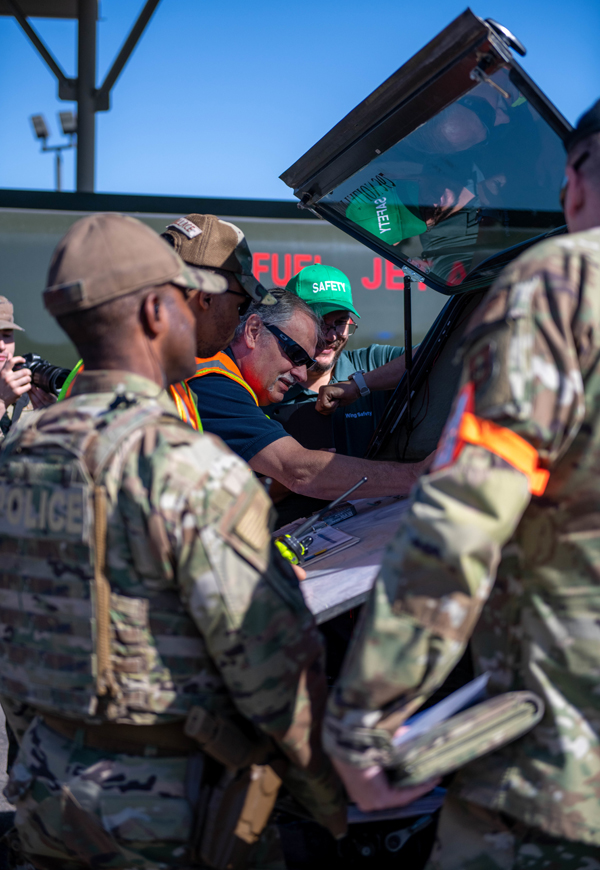 "Our role as security forces for this type of incident is to assist the incident commander," said Tech. Sgt. Davidson Clark, 56th SFS flight sergeant. "We set up all traffic control points to stop all vehicle traffic from heading into the incident itself, assist with the evacuation of buildings that are inside the perimeter and notify individuals in the surrounding area to shelter in place."
Catastrophic events cannot be predicted, but installations can be prepared. Training exercises like this help reduce negative impacts to the environment, the mission, and the community.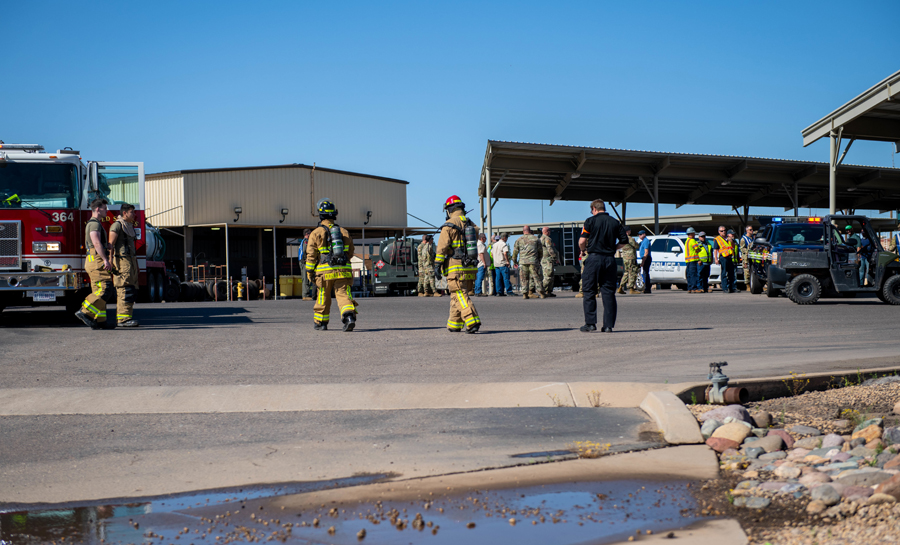 The IG office is an independent agency that provides training and education for all base personnel and runs the exercise evaluation team for the 56th FW, ensuring that the integrity of base procedural systems are maintained.
"The IG team organized subject matter experts in the various participating shops, squadrons and groups to help articulate what we could and couldn't do for this exercise," said Mayes. "I worked and created the master scenario events list, or mission objectives for this exercise making sure that everyone stays in the sequence of events."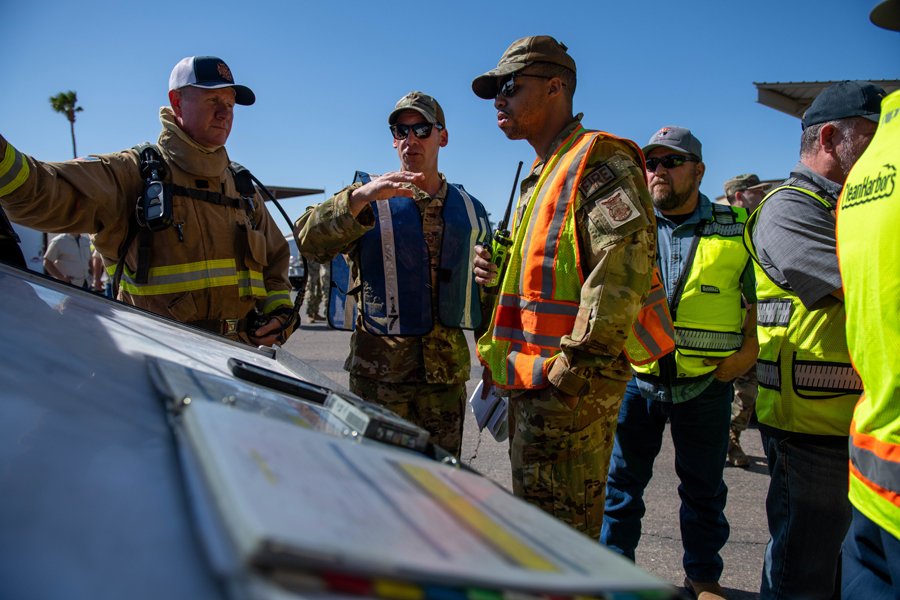 At the end of the exercise, all participants from each unit discussed the lessons they learned that could be implemented in the event of a real-world disaster.
Exercises involving multiple emergency response agencies working together not only ensures installation safety, but bolsters unit cohesion creating a more mission-ready Air Force.