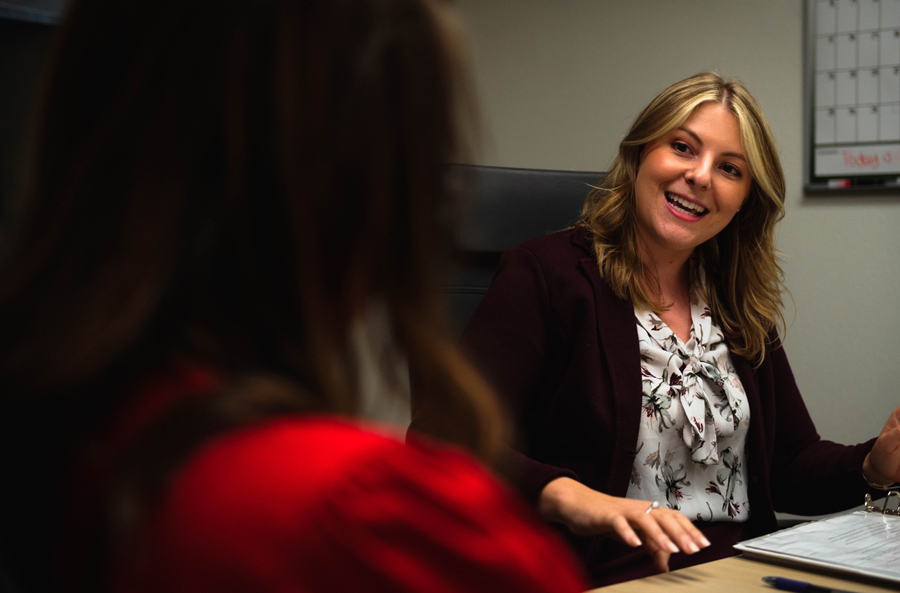 Military life presents unique challenges for military families, especially those with special needs members.
Demetria Themistocles, the 56th Fighter Wing Judge Advocate's most recent attorney adviser, specializes in the Exceptional Family Member Program and can advise service members on how to best advocate for their families.
The EFMP is a required enrollment program that collaborates with other military and civilian organizations to offer comprehensive and coordinated educational, medical, and legal services to military families with special needs.
These family members can have physical, emotional, developmental, or intellectual disorders requiring special treatment, therapy, education, training, or counseling.
Attorney advisors can help families enrolled in EFMP understand their rights regarding educational law, advanced estate planning, guardianship proceedings, and other legal advice associated with permanent change of station and deployment issues.
Previously each branch had set its own processes and guidelines for the program, but as of June, 2023,?the Department of Defense has enacted changes to standardize the program across the service branches for military families with special needs.
"My brother has a couple of disabilities including autism, and he's the kindest human being," said Demetria Themistocles, the 56th Fighter Wing's newest attorney advisor. "The world doesn't always treat people with disabilities with kindness, and so I decided to change the world; I became a lawyer to do just that."
For families with special needs children up to 21 years of age, the JA team can provide legal advice for those with Individualized Education Plans or Section 504 plans, and help parents better advocate for their children's education.
"An IEP or Section 504 is a fact intensive process, requiring collaboration between the school and parents, in conjunction with expert evaluations and assessments," said Themistocles. "It is imperative for parents to be educated about their rights before, during, and after the process of developing an IEP or Section 504 plan for their children with disabilities. We can be that support."
When military families relocate, schools can re-evaluate children, prompting a potential modification to IEPs or 504s. In the past, attorneys were not able to sit in on IEP meetings. However, a recent change allowed for attorneys to be present when appropriate with Staff Judge Advocate approval.
When children with severe disabilities reach adulthood, the legal office can help families determine if guardianship might be appropriate. Guardianship is a legal relationship in which the court appoints someone to take care of an adult with disabilities. The guardianship process is unique in each state, and while legal assistance attorneys cannot represent families in court, they can help clients understand court processes and how to advocate for guardianship.
In addition to guardianship, legal works hand in hand with medical and finance to provide support for legal proceedings such as healthcare or financial power of attorney to meet specialized needs. Attorneys screen each case and recommend appropriate courses of action and resources to ensure every child is protected and prevent gaps in legal authority of that child's decision-making.
While the legal office cannot draft trusts, parents may also receive assistance from attorneys in deciding if a special or supplemental needs trust (SNT) is necessary. Trusts are formal legal procedures designed to guarantee that property goes to a beneficiary while being kept or managed by another person. Because SNTs are used exclusively to assist a person who qualifies for government benefits due to financial need, a handicap, or other limiting condition, they differ from other trusts. SNTs allow recipients of government programs like Medicaid, Medicare, and Supplemental Security Income to still receive supplemental financial aid.
"Having my brother as my brother, I feel like I have been given a niche superpower with not only insight of special education law, but also understanding what families with disabilities go through," said Themistocles. "With the additional stress that relocating causes, folks can come into my office and just have a deep sigh of relief knowing that I'm going to advocate for them to the best of my ability."
To contact JA and learn more about legal services, call 623-856-6901.