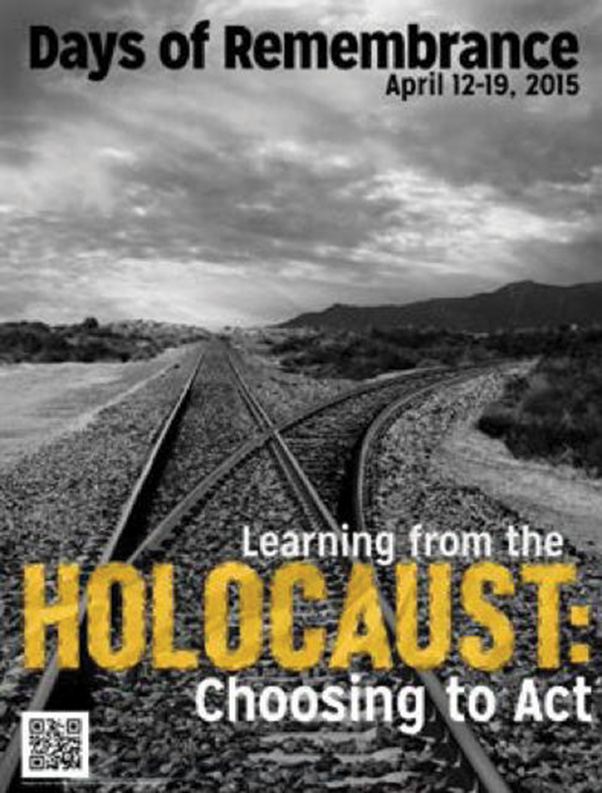 PATRICK AIR FORCE BASE, Fla. – In observance of the Holocaust Days of Remembrance, observed each year during the week of Remembrance that runs from the Sunday before Holocaust Remembrance Day (Yom Hashoah) through the following Sunday, the Defense Equal Opportunity Management Institute (DEOMI), proudly announces original artwork available for download from DEOMI's public website, www.deomi.org.
This year, the Holocaust Days of Remembrance week will be observed from April 12 – 19, 2015. Holocaust Remembrance Day is Thursday, April 16, 2015. The United States Congress established the Days of Remembrance as our nation's annual commemoration of the victims of the Holocaust and created the United States Holocaust Memorial Museum, http://www.ushmm.org, as a permanent, living memorial to those victims.
Mr. Peter Hemmer, DEOMI Illustrator, described this year's Days of Remembrance poster, saying "The United States Holocaust Memorial Museum provides a wide-selection of materials covering many themes allowing communities to choose a focus for a commemoration for their specific needs. DEOMI, as a teaching institute, decided on the theme: "Learning from the Holocaust: Choosing to Act," to showcase the impact just one individual can have. The theme text on the poster is stitched together from yellow fabric similar to the Star of David that Jews were forced to wear by the Nazi's for identification. Railroad tracks have always shared an iconic connection with the Holocaust in their use to carry millions of Jews to concentration and death camps. In this design, I tried to show the idea of how a single choice could have a profound impact on another person's life. Straight ahead, barren, desolate and dark- almost certain death, to the right, growth and vegetation- a chance at life. Despite trying times and at their own personal risk, there were people during the Holocaust who still chose to do what was right."
In accordance with its congressional mandate, the museum is responsible for leading the nation in commemorating the Days of Remembrance, and for encouraging and sponsoring appropriate observances throughout the United States.
Remembrance not only obligates us to memorialize those who were killed during the Holocaust, but also reminds us of the fragility of democracy and the need for citizens to be vigilant in the protection of democratic ideals. We remember because we recognize the importance of preserving freedom, promoting human dignity, and confronting hate whenever and wherever it occurs.
All DEOMI observance month poster files are in the public domain unless otherwise indicated. We simply request you credit the Defense Equal Opportunity Management Institute.