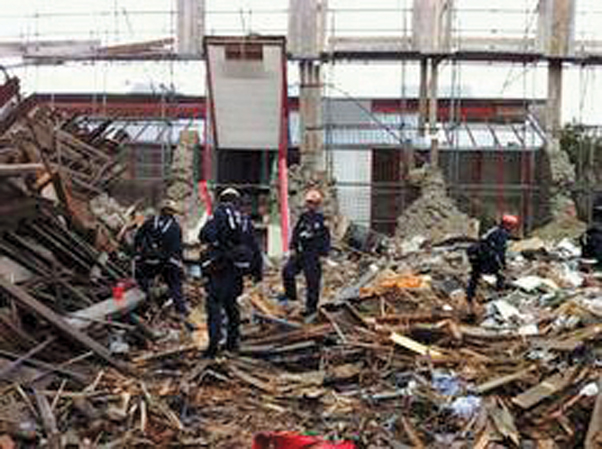 When we are looking outside at blue skies and enjoying perfect weather, it may be difficult to imagine, but we are sitting on a potential powder keg of destruction. Yet, that is the reality all Californians face as our state continues to lead the nation in earthquake activity surpassed only by Alaska.
While the shaking is no stranger to us, the concern, the analysis, and all historical data points to a catastrophic event occurring somewhere on the San Andreas Fault. Its fault line is huge, dormant for 300 plus years, and could erupt at anytime, anywhere across the fault line.
As planners and responders, we work diligently to do all we can to prepare our base for such a disastrous event. Given the predictions, an incident of this magnitude occurring on the installation would have major ramifications for Team March members. Responders will be quickly overwhelmed as they attempt to mitigate damage and recover the installation. Assistance from outside resources may not be forthcoming for days as rescue and recovery efforts will be focused on the local area outside the base.
Initially, March Air Reserve Base will be its own island and will need to initiate rescue and recovery efforts as soon as it feasible. Therefore, as part of a concerted effort to minimize injuries and maximize recovery efforts, taking a page from the civilian sector and the Civilian Emergency Management Team (CERT) program, March has its own version of this program called the Emergency Services Support Team (ESST) to assist command and control and responders during this crucial time.
There is no limit to the amount of volunteers we may have. Given the unpredictability of an earthquake, the number of volunteers available to assist will vary depending on time of day, day of the week as well as work schedules, TDYs, vacations, etc. 
We are asking for anyone who is willing to assist our responders during this crucial time to please contact us and become part of the March ESST. Assistance may be needed in a variety of ways. All volunteers are welcome.
We will have meetings and training for our volunteers and ensure that every participant knows what is expected and how the response process works.
We are looking for people who work on the base and are physically able to assist without injury to themselves. There are no mandatory requirements, no CBTs to complete and no recurring requirements other than caring for your fellow wingman and the infrastructure of our historic March Field.
Your support and commitment are what makes this installation special and viable. Please consider becoming a part of the recovery process and helping your first responders and fellow Airmen. All of us working together can provide the synergism necessary to save lives and protect vital assets. Join us in forming an alliance dedicated to helping our fellow Team March members and recovering our installation. "The Big One" will come. It's only a matter of when, not if.
If you interested in being a volunteer, contact me at the Emergency Management office at 951-655-3024 or email me at Robert.Kaschak@us.af.mil.