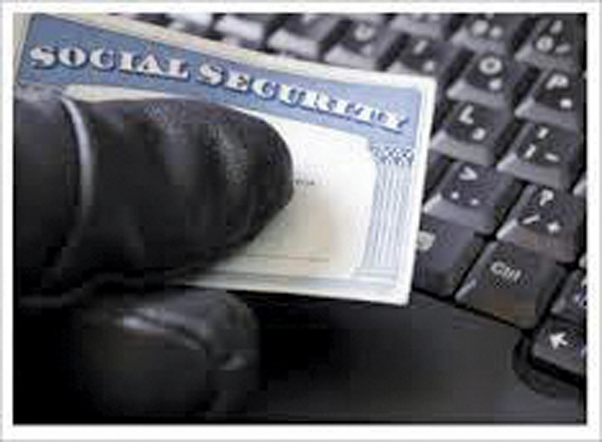 Ten years as a fraud investigator for a major financial institution, I can say I have seen every way to scam or commit fraud involving financial transactions.
What is fraud?  Fraud is defined by dictionary.reference.com as a deceit, trickery, sharp practice, or breach of confidence, perpetrated for profit or to gain some unfair or dishonest advantage.
According to the Bureau of Justice Statistics on their website, an estimated 17.6 million peeople, or about 7 percent of U.S. residents age 16 or older, were victims of at least one incident of identity theft in 2014. These statistics were similar to those in 2012.
The above stated fact deals with all financial services for the U.S. population. The statistics prove that you will be a victim of identity theft at least once in your adult life. You might think that you have all angles covered and there is no way to become a victim of identity theft. Think again.
I thought the same until the day I was traveling, on orders, to March Air Reserve Base. I used my Government Travel Card and attempted to buy gas for the trip. The transaction was declined. I contacted the bank's travel card customer service number, which is located on the back of the card, only to be told that I was a victim of identity theft.
The unknown suspect bought products and services overseas the same day I was traveling. It appears my card was skimmed (an unauthorized device placed on a debit or credit card reader to record the transaction for later use by the suspect) sometime during my travel and that was all that was needed to start the fraud activity.
Although I was inconvenienced, had to notify my chain of command and write a statement of facts that I had not used the card for any unauthorized transactions, I was not at a loss. Imagine if the suspect had all my financial information. It could take YEARS to recover from the incident.
Other fraud is hard to prevent and is out of your hands and does occur. For example the Office of Personnel Management (OPM) was a victim to a server breach and the incident public release stated the following through opm.gov, "In June 2015, OPM discovered that the background investigation records of current, former, and prospective Federal employees and contractors had been stolen. The OPM and the interagency incident response team have concluded with high confidence, that sensitive information, including the social security numbers of 21.5 million individuals, was stolen from the background investigation databases. This includes 19.7 million individuals that applied for a background investigation, and 1.8 million non-applicants, primarily spouses or co-habitants of applicants. Some records also include findings from interviews conducted by background investigators and approximately 5.6 million include fingerprints. Usernames and passwords that background investigation applicants used to fill out their background investigation forms were also stolen."
In this situation, all that can be done is damage control and review of credit reports. But you do have some control in this situation. According to the OPM, the following actions were provided by the federal government to affected parties to limit the damage of the breach:
1. Identity monitoring
2. Credit monitoring
3. Identity restoration services
4. Identity theft insurance
You might still be thinking, 'How can I protect myself from fraud?'
You should follow these common practices for your financial identity:
1. Never respond to text messaging, phone calls, emails or any other means where an unknown person asks for your personal and financial information. The suspect will use varied techniques including threats of arrest to obtain your information. When in doubt, contact your financial institution directly using the customer service number on the back of your debit or credit card or the number on your financial statements, or go to your nearest banking facility to verify the concern. A financial institution will have ways to verify the person you are speaking to as well as to verify you.
2. Never use your online banking service from a profile on your computer that you use to surf the Internet, download freeware, visit websites that provide file-sharing services or any other activity that can expose your system to adware, viruses and malware. Use a separate profile on your computer for banking, such as a guest profile.
3. Be sure to close your web pages and clear the cookies and history information each time you log out of your banking institution's website, to ensure no other person can access your online banking service.
4. Ensure your system has updated virus protection and the most current updates for your operating system.
5. Use additional security protection that was offered by your financial institution including text, and email notifications.
6. Ensure you check all of your financial accounts on a regular basis to ensure there has not been any recent fraud activity. If fraud activity is found, notify your financial institution immediately.  Cooperate with the investigation and provide all documents in a timely manner.
7. Don't become an unknowing participant in the fraud scheme by giving your account information for an online job, or an online "friend" you have never met or any other type of activities that another person would solicit your financial institution.
8. Don't accept unsolicited funds, checks, money orders, or cashier's checks from friends or family, especially if there seems to be no reason to receive those funds. Remember all transactions processed through your account makes YOU liable. You could wind up owing the financial institution, such as when a check is deposited, then funds are removed and the check returned as fraud. Just remember, if it seems too easy or too good to be true, then chances are it is.
9. Become aware of the varied types of fraud activity and scams that occur.
10. Never let someone use your account, debit or credit cards unless they are authorized and a joint owner. If fraud occurs, and they are not a joint owner, you will be liable due to your implied consent if you provided the information or instrument for use by the other person.
The world of fraud does seem a challenge but can be managed and your risk can be reduced if you are proactive in your personal and financial identity.