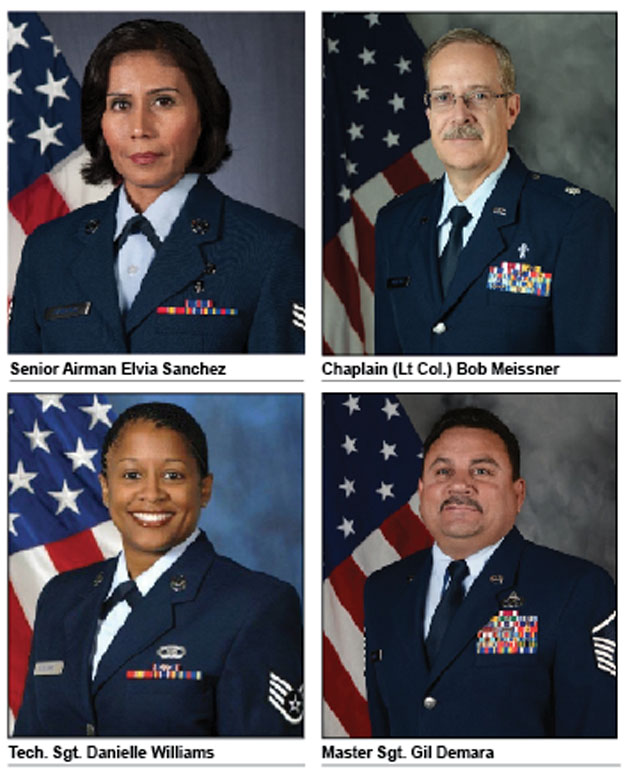 The 452nd Air Mobility Wing's chapel team is here to serve you. The chaplains and chaplain assistants assigned to the wing staff are made up of a great group of men and women from various backgrounds and traditions. The common denominator is that they are here to serve you, right where you are. They serve as a Religious Support Team (RST). When you see members of our chapel team out and about the base it is very intentional that both a chaplain and chaplain assistant are readily available to you. In providing for the spiritual support, moral guidance, counseling, religious rites and general morale the hope is that you know your RST. Whether it's at a commander's call or in line at the chow hall, at one of the worship services on drill weekends or running on the track, your RST is here to support you.
But do you know your chaplains and chaplain assistants? I wanted to take this opportunity to introduce these Airmen to you. The B Unit Training Assembly chapel team includes Chaplain (Lt Col.) Bob Meissner, Master Sgt. Gil Demara, Tech. Sgt. Daniella Williams and Senior Airman Elvia Sanchez. Get to know us. Let us get to know you!
Chaplain (Lt Col.) Bob Meissner
Chaplain Meissner grew up as a Navy brat until his father retired. He began his education at the U.S. Naval Academy pre-school and kindergarten. The Navy moved his family from Annapolis, Maryland, to Alaska, California and Florida. Meissner received his Bachelor of Arts in Religious Studies with an emphasis in Biblical Languages from Point Loma Nazarene University, San Diego, California. He then received his Master of Arts in Religion and his Master of Divinity from Westminster Theological Seminary, Glenside, Pennsylvania, in 1984. He began his Air Force career on active duty in 1986 with a Logistics Readiness Squadron stationed in Arkansas, England and Germany. After seven years of active duty, Meissner returned to civilian life until joining the Air Force Reserve in 2001 as a chaplain. He provided a backfill in 2006 at Grand Forks Air Force Base, N.D., and then deployed in 2011 to Al Udeid Air Base, Qatar, where he was the "flying chaplain" for the operations group with missions throughout the Area of Responsibility. Meissner enjoys exercise, time with his family and friends, playing guitar and reading. As a civilian, he serves on the pastoral staff at his church.
Master Sgt. Gil Demara
Master Sgt. Demara grew up in Yuma, Arizona, where he graduated from high school. He went on to receive his Associate of Applied Science degree in Administration of Justice from Arizona Western College, Yuma, in 1986; his Bachelor of Science in Business and Communication in 2008; and his Master of Education in 2010 from Arizona State University in Phoenix. He earned his Associate of Applied Science degree in Social Work from The Community College of the Air Force in 2012 and his Master of Social Work from the University of Southern California in 2014. Demara served on Active Duty in the U.S. Army from 1986-1998. He then joined the Alaska Air National Guard serving there from 1999-2006. He joined the Air Force Reserve in June 2006 as a chaplain assistant assigned to the 452 AMW. He deployed to Bagram in 2009 and Al Udeid in 2012. As a civilian he enjoys wood working, art projects, interior design and works as an educator for grades K-12.
Tech. Sgt. Danielle Williams
Tech. Sgt. Williams was raised in Elk Grove, California. She attended Hiram Johnson and Rancho Cordova High Schools. She joined the Air Force Reserve in 2004 with the dream of serving her country. She served at Travis AFB as a chaplain assistant earning the distinguished Chaplain Assistant of the Year in 2014. She transferred to the 452 AMW chapel team in January 2016. She was recently selected to serve in a U.S. Air Force backfill assignment for the upcoming summer. As a civilian, Williams works for the State of California Franchise Tax Board. Her hobbies include traveling, dancing, riding her Harley and spending time with family and friends.
Senior Airman Elvia Sanchez
Senior Airman Sanchez grew up in Inglewood and Indio, California. She received her Esthetician license in 2001. In 2008 she graduated from California State University – San Bernardino with a double major in English and Anthropology. She is currently working on her Master of Arts at California Baptist University. She joined the Air Force Reserve in 2010 in the medical field, then cross-trained to become a chaplain assistant serving at Vandenberg AFB, California. She transferred to the 452 AMW in 2015. As a civilian, Sanchez works in higher education, and enjoys running, reading, collecting books, oil painting, going to the beach and traveling.
So, when you see us (your chaplains and chaplain assistants) around base, stop and introduce yourself. You are welcome at any of our services on base. And please feel free to stop by the chapel on the UTA weekends. We'll have the coffee on!