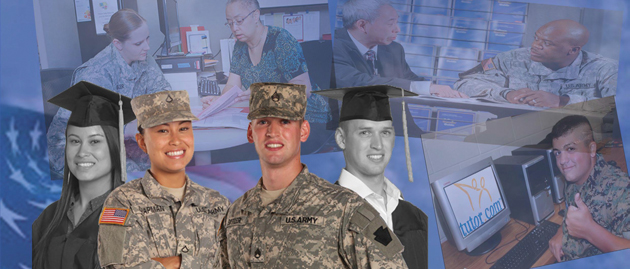 PENSACOLA, Fla. (AFNS) — Officials with the Defense Department Voluntary Education Program and the Defense Activity for Non-Traditional Education Support (DANTES) announced the launch of a pilot tutoring program that will provide service members with tutoring support at no cost, anytime, anywhere.
"If a service member is struggling with a college course or simply needs help with a homework assignment, this DOD-funded tool offers a place to go to get answers," said Jeff Allen, the DANTES director.
The program provides around-the-clock, online tutoring services for active-duty service members, Coast Guard members and full/part time National Guard and Reserve component members. Some family members are also eligible to use the tutoring services.
The program is available online at www.tutor.com/military, and provides one-on-one tutoring with educators in more than 40 college subjects, including algebra, statistics, physiology and more. The tutors provide help with all types of homework assignments and test preparation. Tutors and students communicate in a secure online classroom using text chat and by drawing on an interactive whiteboard. There are no webcams or telephones used and no personal information is shared between the tutor and student.
Students can access the online service using any internet-enabled device, including smart phones and tablets. If it's just a quick question, tutors are available on demand, or students can schedule future tutoring sessions or upload papers for offline review.
"The Defense Department wants service members to be successful in pursuing professional development," Allen said. "DOD currently maintains a variety of education resources to help members pursue their education. Tutoring services are being piloted to further explore the addition of this type of tool as another way to help service members succeed in their military careers."
The program employs more than 3,100 expert tutors who are carefully screened, background-checked experts providing safe and secure assistance. No personal information is shared between the tutor and student.
No matter what shift a Service member works, tutoring services are available around-the-clock, 361 days a year. The only days that services are not available are New Year's Day, Independence Day, Thanksgiving Day and Christmas Day.
To find out more about DOD's pilot tutoring program by going to the tutor.com. For more information on tutoring services and other DOD education resources, visit the DANTES website at www.dantes.doded.mil