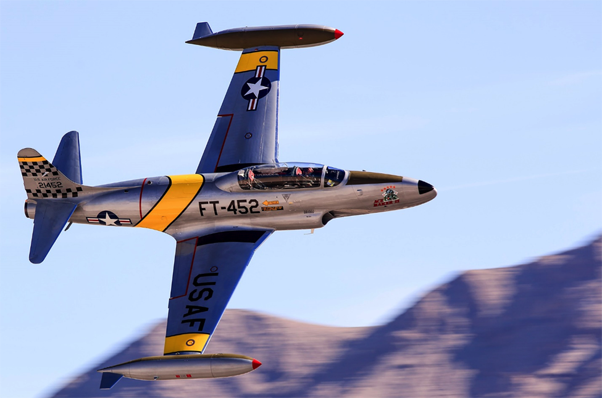 Ace Maker Airshows is proud to present the T-33 Shooting Star as America's first operational jet fighter and trainer. These aircraft represent a pieces of American history that ushered us into a new generation, and have helped pave the way for the lives and freedoms we enjoy today. The T-33 has a wingspan of 42 ft. 5 in. with tip tanks, a length of 37 ft. 8 in. and a height of 11 ft. 8 in.
The pilot, California native Gregory "Wired" Colyer, took his first flight at the age of seven in a Cessna 172 with Dr. Lee Schaller out of the Schellville Airport in Sonoma. Hooked ever since, Colyer has been licensed since the age of 18 after learning how to fly while serving in the U.S. Army from 1982-1987.
After leaving the service, he spent 27 years, 1988-2015, with the Federal Aviation Administration as an Air Traffic Controller at Oakland ARTCC. His passion for flying never left as he continued flying as a hobby, mostly in Beech T-34 mentors, until he and a few friends imported a Russian L-29 Delfin in 2003.
After flying many other ex-military jets, it was flying Kay Eckhart's T-33 in 2007 that got him. One of his favorite aircraft as a kid, the Shooting Star held a special place in his dreams. So he set his sights on America's first operational jet fighter and trainer and his search began. He got his T-33 in 2008, naming it "Ace Maker," after which he founded the 501c-3 non-profit T-33 Heritage Foundation to help preserve this type aircraft.
Colyer holds a commercial pilot certificate with instrument, single- and multi-engine ratings as well as being a certified flight instructor. He is type rated in the Lockheed T-33 Shooting Star and the Aero Vodochody's L-29 and L-39 aircraft. He has more than 1,000 hours in the T-33, and unrestricted, surface-level aerobatic waiver, with a FAST lead formation card to round out his qualifications.
He stays in shape for flying high performance aircraft by competitive cycling and an occasional Ironman Triathlon. He acknowledges and thanks his ACEs, Wayne Handley and Randy Howell of the Patriots Jet Team, for their coaching, advice and support, as well as a special thanks to Steve Hinton for his help, insight and expertise in the Shooting Star.
To read more about Ace Maker Air Shows and the T-33, visit www.acemaker33.com.