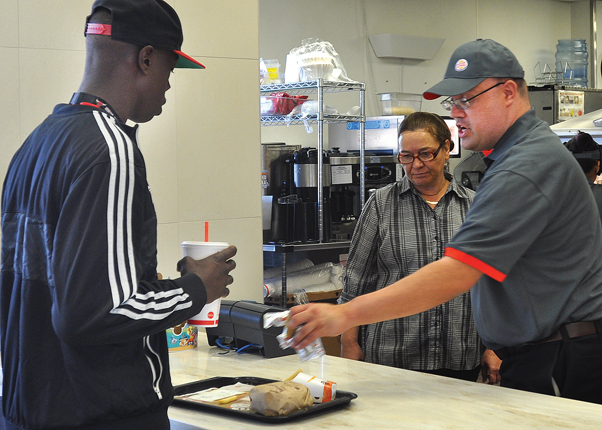 "He was that way before the accident, and now, to see that his spirit hasn't changed one iota, despite his disability, is just amazing. It's just medicine for the soul," said Lynn Thompson, Fort Irwin Exchange general manager.
That's how Thompson described Jesus Aguilar, who returned to work at Fort Irwin's Burger King restaurant on March 12.
Aguilar was the most seriously hurt of the two Burger King employees injured when their Victor Valley Transit Authority commuter bus collided with a parked truck about 10 minutes from the main gate, June 2. The accident injured seven passengers and the driver, and also killed Fort Irwin employee Dail Keiper.
Aguilar said he was asleep on the bus when the accident happened.
"I didn't come around until after it happened," Aguilar recounted. "I saw the result with the metal and glass. I didn't know I was missing an arm. Mike Chestnut (another Fort Irwin employee on the bus) kept me calm. I was apparently losing all that blood and didn't know it."
Aguilar was treated at a hospital in Loma Linda, Calif., for the next seven days, where his right arm had to be amputated. He then moved to a wound-care facility in Apple Valley for five months, including stints in a hyperbaric chamber for three months, to speed up the healing, and more surgery through December, to remove wound tissue that wouldn't heal. In November, Aguilar finally returned to Barstow, to recover at home.
On the morning of the accident, Thompson was in Las Vegas, when she got the calls on her cell phone that two of her employees were hurt. Thompson was at the airport, waiting to pick up her daughter and grand-daughter and to take them on some tours there.
"We went back to the hotel, checked out, and came right back," Thompson said. "The next day, we (she and other Exchange employees) flooded in to see him at the hospital. He was already ready to come back to work. You hear about these incredible people, but to actually witness it, and to see that amount of courage on the very next day … he did more for me than what I could have done for him. To see him and to see Naomi (Naomi Bridget, the other Burger King employee injured in the accident, who also returned to work) was just amazing."
"When it happened to me, I decided I could be either bitter and angry, or I could just move on from it," Aguilar said. "The first couple of days, just eating was a challenge. Also, learning how to shave left-handed."
Helping Aguilar ease back into work are not only his fellow employees and managers, but a job coach from BEST Opportunities, a Barstow non-profit agency that also mentors other Barstow-area residents working on post and other areas near Barstow.
"When this happened about nine months ago, it was real devastating for the whole team," said Burger King manager Mysea Bell. "It touched every single person in here. We have team members that have PCS'd out (reassigned to other military installations), and they're still asking, how is he doing."
So were the customers, said Thomas.
"I was speaking to a guest in the dining room this morning, and he said that when he walked in and saw Jesus, the first thing Jesus asked him was if he wanted his coffee with two cups of creamer, one packet of sugar … He remembers his customers," Thomas said.
It's such customer care that made Aguilar the top employee in military sales as a drive-through cashier at Burger King, said Bell.
"He's been back since February 2, but this is the first time he's in the store," Bell said. "He went to BEST Opportunities in Barstow for about a week. They provided him training, to get used to using only the left hand, to get him familiar with the cash register. He was able to complete his Burger King counter service training online. When he came back the first day, he was a little hesitant, but the second day, he rocked. He was quick with his movement. He didn't miss a beat. And we're gradually moving him to other things."
Aguilar, who grew up in Hinkley but recently moved to Barstow, still takes the bus to work, getting on the VVTA bus at the stop near the Barstow cemetery at 4:20 a.m.
"I come in early, get some sleep, and if they need me early, I clock in," Aguilar explained. "I've been working here a lot of years. I enjoy it, interacting with the customers. The money is good, but I enjoy bringing smiles to people's faces. Especially if they're having a bad day."