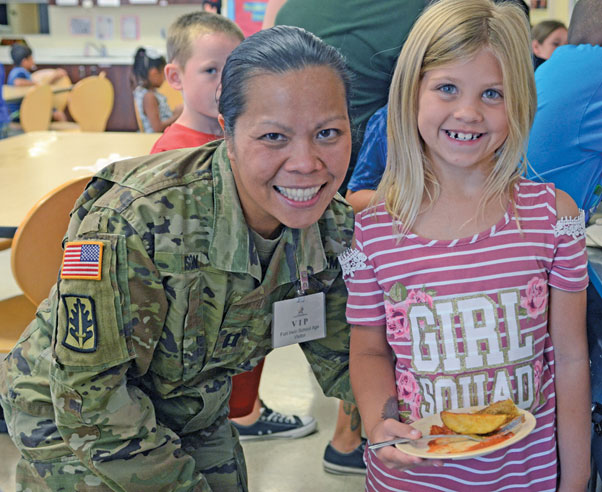 FORT IRWIN, Calif. — Weed Army Community Hospital Nutrition Care Division continuously dedicate their time showing the children of Fort Irwin how to get out, get active and eat healthy to reduce the risk of childhood obesity.
"You can adopt a healthy lifestyle at a young age by getting adequate sleep, regular physical activity and eating healthy," advised Capt. Angie M. Ison, Chief Nutrition Care Division.
When making food choices, parents may find themselves feeding their children "what they like" in order for them to eat, but often times don't encourage healthy food choices.  WACH nutrition care offers individual appointments for pediatric patients to teach them about healthy eating habits.  Nutrition care sees all types of pediatric patients and can often help picky eaters or those suffering from obesity make healthier choices.
According to the Center for Disease Control and Prevention children with obesity are more likely to have obesity as adults. This can lead to lifelong physical and mental health problems.  Children with obesity are bullied and teased more than their normal-weight peers and are more likely to suffer from social isolation, depression, and lower self-esteem.
"You can see the emotional distress in a child that is overweight, but when they take actions to get the weight off there's an inherent self-esteem boost because they feel better mentally, they look better and they are included in activities," said Staff Sgt. Michael L. Polmanteer, Nutrition Care Division's Non-Commissioned Officer in Charge.
When discussing the effects of childhood obesity, Polmanteer focused on the positive effects being active could have on a child.  He encourages families stationed at Fort Irwin to use the many resources available to help combat childhood obesity.  With dedicated volunteers, Child and Youth Services offers a variety of afterschool and summer programs to keep children active.  Volunteers like Polmanteer spend time off-duty coaching youth sports such as volleyball, soccer and baseball.  He applies the US Army's Fit For Performance training to his coaching techniques to help kids in the community.
"I love to coach sports and see kids be active.  To get [kids] to get out, be active and try new things encourages them to meet new friends and gain interpersonal skills to prevent bullying," said Polmanteer.
Capt. Ison dedicates her time talking with school staff, youth services, parents and children about the long-term effects of childhood obesity.  She explained how children with obesity are more likely to struggle with obesity as an adult; which increases the risk of developing heart disease, metabolic syndrome and more.  Parents can help reduce the risk of obesity through several means.
Ison's recommendations are to make shopping lists to get children involved with food selection, specifically in the produce section.  Turning mealtime into family time by cooking and eating together creates strong bonds and promotes togetherness.  Parents can use this time as an inadvertent instructional time to promote healthy food choices in their meals.  Using resources like "choosemyplate.gov" offer resources and tools to use at home during food preparation time.
"Childhood obesity is preventable.  Set aside time for family activities like going for a walk in the park.  Are they involved in so many activities that your children are not getting enough sleep?  Be sure to get enough sleep at night by assessing the activities that your children engage in," said Ison.
If you are a TRICARE beneficiary and would like to make an appointment with nutrition care call the appointment line at 1-866-957-9224, or to learn more about Weed Army Community Hospital Nutrition Care Division visit www.irwin.amedd.army.mil.