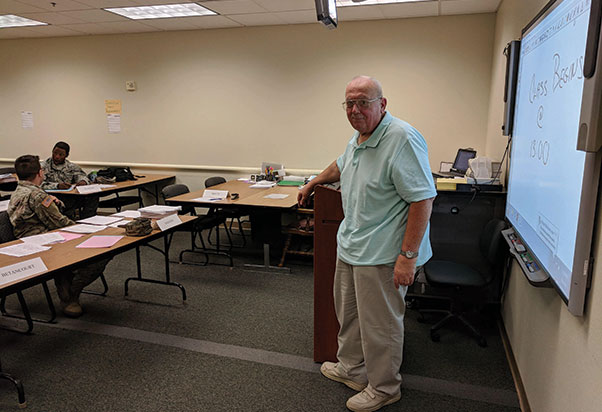 It's a step that could take you to the next level in your military career and in Fort Irwin, there's only one way to get there….and that's through a man described as someone who is "rough" and takes "no mess."
Mr. Allen Norton has been teaching the Basic Skills Education Program (BSEP) for the last seven years on post and he's earned quite a reputation.
"He's tough and a lot of people say they don't like him at first," said CSM David Sweeney, "but in the end, you'll be thankful for him."
He may initially be greeted with the grunts and harsh remarks but this Barstow Community College professor's success rate speaks for itself—at least 95% of students in each of his courses raise their GT score by 20 points or higher.
"I know that's what I'm known as around the base to begin with because I'm requiring something far greater than most instructors would require," Norton said.
Many soldiers remember the BSEP program by its previous name—FAST (Functional Academic Skills Training), which could help soldiers advance their career. After this course, students can re-take the General Technical (GT) test and hope to score at least a 110. Norton has had students with GT scores as low as 60 and as high as 109 take his course to try to improve.
Norton is excited about the career opportunities for the soldiers, that come along with a higher score.
"It's more exciting to me to see what doors open for them because some have come in and said with this score, I got three contacts within the first week. I've had people go to the White House, go all over to whatever they want to do."
Sgt. Roderick Fields is a former student of Norton's who raised his GT score significantly after taking the BSEP course. Sgt. Fields said students should be prepared for one of the toughest challenges of their career and come ready to work.
"He actually makes you work for your grade," Sgt. Fields said. "He makes it (the class) so hard that when you actually take the test it's easy."
Each month, Norton's group of students is diverse, with different ethnicities, ages, jobs and skill levels. He has everyone from first grade to high school graduate skill level in one class and he's even had soldiers from different branches, like the Marines, request to take his course because it was recommended as a top site.
What does he say his trick is to raising scores by more than 20 points?
"Individual attention is key. You really have to find out where a soldier is at mentally; what are they going through, what's in their unit that's affecting them, what's in their family that's affecting them because everybody is at a different grade level when they start this class."
Norton simply wants to make a difference and help soldiers break through their perceived limits.
"If you don't try to improve who you are, you're gonna be the same person 20 years from now. I would like to see people want to improve who they are, rather than just exist, and that's my passion."
The BSEP course lasts three weeks and current session on Fort Irwin wraps up on November 16th. The schedule is on the Fort Irwin Education Center's Facebook site and here is a list of the course dates available through the end of the year:
• Nov. 26-Dec. 14