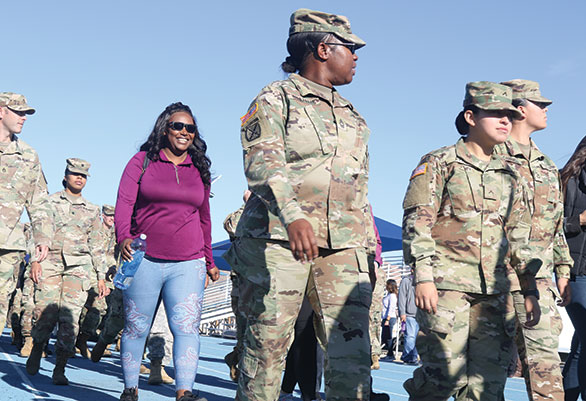 A sea of purple and Army green camouflage colors covered the field of Fort Irwin's blue track, with soldiers, families and even pets who came out to support domestic violence awareness.
Shahla Tomlinson, said she thought the one-mile walk was important and wanted to unite for this cause.
"Me and my friends just all wanted to support those who have experienced abuse in any forms, men or women," she said. "We just felt it's important to all come together and show our support."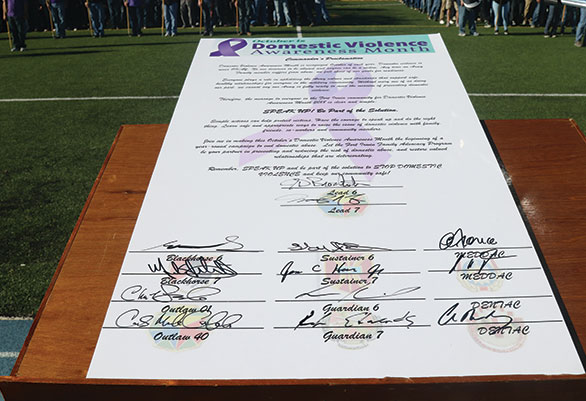 Garrison Commander, Col. Seth Krummrich, charged commanders with signing a Commander's Proclamation that promoted a year-round mission with a clear and simple message that the Fort Irwin community must speak up and be part of the solution.
"Domestic violence goes against all of our Army values," Col. Krummrich said. "Our spouses should never feel like they're in a mental prison."
Victims Advocate, Kendra Jackson-Ralph said about 1,000 people were expected at this year's walk, which followed a one-mile route throughout Fort Irwin.
Jackson said those in need can call the Family Advocacy Program (FAP) office in building 181 and they will be provided with support services. Their office can also help connect participants to civilian resources that can be utilized off post.
"An important piece of being a domestic violence victim is having a good support system, whether it's friends or family– once you have that, everything else can fall into place," Jackson-Ralph said.
Ada Rivera is the Family Advocacy Program Manager and says, in terms of services, right now they have eight cases open with FAP on the victim advocacy side, but in terms of social worker services, there are several. She said living in Fort Irwin is especially different than other installations because families are dealing with isolation, due to monthly training rotations.
"It's important, so the soldiers and the family members understand the importance of looking for help before situations escalate," Rivera said. "Even if it's a verbal incident, they know they can come and talk to us before it gets to the next level, meaning physical."
Rivera said they assess incidents of domestic or child violence and if the case is substantiated, the soldier must comply with treatment. It will be on his or her record for 25 years. If it's not substantiated, FAP still offers a treatment plan but it's up to the commanders to try to enforce it and she's found the commanders are strict on having the servicemember complete the plan.
Col. Krummich told the crowd of walkers that it's never too early to teach children about right and wrong.
SFC James Greene said he agrees and he participated in the walk because he has seen domestic violence firsthand and knows it's serious.
"The examples that we set for our kids are ones that they take as social norms as they grow up," SFC Greene said.
Col. Krummich emphasized that information, assistance and tools are available around the clock on post.
"The bottom line is domestic violence is never ok."
Domestic Violence survivors, offenders, relatives, friends or coworkers can call the National Domestic Violence hotline at 1−800−799−SAFE (7233).
The hotline for the Fort Irwin Family Advocacy Program is 760-267-6792.