FORT IRWIN, Calif. — Susan Webb said that being a Gold Star Sister means that she lost somebody in service.
"He was Staff Sgt. Christopher Webb, and I am a Gold Star Sister," Webb said.
Staff Sgt. Christopher Webb was assigned to 2nd Battalion, 5th Cavalry Regiment, 1st Brigade, 1st Cavalry Division, Fort Hood, Texas and died March 7 in Baghdad when an improvised explosive device (IED) detonated near his vehicle during combat operations in Iraq.
"My brother was my best friend," Webb said. "We did everything together. I cried when I couldn't go to school with him. I don't want him (Chris) to be forgotten."Webb described her brother as an adrenaline junky– an all-American boy, who collected arrowheads with their grandparents, enjoyed hiking, rock climbing and off-roading with friends on their rural country roads. "I don't know if there was a time that my brother ever didn't plan on being a soldier," Webb said.
Chris joined the Army National Guard at 17 and transitioned to the active Army at 19.
"I think that there are thousands of people that were lost in these wars and each one of them is important," Webb added. "I just want to make sure that people know who he was as a person—he's not just a name on the wall."Webb said her brother sang 'Chantilly Lace' until he was hoarse; he couldn't talk for days just to make her smile and people should know that. "Chris was the person I called normally when I had something big going on in my life. You know, it has been 13 years and I actually still catch myself picking up the phone to call him. A couple of years ago, I was watching a show and I was like, oh, Chris would love this show. But then it hits you—he's gone."
Webb said she has a lifetime of memories.
"You have the memories you made– it's not that you don't miss who they were but what you miss most is who they could have been," Webb said. "Its surreal to think I am officially older than my older brother."
Chris was 28 years old when he died– three years older than his sister.
"Chris wanted to deploy," Webb said. "He was fearless, and it bothered him that the soldiers he was recruiting were deploying and he never had."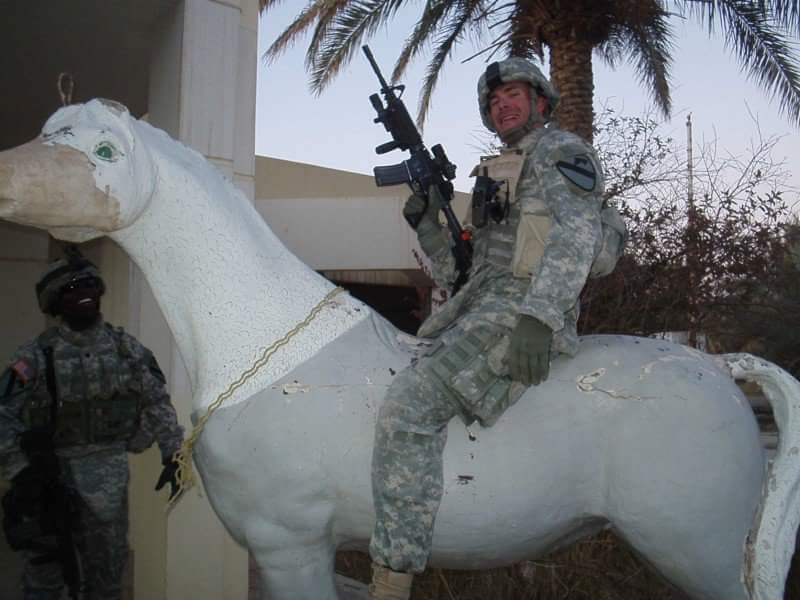 Web explained that Chris and his younger brother Coy deployed together. They were originally supposed to be in headquarters together, but because they were siblings, they couldn't be. The Army decided to transfer Coy out. Chris knew that where they were going to transfer Coy to was more dangerous, so he opted to be transferred instead."Chris was an amazing big brother," Webb said. "I think that's part of what made him a great NCO (Non-Commissioned Officer)." At Chris's funeral and memorials, Webb and her family were met with stories of her late brother. They heard tales of his temper, his coffee habit, his adventurous spirit, and his leadership."One of Chris' soldiers told of a day that they were supposed to go out for two or three hours and he took the ten-pound container of cookies that my grandma had sent him. And that's all they had to eat that day because they ended up being stuck on patrol for over ten hours," Webb said. "Those stories may be little to somebody, but they're big, because they're a part of them, that we, that I didn't know. This is a part of him that I didn't get to see."After Chris's death, Webb reached out to other Gold Star Siblings through a casualty assistance program. Webb said it was a huge part of her healing to connect with people who were experiencing similar tragedies. Webb explained that this assistance program assists with all military deaths, not just combat related fatalities.
"My Brother died in action, while deployed. But that doesn't mean that my loss or his death mean any more than a service member who committed suicide or died in a car accident," Webb said. "We all lost someone who gave their all for our country. I wish more people understood that."
Webb's family has always been extremely close but she said she found herself pulling away while trying to cope with Chris' death, and that even 13 years later her family is still struggling with their new normal without him. "We all had to take some time to heal as individuals before we could heal as a family, Webb said. "We will never be the same, but we will always be family."