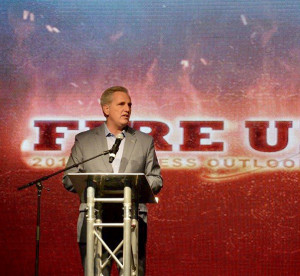 The theme this year for the Antelope Valley Board of Trade's Annual Business Outlook Conference was "Fire Up the Future," and fired up the conference was, attended by some 800 people or more from many walks of life.
Celebrated at the Antelope Valley Fairgrounds in Lancaster, Calif., this, the 45th AVBOT Annual Business Outlook Conference predicted a bright and prosperous future for the growing Antelope Valley.
The conference was opened by AVBOT President Kelly Hanley who welcomed everyone and talked about what she called "great work" being done here to inspire and educate the valley's local youth, today's young people destined to become the valley's next workforce generation.
"So today, join us on a journey not just to forecast our future, but to facilitate, drive and determine our destiny," she said, adding that a lot depends on how parents and educators prepare the valley's students for the workforce of the future.
The Lancaster High School Junior ROTC performed the presentation of colors and student Hailey Callison sang the National Anthem, giving conference goers a peek at some of the valley's outstanding young people.
Conference Chairperson Ed Knudson presented this year's Lifetime Achievement Award to local businessman Dante Simi. Simi is CEO and Founder of the Learn4Life Charter Concept Schools, an education organization considered to be an innovative educational system geared toward preparing young hardship students for the 21st century workforce.
Knudson described Simi as a man with a vision and an unabated desire to serve local dropout students who were failing in traditional schools. He said Simi opened the first Learn4Life school in Lancaster in 2001 and by 2016 there are Learn4Life schools throughout California that have served nearly 40,000 students throughout the state.
"Hundreds of those students live and work here in the Antelope Valley," Knudson said.
Accepting the award Simi said he was honored and speechless. He talked about Learn4Life students and shared several success stories. One in particular about a young female high school dropout who joined Learn4Life at 14, "She did very well, went on to AV Community College and graduated with an AA at 16 and a half."
Knudson said the student earned a scholarship to UCLA and after graduating from the university she went to work at the White House.
"All the way from Lancaster to the White House, that's what it's all about," he said.
Supervisor Kathryn Barger, 5th District Los Angeles County, presented Simi with a proclamation for his Lifetime Award achievement.
Barger talked about how business is growing in the AV and credited leadership, "It's all about working together to build a stronger base than we already have," she said.
Lancaster Mayor R. Rex Parris agreed that success is about working together, and pointed to a picture of him sitting next to Palmdale Mayor James Ledford. "For the first time in 20 years we're starting to work together and when that happens, look out, great things are happening," he said.
"This is an exciting time for the Antelope Valley," Barger said. "Great things are moving forward," she said.
"Within two years every UPS truck will be built in the Antelope Valley," Parris said. He said those trucks will be electric and all local buses will be converted to electric.
Parris said there are plans for building a manufacturing facility here on 150 acres, "In a very short time if you're unemployed in the Antelope Valley it'll be because you want to be unemployed," he predicted.
Lancaster Council Member Raj Malhi also talked about leadership working together and predicted a bright future for the AV.
"We're working on making the Antelope Valley inviting enough for students graduating from the universities to come back to the AV," he said, adding that local leaders are working toward building a world class infrastructure.
Local economist Paul Silvern, Partner HR&A agrees the future looks bright for the High Desert. "The vision that city officials have presented to you is not just a dream, it can happen," he said.
Silvern talked about a concept to build a state of the art health and wellness district to surround the Antelope Valley Hospital in Lancaster.
He talked about how 74 percent of Antelope Valley residents travel outside the AV to work and said the plan is to change all that. He said the proposed growth of business here is a very exciting opportunity for Lancaster.
Eastside Union School District Member Dr. Mark Marshall agrees educating our youth is the key to success and talked about how Palmdale is committed to student success by helping students get career and college ready.
Marshall said the Palmdale School District is focusing on preparing the students for the aerospace industry.
Dr. Michele Bowers, Lancaster School District, admits it's a big job, "Our task is to make sure our students are college ready," she said. Bowers said education in the AV is big business and said educators need to focus on the 21st century.
Introduced by Palmdale Mayor James Ledford, Palmdale City Manager Jim Purtee shared his vision of Palmdale's future.
"The next 20 years in the AV are going to be like nothing we've ever seen," he said. He talked about how business is growing here with several new hotels being built in Palmdale, he said officials are working on improved transportation and said we will see the day when residents can travel from Palmdale to Las Vegas in 90 minutes and from Palmdale to Burbank in just 20 minutes.
He talked about Car Max moving in, which, he said created 100 jobs with 100 more coming. "Eight-five people that were hired live here, that's changing lives," he said.
"We're expecting incredible changes in the AV," Purtee said. He said the aerospace industry is the area's top employer, and offers more jobs, more growth and the need for more workers.
"Transformation is coming, it's time to prepare for it," he said.
Congressmen Kevin McCarthy, R, of California's District 23 and Steve Knight, R, of California's District 25 were on hand and also expressed excitement about the valley's future.
McCarthy, who is currently the Majority Leader in the U.S. House of Representatives says he's thankful for the opportunity to serve and said he plans on bringing AV values to Washington. He talked about the chaos going on in the country and acknowledged that Americans are facing challenges in this country and in the world.
He talked about the next 200 days and said during that time he's going to focus on four major items.
1. Regulations: He said the voice has to come back to the people.
2. Affordable Care Act: He said Obamacare needs to be repealed and replaced, "Keep politics out of it and let's make a system that works."
3. Tax reform: McCarthy says America has the highest corporate rate which pushes businesses to go to another country. "The tax system needs to be restructured, we'll make it simple and we'll make it fair.
4. Infrastructure: "If there's any example of where infrastructure needs to be, it's California, we have let it go too long," McCarthy said.
McCarthy said the message he'd like delivered is that the election is over, "There are times I win and times I lose, and when the election is over, I want to work with whoever wins".
The congressman said he doesn't want to see someone win a political fight; he wants to see all of California gain. "We can be best friends and we can have different philosophies," he said.
Knight, who just returned from Iraq, focused on what he considers the great things that are happening in America and talked about the accomplishments being made on the three committees that he sits on.
The House Armed Services Committee is busy sending young, selected students to major military academies, something Knight says they are very proud of.
In the House Committee on Science, Space and Technology, the talk mostly centers around traveling to Mars and the Moon, but one of Knight's pet projects is aeronautics. He said NASA is working on a low boom-supersonic demonstrator and marveled about how much travel time that would save. "Wouldn't it be great if we could go across this country in more than 1.7 Mach?" Knight wonders.
The congressman said it takes 4 hours and 42 minutes for him to fly to Washington, D.C., and 5 hours and 40 minutes of fighting the wind to fly back
He said once supersonic travel is perfected people won't even know that someone is flying supersonic over their heads. "And we can go from LA to Washington in about 2 hours and 15 minutes."
"That's something," he said, "we need to accomplish in our generation."
For more news on this year's AVBOT Outlook Conference, see related stories in this issue of Aerotech News and Review.