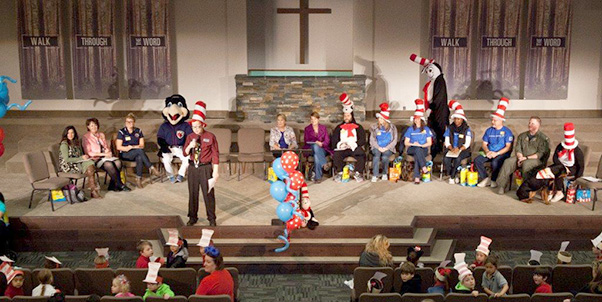 "For nothing can bring pleasure to a room,
like a big ol' skunk and a bird named KaBoom!"
Each year, on March 2 – the birday of Dr. Seuss — an estimated 45 million students, parents, teachers and caring citizens participate in National Read Across America Day.
"A book can take you anywhere. If you can read you can achieve anything — it can take you to another country or to the stars," says Linda Parker, a librarian at Desert Christian who organizes the event at the school.
She said she invites local people from the community to inspire the children. "We have so many people nearby that do amazing things everyday — they are great role models."
Lancaster JetHawks — 'KaBoom,' Lockheed Martin's mascot 'Skunk,' Desert Christian's mascot 'Scout,' a few Cats in a Hat and members of the community greeted children with plenty of high fives and hugs. Those who could talk went into class rooms and read to the students.
Lt. Col. Mathew Yeatter, 31st Test and Evaluation Squadron commander at Edwards Air Force Base, Calif., happened to pick up the book, "There's No Place Like Space" and read it to Donna Henwood's class of first graders.
"I've never been quite to space but I've flown some pretty cool things," said Yeatter before he opened the book. Not a peep came from the students as they listened to the officer reading with animation. Yeatter has two children attending the school.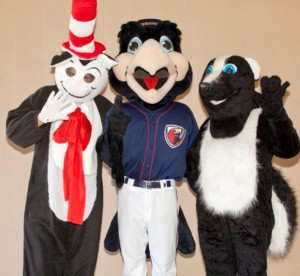 Cindy Falkenberg said volunteering for Reading Across America is one of her favorite events.
"I love hanging out with the kids and doing as much as I can with them. Reading is so important for so many reasons."
Falkenberg said as a young girl she hung out with her dad as he worked on cars, and read his car magazines. That reading paid off when later she joined the Air Force and became an aircraft mechanic, then worked on GM corporate jets. She is now a technical writer for Lockheed Martin on the U2 program.
"Today, girls have a chance to be anything they want." She said taking kids to libraries and book stores are great ways to spark interests and encourages everyone to pick up a magazine on a subject they have never looked at — "You never know!"
Editor's note: Theodor Seuss Geisel was born March 2, 1904, and died Sept. 24, 1991. He sold more than 600 million copies under the pen name of Dr. Seuss and his books have been translated into more than 20 languages. He was turned down by numerous publishers before someone took notice of his work–– a great reminder to all ages to never give up.