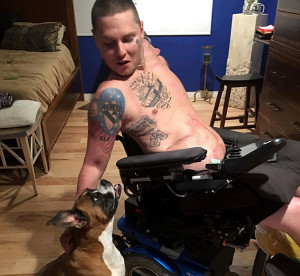 QUARTZ HILL–Retired Army tanker Jerral Hancock and his wife, Adriana, are hosting a fundraiser 4-9 p.m., Sept. 13 to raise money to help veterans who have veterinary bills for their pets.
The fundraiser will be at Vince's Pizza and Pasta at 2833 West. Ave. L in Quartz Hill.
"We are hosting this event for the North Valley Veterinary Clinic so veterans can pay bills for their precious pets," Adriana Hancock said.
"We just want to pay it forward," said Hancock, who was catastrophically wounded during an explosive ambush in Baghdad in 2007.
Since the combat wounds that disabled him, which happened when he was trapped in an M-1A Abrams tank during an IED detonation, Hancock has benefited from pet companionship.
Recently, his pet Boxer, Zeus, passed away. The Hancock's were assisted in their pet care needs at North Valley Veterinary Clinic. So, they decided to host the fundraiser at Vince's.
"We want to help North Valley Veterinary Clinic raise money for their program that helps veterans pay pet expenses," said Hancock, who served with the 1st Cavalry Division in Baghdad. "A lot of local veterans in our community rely on their pets for special reasons such as helping them mentally and physically. Their pets are family, and they would do whatever it takes to care for them."
When you purchase your order at Vince's during the Sept. 13 fundraiser, say "North Valley Veterinary Clinic" and 20 percent of your purchase will be donated to this cause.
If unable to attend, a donation can still go to North Valley Veterinary Clinic — care of Pet Bills for Veterans.
For more information, call 661-945-7906.