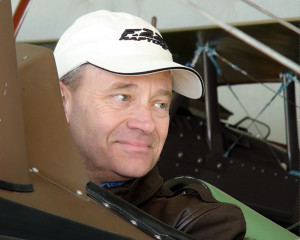 Steve Rainey is a 1980 Engineering Mechanics graduate of the U.S. Air Force Academy. He attended pilot training at Vance Air Force Base, Okla., and flew F-4s at Ramstien Air Base, Germany.
Rainey received his Master's in Mechanical Engineering from the University of Miami and graduated from the U.S. Naval Test Pilot School in 1991 (Class 99). Following test pilot school, Rainey was assigned to the F-16 CTF at Edwards Air Force Base, serving as a flight commander and the primary test pilot for all F-16 avionics testing.
From 1994-1996, Rainey did his time in purgatory at the F-22 Program Office. This paid off as he was then selected to be the first F-22 Operations Officer responsible for establishing initial operations. He was the first U.S. Air Force pilot (and third pilot ever) to fly the Raptor; "firsts" include: first flight at Edwards AFB; first in-flight APU start; first in-flight engine shutdown/restart, first air refueling; first loads test; first emergency landing gear extension; and first F-22 Loads test mission carrying Small Diameter Bombs.
He conducted all categories of Raptor flight test and was then assigned as the 411th Flight Test Squadron Commander in the F-22 CTF.
Rainey retired in 2000 and spent time as both an airline pilot and a civil service test pilot. In 2005, Boeing hired him as their test pilot on the F-22 program, regularly conducting flight test in all categories. In 2014, Lockheed Martin hired Rainey to be the F-22 chief test pilot. He is currently the only dual-qualified F-22 and F-16 Instructor/Evaluator Pilot.
The Raptor has been like one of Rainey's children. He has enjoyed the unique opportunity of participating in F-22 test from the airplane's infancy to today -still the world's most dominant aircraft. He has been involved with the program since before Critical Design Review to the present, including many major milestones such as chase on first flight, test pilot for first flight at Edwards, Engineering Manufacturing and Development phase, post-EMD testing with multiple Modernization upgrades. These include supersonic JDAM, Geolocation, Synthetic Aperture Radar, Air-to-Ground Self Targeting, and the addition of Small Diameter Bombs to give the Raptor a true Global Strike knock-the-door down capability.
The latest modernization effort has added full AIM-9X capability, the new AIM-120D, Geolocation 2 and other combat features. Hooter says "it's been like watching one of my children grow from infant to adult."
Rainey has more than 6,700 total hours in more than 40 aircraft types including the F-4 Phantom II, F-16 Viper, F-22 Raptor, MIG-21 and one wonderful flight in the P-51 Mustang. He owns an RV-4 and a Cessna 180 and has completed a backcountry flying course.
Rainey is an Eagle Scout and somehow, amidst all this flying found time, volunteers as an assistant Scout Master, Society of Experimental Test Pilots West Coast Section Chairman for almost three years, and as President of the Society.  He is a proud member of Daedalians and Quiet Birdmen.
Rainey is married and he and his wife Cindy have two children — Michael and Valerie.
Rainey is one proud American thankful to have had the opportunity to serve this country in developing and continually modernizing the F-22 Raptor — the most awesome fighter ever conceived by man!