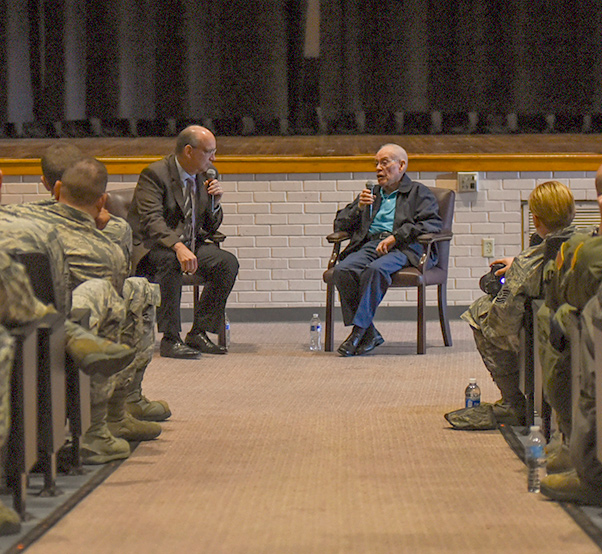 A 99 year old, World War II veteran who survived the Bataan Death March visited McConnell Air Force Base, Kansas, Oct. 20, 2016.
Retired Army Sgt. Eddie Graham, shared his experiences with an audience of McConnell Airmen and after meet with maintenance and Explosive Ordnance Disposal Airmen.
"It was a great experience, hearing his family history and our history being in the military," said Senior Master Sgt. David Smith, 22nd Force Support Squadron career advisor. "I feel that it was an opportunity for everyone in the crowd to sit on their porch with a grandparent going over the past. For me it was as if I had a grandfather who had interesting stories about being a POW from 1941-1945."
Graham voluntarily enlisted in the New Mexico National Guard to defend the United States with his life. He was assigned to the 200th Coast Artillery Regiment at an American base in the Philippines two months before the attacks on Pearl Harbor.
Entering World War II, Graham's unit was already in position to fight the Empire of Japan.
"[After fighting in the three month Battle of Bataan] his base was bombed and overran, the soldiers scattered into the forest with no supplies," said Jeff Longwell, Wichita, Kansas, mayor who facilitated the interview.
They fought on, but the worn-thin American and Filipino forces had to surrender. The Japanese began taking prisoners of war, gathering 76,000 soldiers and forcing them to travel 65 miles of rough terrain by foot to confinement camps. Approximately 27,500 soldiers lost their lives before reaching the camps due to violence, illnesses and starvation; however, Graham made it to the camp where he was forced to work at a farm and was fed very little. Because at least four men died a day of starvation and lack of medical attention, out of compassion Graham, a small-built man, often gave his measly rations to the larger soldiers so they could survive.
After a year being held prisoner in the Philippines, he was transferred to a camp in Japan, and forced to work at a steel mill until August 6, 1945. One day he felt the atomic bombs explode in Hiroshima and Nagasaki, and soon Japan surrendered and he was no longer a prisoner.
He lost 47 pounds over his four years of being a prisoner of war. When he returned to the States, he spent more than a year in hospitals recovering. Today, there are estimated to be only 50 survivors alive to tell their stories.
Graham said that his faith is what kept him going.
"There were about 15 guys that I would say Rosary with every day," said Graham. "I always had in mind that I was coming back."