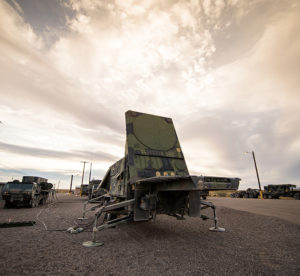 The United States Army is acquiring upgrade kits to make the combat-proven Patriot Integrated Air and Missile Defense system better at detecting and destroying threats, cost less to operate, and run even more reliably than it already does.
The U.S. Army recently awarded Raytheon a contract modification to an existing contract for radar digital processor upgrade kits, not to exceed the amount of $86.2 million.
The contract modification, previously announced on Sept 30th, will enable the U.S. Army to finish upgrading their entire inventory of Patriots.  The U.S. Army began phasing the upgrade kits into its Patriot fleet in 2013.
The U.S. and members of the 13-nation strong Patriot partnership funded development of the RDP. Patriot batteries upgraded with the RDP will:
* Better detect and identify targets, and have enhanced surveillance.
* Cost less to operate and maintain. The legacy processor has more than 700 components, while the RDP just has fewer than 100.
* Have a 40% higher reliability rate than systems with the legacy component.
"When one country develops an upgrade or improvement to Patriot, that capability is made available to the entire 13-nation Partnership," said Ralph Acaba, Raytheon vice president of Integrated Air and Missile Defense. "With more than 220 Patriot fire units owned by 13 countries, countries whose industrial bases participate in manufacturing Patriot have a very large potential export market."
The RDP and other Patriot upgrades leverage the lessons learned from Patriot's more than 190 combat employments, 700 flight tests and 2,500-plus ground tests.