Air shows Antelope Valley-style
Having had a small role in bringing back air shows to the County Airport at Fox Field, I think back to the days that inspired me as a young boy and now as an old(er) man — finding joy in helping bring back what was so special to thousands of aviation fans here in the Antelope Valley and the Southland.
The time was the early sixties and my first trip to Fox Field would start a lifelong romance with the winged wonders of the air and the men that flew them.
Early morning, and after Dad warmed up the old Pontiac on a Saturday, we were both off for what would be one of the coolest things I had ever seen.
Getting to Fox Field was an adventure — just as it is today — and the quest for a parking spot close by always turned into a hike, but what the heck. Young legs would not be deterred! After paying for the tickets and getting through the gate, we were off on our adventure with my Brownie camera and two rolls of fresh film on hand. Before long, Dad was telling me stories about every homebuilt plane and warbird we came across. I was not the only one enjoying this experience. Husbands and wives, fathers with sons and daughters, and just about every other family and friend connection you could dream of were laughing and living it up. This was a special day I would not soon forget and neither would thousands of others.
With the rows of planes inspected, we prepared for the show to begin — and man oh man, what a show! Names that at the time meant nothing to me but nowadays are what I consider the legends of the air kept my attention for a whole afternoon, and the final act was a special guy in an all-yellow P-51. From that day on, Bob Hoover would be for me the man that I would measure all other airmen by, and he gained a friend for life when he autographed my program.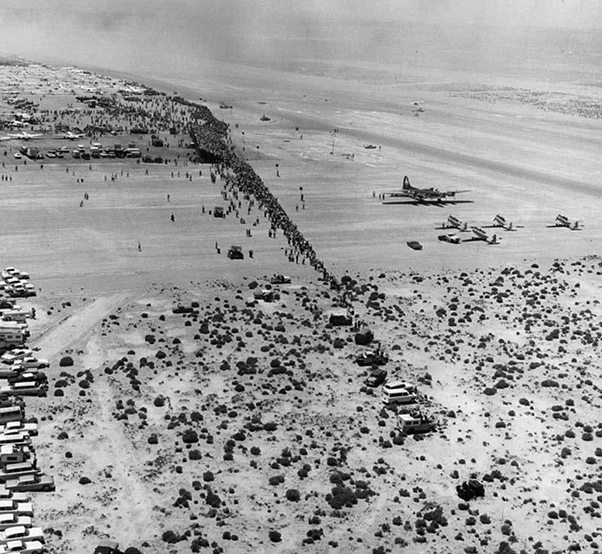 The years of air shows at Fox Field as I grew up would always be special for me, for it was the one thing that Dad and I had as our own. The airport was small, but it made for a very close-up and personal experience that is hard to get at today's "mega-shows." Many times the wind would blow and the dust would fly, but this is the Antelope Valley and we just dealt with it. The planes and performers trumped any weather issue!
Over the years, Fox Field would play host to many other air shows and for a while even flirted with Air Racing that brought in the big bore unlimiteds like the P-51s, Bearcats and P-38s. Even the high-flying Thunderbirds in F-100s showed up to demonstrate their skill in the skies over Fox in the 1960s!
Like many things, however, insurance and the cost of putting a show in the air became too high a price to overcome and the independent show at Fox Field faded away.
When my son was young I took him to many shows around the Southland at Edwards and March Field, along with the other shows that also had to call it quits as budgets and manpower dried up. But all the time I would think back to the days of a young boy and his dad with planes in the air. It was one of the things we always shared in our lives until the day he passed away.
But the memories remain, and it is those memories that make me thankful that a new generation of air show fans and organizers are finding ways to make new memories for the families of the Southland and the Antelope Valley. I hope for a long run and many more shows to come at a great little airport with great memories and history called Fox Field.
At the end of the day at my first ever air show I remember asking Dad would we be coming back and if so, when? "Soon," he said, "and not soon enough, Robert." I couldn't have agreed more!
Until next time, Happy Holidays, Bob out …