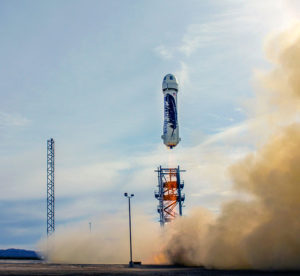 On Nov. 23, two proprietary JLAIR long range optical tracking systems owned and operated by FlightLine Films successfully recorded the first time a rocket booster flew to space and returned for a vertical landing back on Earth.
Blue Origin launched its New Shepard space vehicle to an altitude of 329,839 feet and FlightLine Films was hired to capture the entire ascent, separation and then landing of both the crew capsule and booster.
CEO of FlightLine Films, Jay Nemeth reports, "With one JLAIR being assigned to the booster and the other tracking the crew capsule, flight controllers had eyes on both vehicles at speeds up to Mach 3.72. Despite some cloud cover, we maintained imaging of the entire flight with our Short Wave Infrared Camera."
Once the booster and capsule descended through the clouds, FlightLine Films resumed imaging with all sensors including two RED Dragons with 8000mm optics.