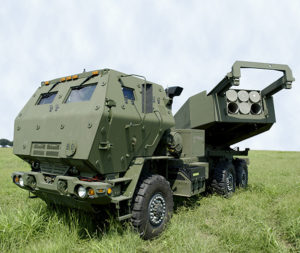 Lockheed Martin's High Mobility Artillery Rocket System recently achieved a significant milestone with U.S. military forces, reaching one million operational hours.
With a 99-percent operational readiness rate over the past 10 years, HIMARS remains one of the most reliable systems used by the U.S. Army and Marine Corps. The system is currently being employed strategically by the U.S. military in ongoing operations.
"This milestone is a testament to the legacy of performance and quality of design of the HIMARS system," said Ken Musculus, vice president of Tactical Missiles at Lockheed Martin Missiles and Fire Control. "HIMARS offers an unmatched strategic, combat-proven capability that helps Soldiers and Marines achieve their missions."
HIMARS was initially fielded with the 3rd Battalion, 27th Field Artillery Regiment in May of 2005. Since then, 14 additional launcher battalions have been fielded with the U.S. Army in active and National Guard units. In 2007, the U.S. Marine Corps received its first HIMARS launchers.
The revolutionary surface-to-surface precision engagement provided by HIMARS firing Guided MLRS rockets was acknowledged in 2008 with the William J. Perry Precision Strike Association Award. The system is supported by Lockheed Martin under a Performance Based Logistics effort that was recognized in 2006 and 2009 by the Secretary of Defense for outstanding support.
HIMARS is a lightweight mobile launcher, transportable by C-130 and larger aircraft for rapid deployment, that fires Guided MLRS and TACMS munitions. HIMARS consists of a launcher loader module and fire-control system mounted on a standard five-ton truck chassis. A specialized armored cab provides additional protection to the three Soldiers or Marines who operate the system. HIMARS is also fielded internationally.