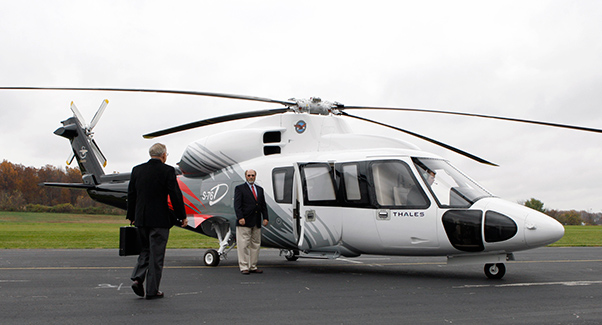 Sikorsky, a Lockheed Martin company, has appointed UI Helicopter Co., Ltd to become a Sikorsky-authorized Customer Support Center in the Republic of Korea.
Based in Yesan, 100 kilometers south of Seoul, the CSC will enable operators of Sikorsky S-76® and S-92® commercial helicopters to source repair and overhaul services within the country's borders.
"UI Helicopter has more than proved through years of professionalism and discipline the ability to maintain, repair and overhaul large helicopters," said Christophe Nurit, Sikorsky's vice president for Asia. "We are very pleased to recommend UI Helicopter to the growing number of operators of S-76 and S-92 aircraft in South Korea, who rightly expect the highest level of support for their Sikorsky aircraft."
Customers across the Republic of Korea operate 14 of Sikorsky's S-76 medium size commercial helicopter to transport corporate executives and for utility missions. Of Sikorsky's larger S-92 helicopter, three are flown by the Korean Air Force for executive transport, and one by the Korean Coast Guard for search and rescue duties. A second S-92 aircraft for the Coast Guard is on order from Sikorsky for delivery in 2017.
UI Helicopter will be the only Sikorsky-authorized Customer Support Center in the Republic of Korea to service S-76 and S-92 helicopters. Of the more than 20 Customer Support Centers authorized by Sikorsky worldwide, only a small number are approved to offer MRO services for both Sikorsky commercial helicopter types.
"We take a great privilege in our relationship with Sikorsky, since we are the founder of helicopter industry in the Republic of Korea with a long history in its profession," said Albert S. Rim, President and Representative Director of UI Helicopter Co., Ltd.
"Our participation in the team effort with Sikorsky to serve the many loyal customers of Sikorsky in Korea will contribute to the customer satisfaction for product support. Henceforth our skilled workforce will ensure the operators of Sikorsky S-92 and S-76 helicopters across the country can receive in a very timely manner the devoted and advanced service, and the parts that the proven aircraft require for the safe operations."
Established in 1986, UI Helicopter has grown to become one of the Republic of Korea's leading providers of helicopter Maintenance, Repair and Overhaul services.
Since 2004, Sikorsky has delivered 275 S-92 heavy lift helicopters to operators who have accumulated more than 950,000 flight hours on the global fleet for offshore oil and gas, business transport and search and rescue missions. The platform's safety record is best-in-class.
Of the S-76 helicopter family, Sikorsky has delivered more than 800 aircraft to customers globally since 1979. An active anti-vibration control system in the new S-76D aircraft generates the quietest and smoothest ride of any helicopter in its class.