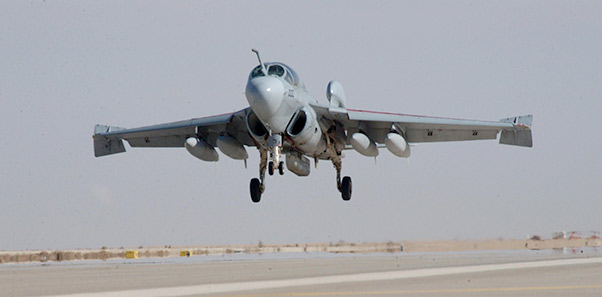 EA-6B Prowler aircraft from Marine Corps Tactical Electronic Warfare Squadron 4 have deployed to Incirlik Air Base, Turkey, to support electronic attack requirements in Operation Inherent Resolve, the effort to counter the Islamic State of Iraq and the Levant.
The deployment is planned to last through September, U.S. European Command officials said.
The Prowler provides an umbrella of protection to coalition aircraft and ground troops in the fight against ISIL by intercepting communications as well as denying the enemy's ability to communicate, officials said.
"The EA-6B Prowler is a force multiplier continuing to do what it has for the past 45 years: support warfighters flying in the air and fighting on the ground by giving them the electronic communications dominance to ensure a decisive win," a EUCOM statement said.