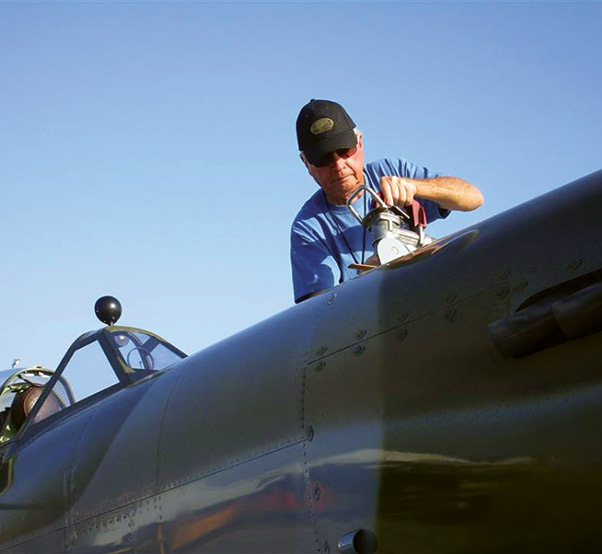 Making my way around the Planes of Fame Air Show last weekend I was in search of a story that would be uplifting and a bit out of the ordinary.
I met up with my friend Joe Yanncy of Allison V-12 aircraft engines fame and the story fell right smack dab in my lap. As I walked into his hanger a big beautiful Spitfire, looking as sexy as an airplane ever could, called to my soul to ask questions.
Bob Deford was the key that unlocked the box that held the story of this beautiful bird. Bob, a retired airline pilot, sat down with me and shared the story of how he became the owner of a Spitfire.
Bob shared that his first encounter with flight and warbirds was when at the age of three in Bakersfield when three P-38s flew over his house as he played in the backyard. And with that, the fire was lit.
Bob struggled in his early life and was not a very good student. But his love for all things that flew had him at local airports doing whatever it took to get dirty and work in some flying time.
After realizing school was not going to be the answer to fulfill his dreams of flight, he was off to the U.S. Air Force where, in the 1950s, he found himself working on different aircraft but enjoying the time wrenching on F-86s.
When his four years was up it was back to doing anything that was around airplanes and, with some mentoring, lucky breaks and his growing self-taught skill with the aid of Uncle Sam not to mention crop dusting, he ended up flying right seat for some small airlines. His career took off, literally, and in 1997 he retired from Northwest Airlines as a left seater on DC-10s!
A successful airline career was great but there was an itch that needed to be scratched. That same itch that struck a little boy in a back yard many years ago.
Retirement was great, and the money was there to help scratch that itch until he found out and realized that war birds don't come cheap!
So, spending time with the Commemorative Air Force in Texas and around the southwest, he took every opportunity to fly P-51s and P-40s. But still, in the back of his mind, he wanted his own.
I wish you could have seen and heard Bob tell this part of the story for his greatest love is the British Spitfire of World War II.
In later years he would watch the Battle of Britain movie hundreds of times, and watched as those beautiful planes took off from grass covered airstrips in England — bouncing along as they taxied and took off; that's the plane he wanted.
But financially it was just out of reach until he came across a Frenchman named Marcel Jurca.
It seems this 'dream maker' was selling full size plans that fit right into Bobs dreams of always making things happen!
Not wanting to tell all the details for I don't think I can get Aerotech to run a "Bob Deford Spitfire special issue," I will just say the young dreamer, who carried those dreams his whole life, built a full scale Mk IX Spitfire — with the help of some very talented friends!
What went into the engineering and the building of this beautiful plane is a testimony to the skill of fine American craftsmen and just what can be accomplished when dreams cross paths with desire and a 'never say quit' attitude!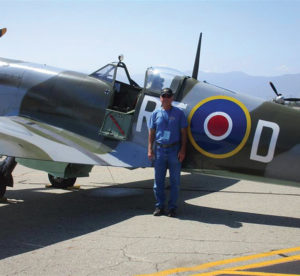 Looking at the plane up close and in flight no words are needed.
The same goes for Bob for when you look at him around his plane, no words need be spoken because you can see it in his face and his movements that they are one!
There is so much more to this story that I wish I could share, but the column can only hold so much. So I will finish this installment with a Spitfire 'Bob Deford' reflection on what a dream come true really looks like.
"EAA's Air Venture 2015, Bob and his homebuilt 1,325 horsepower V-12 full-size Spitfire find themselves on familiar ground. Seen only in movies and in dreams, the grass covered runway at Oshkosh looks and feels a lot like the runways of 1940s England.
"As he throttles up, the plane bounces down the grass strip until the elliptical wing grabs enough air to fly. A smile comes to his face and I'm sure the words sounded something like 'That's the feeling I have been looking for my whole life!'
"I can only hope we all can find our own grass strip on a cool day with puffy white clouds! If you want to learn more about this amazing man and his plane do an internet search with his name and the word Spitfire and you can get a lot more of the details of the building of this great aircraft."
Till next time Bob out …