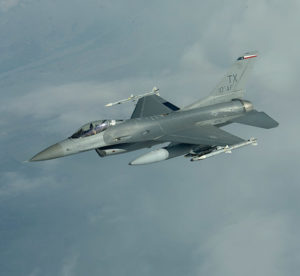 One pilot's landing, lack of comprehensive braking and flight path deconfliction, combined with a second pilot's delayed transition to the correct side of the runway led to the collision of two F-16C aircraft on the Nellis Air Force Base, Nev., runway Aug. 15, 2015, according to an Accident Investigation Board report released May 9.
The mishap occurred during landing procedures following an orientation flight in association with a large-force exercise held at Nellis AFB.
One pilot sustained life-threatening injuries, but survived. The second pilot in the mishap was uninjured. One aircraft, valued damages at approximately $64M and considered destroyed and the second aircraft sustained approximately $5.4M in damages. Total loss to the U.S. Government is nearly $71M.
According to the Accident Investigation Board President, rescue personnel responded to the mishap in approximately one minute. The first responders freed the injured pilot, who had sustained life-threatening injuries.
Both pilots and aircraft were assigned to the 457th Fighter Squadron, 301st Fighter Wing, Naval Air Station Fort Worth Joint Reserve Base, Texas.