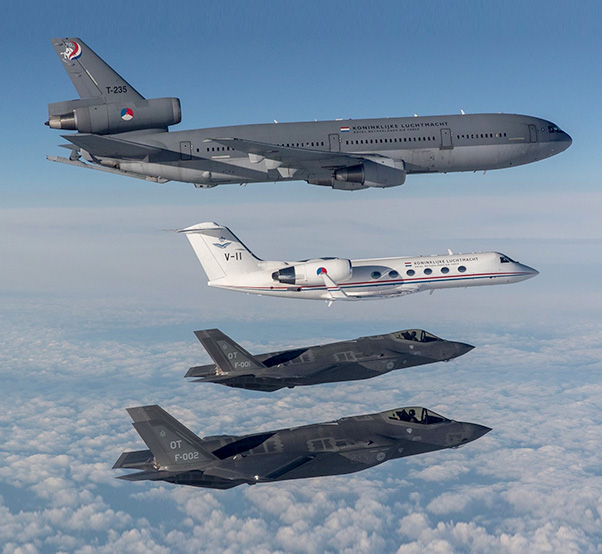 A white Gulfstream jet carrying Netherlands Defense Minister Jeanine Hennis-Plasschaert joins up with two Dutch F-35As and a Royal Netherlands Air Force KDC-10 refueler May 23 on the final leg of a transatlantic trip that began at Edwards AFB, Calif.
Most of the Dutch component of the F-35 Joint Operational Test Team headed to their homeland where they will conduct test sorties and introduce their fifth-generation fighter to the Netherlands people, which falls in line with a promise made by Hennis-Plasschaert to bring the jets home for an up-close and personal viewing for the public.
The two Dutch F-35As took off from Edwards May 21 and landed at Naval Air Station Patuxent River. Md. After fueling up and running some checks, the jets launched over the Atlantic followed by two RNLAF KDC-10 aerial refuelers and a NATO C-17 carrying gear and spare parts. The planes landed at Leeuwarden Air Base in the Netherlands, which is one of two bases that will be home to the RNLAF's F-35s when they arrive permanently in 2019.
The RNLAF plans to replace its legacy F-16A/B fleet with a minimum of 37 F-35s, split between two bases.
The deployment is expected to last three weeks, then the jets will return to Edwards to continue operational test and evaluation.