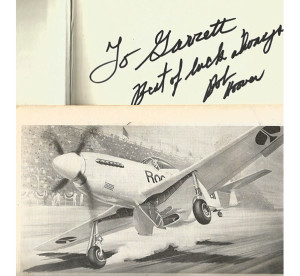 The end of an era
Bob Hoover was like no other pilot that ever lived.
In the coming months and years, much will be said and published about the amazing feats and accomplishments of the man called, "The greatest stick and rudder man to ever fly a plane."
I'm not the guy to share that perspective of history with all of you. I will leave that up to those that flew in that world with Bob, because they are the true measure and the best source to put his amazing talent and life in proper perspective. With that being said, I will give you a young boy's take on what Bob Hoover's life meant to thousands of Baby Boomers like me that held him in such high esteem.
Many of us back in the era of Saturday morning cartoons, adventure shows and comic books always looked up to those that were larger than life and could inspire with deeds, skills and bravery.
From the first time I saw Bob perform as a young boy holding my Dad's hand at Lancaster's Fox Field, I knew he was the "real deal" and I wanted to know more about this man that flew an airplane like an artist. Studying books and magazines, my generation realized he was a real honest-to-God hero that lived his life the way we all wanted to live ours when we grew up. The icing on the cake was the first time you actually met Bob, he was everything you would hope for. He was polite, professional, outgoing and a real gentleman who made you feel important. He was a master of airplanes that held our imaginations growing up: the P-51 Mustang, the F-86 Saber and the North American Aero Commander, not to mention all the other aircraft that went on to fill our bedroom ceilings as model kits hanging from strings.
Time went by and we all started to grow up, but at every air show we found ourselves as kids again watching a never-aging Bob take to the skies and inspire new generations of air show fans with his skill and precision. He belonged to the crowd as he performed, but deep down inside we would smile and say to ourselves, "We had him first, but we were willing to share."
Time would pass and we Baby Boomers would find ourselves with our own 10-year-olds. I will always remember the first time my young son stood with me at Reno many years ago and we arrived at the front of the line where Bob was signing his book, Forever Flying. It was one of those moments where I felt 10 again, sharing with him what he meant in my life, and then looking at my own son and asking Bob to sign a book for him so someday when I'm gone he will always know what a real hero looked like in my life. He smiled, and with that hand that performed magic in the air, shook my son's young hand and then mine. I have carried that moment with me ever since and I will always look back at that encounter as a real diamond day in my life.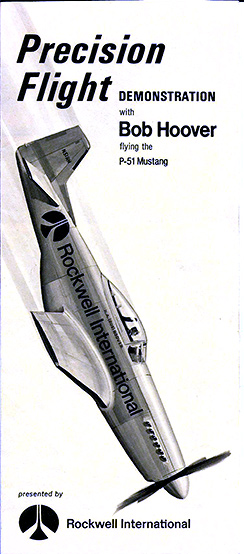 Hearing of Bob Hoover's passing was the same as hearing that a family member had passed away. He was always there in our lives, a fixture at air shows, banquets, and in magazines and books. We Baby Boomers now have an emptiness in our souls that can never be filled. They just don't have Bob Hoovers taking to the skies anymore. That's not saying we don't have talented pilots; we just don't have those talented pilots with so much amazing history.
How do I end this when I want to share so much more about this great man? I can only use a part of Bob's life that I think defined his heart and his appeal to so many.
Bob was born in 1922 and in 1927 he was five years old. That year Charles Lindbergh became a role model and a hero to a young generation that would soon be asked to fly in the skies to protect the values and ideals of America. Bob would take that inspiration and overcome many obstacles that would have made lesser men quit. He always spoke of Charles Lindbergh and his daring and skills as a pilot. One of the many joys of Bob's life was when he inducted Charles Lindbergh into the Society of Experimental Test Pilots. The boy and his hero had come together — he never lost the spark and the spirit that his hero had given him at a young age. Today we, as a nation, induct Bob Hoover into our memories. The humble and patriotic man that dared us to be better, dream big and left us breathless will never grace our skies again, but will be forever flying in our memories, and our generation was truly blessed to have this great man in our skies, our hearts and lives.
Happy landings, Bob and thanks from a grateful group of very old young kids.
Till next time, Bob out …