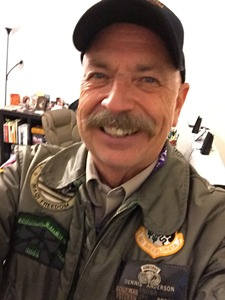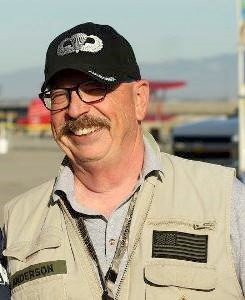 After 40 years in the news business, I put in the hours to turn the page and shift into a new line of endeavor. Consider after 40 years, that maybe it was time to try something new.
After leaving the Antelope Valley Press after a 16-year hitch as editor, I trained at USC's program for counseling veterans and military families to be of help with issues related to the impacts of service. Sometimes it involves working with troops who experienced stress and trauma related to their service, and sometimes it is work with community organizations and veterans.
High Desert Medical Group became my new 'home' last year, and they have been very supportive in helping our military veteran community.
The year that I left the Army, in 1975, my goals were modest personally, and hopeful professionally. I wanted to be a writer. I was in the first class of the new "All Volunteer Army," and also got the opportunity to attend the Army's "School For Wayward Children," otherwise known as jump school for basic parachutist qualification. Honestly, the wings mean more than almost any number of other degrees or honors.
Service afforded me the opportunity to go to college and find a vocation. Beyond parachute jumping, I wanted to be a writer. So, they Army gave me the tools to acquire a lifelong skill and livelihood. Which is why the G.I. Bill has been the greatest instrument for education and upward mobility, and maybe the best thing to come out of World War II for the ones that got the G.I. Bill passed.
In the Cold War, serving in an armored cavalry unit on the East German border required some writing skills. I think we called the East Germans "Bravo Charlies," and that meant border constabulary, or something like it. We took notes.
Sometimes standing a few feet away from our East German border counterparts, I would be filling up a notebook, taking down the particulars to the East German guys collar tabs and rank, and he might be filling up his own notebook. I wanted to look poker-faced, and since the other team was still wearing World War II-style jack boots and field gray uniforms, only with little hammer and sickles instead of swastikas, I can tell you that they looked pretty dour.
So, you could say that working border recon was something like being a reporter. The year I got out of the Army, the news was full of helicopters evacuating the Saigon embassy, and guys like my American Legion buddy Bobby Breech, helping to push those helicopters off of aircraft carrier decks into the South China Sea, to make way so more of our Vietnamese allies could land on the same deck space.
This is how it goes with veterans. We know that there are a few we wouldn't want to go camping with, the same as certain relatives are a burden over the holidays. But for the most part, veterans treat each other like family. It's a bond.
Take Bobby Breech. When I was growing up, kind of an idyllic childhood in the Sun Valley-Sunland Shadow Hills area, which then had a hitching post for horses at the Stonehurst Market along with the parking lot, Bobby Breech had an exalted position. He wore an apron, worked the cash register, and he was about my age. His folks owned the market.
Twenty-five years after I got out of the Army to take the plunge into journalism, I had made the circuit from small newspaper, to United Press International in Washington, to the New York international desk, to the Associated Press in Los Angeles, and back to another daily newspaper, the Valley Press. Like politics, all news is local.
So I was attending a "roast" at the Elks Lodge in Palmdale, and a guy gets up to sing, and I recognize the voice, and I recognize the face. It was Bobby Breech, the kid who used to work the cash register at the Stonehurst Market when JFK was president. He was wearing an American Legion shirt, Post 348. Which turned out to be my American Legion post.
I walked over and introduced myself, and Bobby said, gruffly, "I know who you are." To be a newspaper editor is not to be universally loved.
I recalled that we had a disagreement over the phone about a newspaper story, and then I asked him, "Are you Bobby Breech from the Stonehurst Market?"
He nodded, and kind of swallowed hard. "Are you the Dennis Anderson from Stonehurst Elementary School?" And that was true, too.
Next, I asked, "Are you the commander at Post 348?" And he nodded yes, and I think I saluted, because I said, "Then you're my post commander."
Where and when did we serve? We are the same age — which to say right now is that we are a couple of the oldest teenagers in the Antelope Valley.
In 1975 when I packed my duffel bag to come home from Germany, so I could go to college and find some sympathetic female company at Pierce College. I had earned my G.I. Bill by putting my time in the Cold War. Bobby earned his G.I. Bill benefits, among other things, collecting Vietnamese fliers off those Huey helicopters they had to push off the deck.
We had both been serving on opposite sides of the world, and made the full circuit from Stonehurst, around the wide world, through the years and to the Elks Lodge in Palmdale. Bobby has a really hearty handshake.
A few years later, we would both have sons serving in the Marine Corps, doing their bit, and a little bit more, in the War on Terror.
Through the years, I would listen to Bobby sing karaoke at the Legion post or other venues. He's done several turns as the leader of the Antelope Valley Service Organizations Association. They are the nice folks from the Legion, and Veterans of Foreign Wars, and from, yes, the Elks, and some other groups. At the Desert Lawn cemetery — where many veterans are buried, they are there to pay their respects with a few words and a rifle salute.
Here's the thing. The American Legion, the VFW, the Disabled American Veterans, Paralyzed Veterans of America and others, they exist to be guardians that the promise is kept, the one that was made by President Lincoln, "to care for the ones that bore the burden, and for his widow, and his children." That is what the dues pay for, to be watchful that the government keeps the promise to those who exposed themselves to hazard and jeopardy by way of their service.
We still have World War II veterans — "Greatest Generation" vets — who need our love and respect. We have Korean War veterans, and the millions who came home from Vietnam without a "Welcome Home." And we have more than a million troops who have served since 9/11, and we have veterans who served in other, lesser known conflicts, and some completely unknown map coordinates.
We really are like family, and most of the time we are the relatives who would go camping together, and even do so sometimes. Bobby and I sing some karaoke the same nights sometime. We might not be on the same sheet of music, but we know the words.
Editor's note: Dennis Anderson spent 40 years in the news business, served in the Army during the Cold War and Vietnam War Era, and traveled twice to Iraq as an embedded reporter with a National Guard company from Lancaster. He will write columns that explore the veterans experience for Aerotech News and Review.