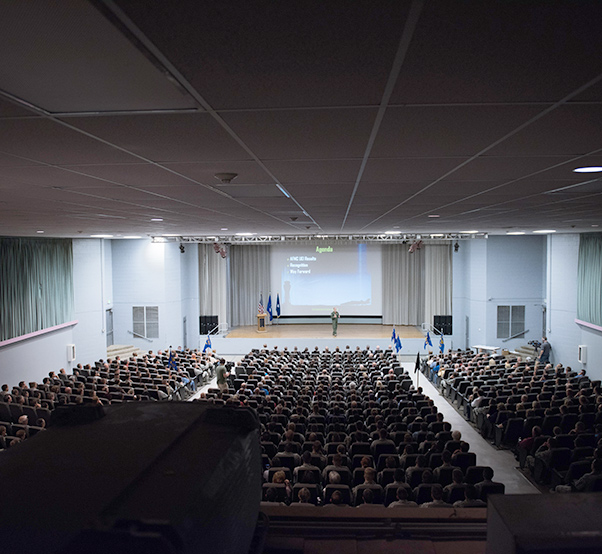 The base theater at Edwards Air Force Base, Calif., was filled to maximum capacity for a commander's call May 5 to recognize the achievements of the 412th Test Wing in the recent Capstone Unit Effectiveness Inspection that ran April 25-28.
Inspectors from the Air Force Materiel Command Inspector General Team from Wright-Patterson Air Force Base, Ohio, visited Edwards to close out a two-year Unit Effectiveness Inspection cycle.
The inspection system, which went into effect under an updated Air Force Instruction August 2013, evaluates four major graded areas of wing readiness: Managing Resources, Leading People, Improving the Unit and Executing the Mission.
Team Edwards received a rating of Highly Effective, which is the highest possible grade, in Executing the Mission and Improving the Unit.
"We are crushing it; where ever you are at you're crushing the mission," said Brig. Gen. Carl Schaefer, 412th TW commander. "That is the feedback that I got … The things you are doing today is impacting downrange right now."
Edwards received the second highest rating of Effective in Managing Resources and Leading People for an overall "very strong" Effective rating, Schaefer said.
Under the UEI process, wing members are responsible for assessing deficiencies in their units, reporting them to the inspector general and then devising and implementing a plan of action to correct any issues that arise. The process involves a mix of exercises, self-assessments, Airmen-to-IG sessions, no-notice inspections and an in-depth IG inspection of the unit every two years, with a wing Capstone UEI event every 24-30 months conducted by AFMC.
After many thanks from the general for a job well done, Schaefer had dozens of Team Edwards members come on stage and presented certificates of achievement for their extraordinary efforts, which helped contribute to the high inspection score.
"That is a huge deal to be recognized in what I believe is the best wing in AFMC. These are the best of the best and they represent a lot of people that are out here. I want to pass on, from me to you, a huge congratulations on this inspection. You came through with flying colors," Schaefer said.
After the UEI portion of the commander's call, Schaefer turned to the future in which he discussed the impending increase of active duty Airmen throughout the Air Force, especially in aircraft maintenance fields. He also touched on the upcoming programs that will bring an increase in planes and keep Edwards ever so busy in the coming years.
"We're the portal for modernization for the Air Force. So if modernization has to happen it is going to come through Edwards. That's what being part of this test community is all about. As new weapons systems come on line, as we upgrade more, it's all going to come through Edwards, and we're going to need people to do that and money," said Schaefer.  
He added that whatever government plans are made for the federal civilian workforce, whether to grow or shrink, Edwards AFB's civilian workforce needs to grow to accomplish all the things that the Air Force needs Edwards to do. He said that concept is understood by Air Force leadership.