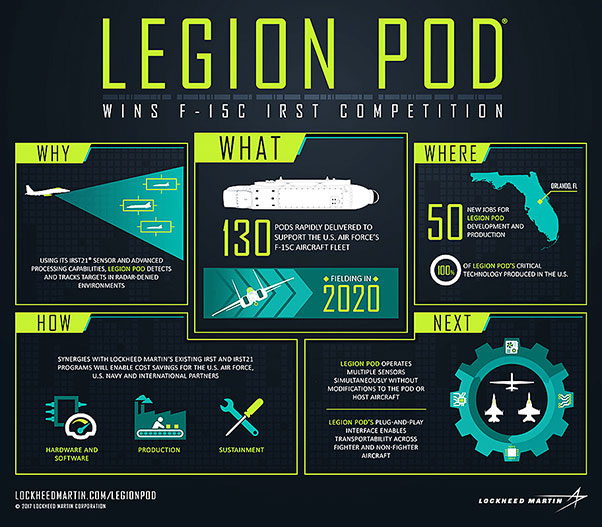 Lockheed Martin's Legion Pod® has been selected as the Infrared Search and Track system for the U.S. Air Force's F-15C fleet. Lockheed Martin will produce more than 130 systems, which will be delivered for aircraft integration.
Equipped with the company's IRST21® infrared sensor and advanced data processing capabilities, Legion Pod provides long-range detection and tracking of airborne threats in radar-denied environments. The Boeing Company, serving as the U.S. Air Force's prime contractor, source selection authority and aircraft integrator, will award Lockheed Martin an engineering, manufacturing, development and production contract for Legion Pod in 2018.
"With a rapid delivery schedule and unmatched sensing capabilities, Legion Pod will immediately enhance our warfighters' operations and address a passive attack capability gap," said Paul Lemmo, vice president of Fire Control/Special Operations Forces Contractor Logistics Support Services at Lockheed Martin Missiles and Fire Control. "Our proven partnerships with Boeing, including on our U.S. Navy F/A-18E/F IRST21 and international F-15 IRST products, will ensure successful execution of the F-15C Legion Pod program for the U.S. Air Force."
Lockheed Martin will deliver its first Legion Pod for the program in 2018, with additional deliveries planned for 2019. Lockheed Martin previously completed more than 25 flight tests with Legion Pod on the F-15C and F-16, successfully demonstrating its integration, detection and tracking capabilities.