Patriot Guard riders had the honor of escorting World War II veterans around the city of Tehachapi last week.
U.S. Air Force Capt. Robert "Bomber Bob" Wood, 92, his friend Sylvia Barns, 81, Staff Sgt. John Grenek, 96, and his wife Jane Grenek, 90, enjoyed a visit to the Police Department and the Tehachapi Municipal Airport to view a PT-22 Stearman Airplane, the same type of aircraft used to train new pilots in the early 1940s.
Wood was also recognized for his bravery and pilot skills while flying 35 bombing missions over Nazi Germany in a B-17 Flying Fortress named "Miss Behavin," and as a rocket scientist in the development of the Thor ballistic missile in the 1960s at Edwards Air Force Base.
Wood joined the U.S. Army in February 1940 and was sent to U.S. Army Air Corps training in Fort Lewis, Wash. After pilot training in 1941, Wood's entire Army Air Corps division was invited to integrate with the War Department's new branch of service, the U.S. Air Force.
"For Air Force veterans to survive five bombing missions into enemy territory is a rare and decorated service achievement," said Ed Sullivan, a representative of the National World War II Memorial Committee in Tehachapi, at a luncheon at Big Papa's after the tour. "This amount of action in war is unheard of."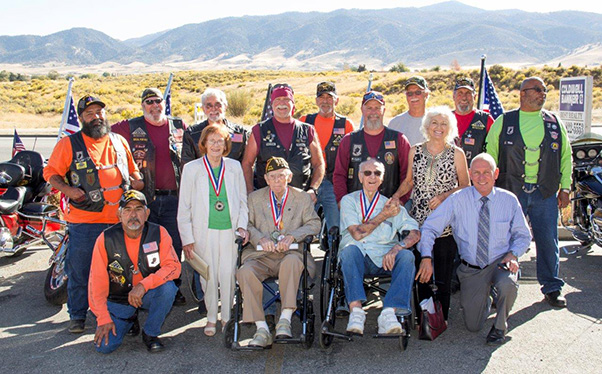 Also honored was Staff Sgt. John Grenek who enlisted in the Minnesota National Guard in January 1940. In 1941 the National Guard was federalized and his unit was sent to Camp Claiborne, La. Grenek arrived in Northern Ireland in February 1942. He was then transferred to England, where he met his future wife, Jane.
Grenek served in the Normandy Invasion landing on Omaha Beach and also survived the Battle of the Bulge. He is the recipient of five Bronze Stars. On June 6, 1994, the 50th anniversary of D-Day, he and his wife toured the battlefields of Normandy where the French government awarded him the 50th Anniversary "Legion of Honor" Medal.
"Your sacrifices ensure that we have the freedoms we have today," said Lt. Col. Miles Middleton, commander of the 419th Flight Test Squadron at Edwards Air Force Base, during the luncheon. Middleton said that because of love of country and the freedoms Americans hold dear, 16-year-old boys joined the military, claiming they were 18 and unsure of what would happen. "Not only did young men jump in ships in U-boat-infested waters heading to Europe, they hopped in aircraft that were slapped together in a period of about three weeks, as Boeing was cranking out approximately 300 or more aircraft a month." The aircraft came off the production line and the only test flight they had was flying to Europe, then straight into combat. "We can't thank you enough," added Middleton, holding his emotions.
Patriot Guard Ride Captain Jim "Kick Stand" Jacobs said it was an honor to spend time with the veterans. "The sad part is, there are fewer of them every day, so I suggest everyone find a World War II veteran as soon as possible and give them a big hug and thank you while you still can."
On average, 27,000 people were killed each day between Sept. 1, 1939, until the formal surrender of Japan on Sept. 2, 1945. The war claimed more than 60 million lives, including 405,399 American soldiers. Tehachapi High School will hold a special event honoring World War II veterans on Nov 9.