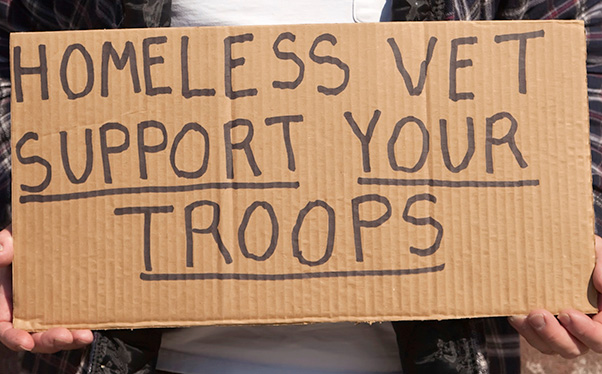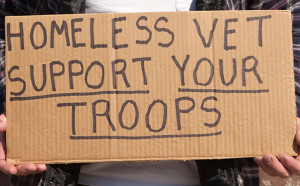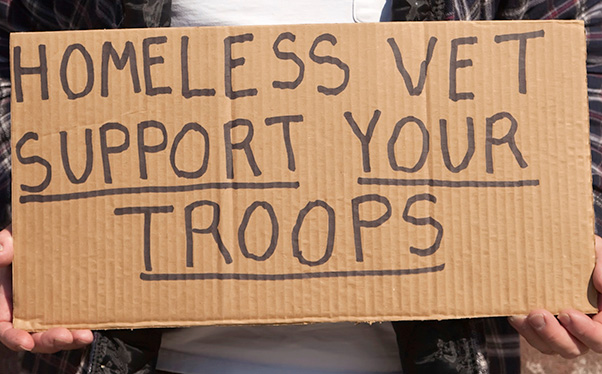 LANCASTER, Calif.–The 2017 homeless count numbers spiked for veterans across Los Angeles County, along with all varieties of homeless people.
The 2017 "point in time" count conducted by Los Angeles Homeless Services Authority supported by an array of non-profit and social services agencies noted a 50 percent increase in the numbers of homeless citizens in "Service Provider Area 1," which encompasses the Antelope Valley.
The numbers of homeless citizens counted in 2016 was about 3,000 people for the Antelope Valley, a regional locale with two major cities in Los Angeles County — Lancaster and Palmdale, each with about 150,000 citizens. When the count was taken again in 2017, the homeless numbers for the Antelope Valley surged to nearly 5,000.
The number of homeless veterans counted in 2016 numbered only in the dozens — 65 in the homeless count. A year later the number spiked to 300.
For social services agencies providing services and outreach specifically to veterans this means the counted number spiked nearly four-fold.
It also means that 300 veterans number at a little less than 10% of the Antelope Valley's over-all population.
They join with more than 4,500 other veterans homeless in Los Angeles County.
The numbers may be fewer than the total number of homeless, but agencies ranging from the Homeless Services Authority, to the federal Department of Housing and Urban Development, to the federal Department of Veterans Affairs places them in a special category because of their service in the nation's armed forces.
In Los Angeles County, following a nationwide trend, the efforts of HUD-VA, with programs such as VA Supported Housing and Supportive Services to Veterans and Families had been making progress in reducing the numbers of veteran homeless, locally and nationally.
But the 2017 homeless count indicated that in Los Angeles County that trend reversed.
"The numbers are up in all service areas," Joanna Bomba a veterans' services coordinator for LAHSA said.
Bomba joined Heidi Marston, a VA director for community engagement and reintegration, during a workshop at Mental Health America's headquarters at 506 W. Jackman St. in Lancaster. The meeting of the Homeless Veterans Steering Committee was called together by Sarah Perry, who works on housing homeless veterans in MHA's Military Resource Center.
Reasons for veteran homelessness co-related with the surge in numbers of homeless residents of Los Angeles County. Most studying the subject believe that rapidly rising rents and an overall shortage of homes in a tight housing market provide at least a part of the answer for the spike.
After falling 30% from 2015 to 2016, the number of homeless veterans in Los Angeles jumped to 4,828 from 3,071 in the official 2017 count, wiping out the previous year's improvement, the Los Angeles Times reported in June.
Los Angeles homelessness overall rose 23 percent county-wide and 20 percent in the City of Los Angeles.
Stephen Peck, president of U.S. Vets, said more than 500 veterans with VA vouchers can't find a place to live because of Southern California's soaring rents. Peck also said the VA does not provide enough case management to help veterans with post-traumatic stress disorder, military sexual trauma and other severe issues stay in housing.
"They're not going to get in housing and just get better," Peck told the Los Angeles Times in June. "They need support to keep on track, make sure they are taking their medication and keeping appointments so they remain stable."
While most homeless veterans date to the Vietnam War era, the 16 years of wars waged in the Middle East has seen rising numbers of veterans of the Iraq and Afghan wars transitioning into homelessness.
One of MHA's key initiatives in the Antelope Valley has been providing Supportive Services for Veterans and Families. In the work done by the area non-profit's Military Resource Center, MHA has housed hundreds of veterans and their families during the six years the program has been operating.
In the Los Angeles Times report in June, Marston, said the agency's national homeless program is in the midst of a 100-day campaign to help veterans beat the tough rental market.
On Nov. 30, at MHA, Marston shared that VA Healthcare in West Los Angeles, is overhauling its processes for getting veterans into housing.
She said VA will be looking to "Define, Measure, Analyze, Improve and Control" outcomes, with taking care of the "sickest veterans first" according to their acuity of physical and mental condition.
Some — as in the Antelope Valley — require emergency shelter first.
An emergency winter shelter with its doors opened for the homeless at the National Guard Armory in Lancaster in November.
Some veterans are candidates for "rapid rehousing," a kind of bridge housing program, and others will ultimately qualify for the VASH program, VA Supported Housing.
"Veterans come in and are screened for their eligibility and interest, and scheduled," she said.
Both cities of Lancaster and Palmdale are undertaking initiatives specifically to respond to veteran homelessness, at the same time as numbers of homeless citizens have spiked across the Antelope Valley, and across Los Angeles County.
The next homeless count across Los Angeles County will be conducted on Jan. 23, 2018.