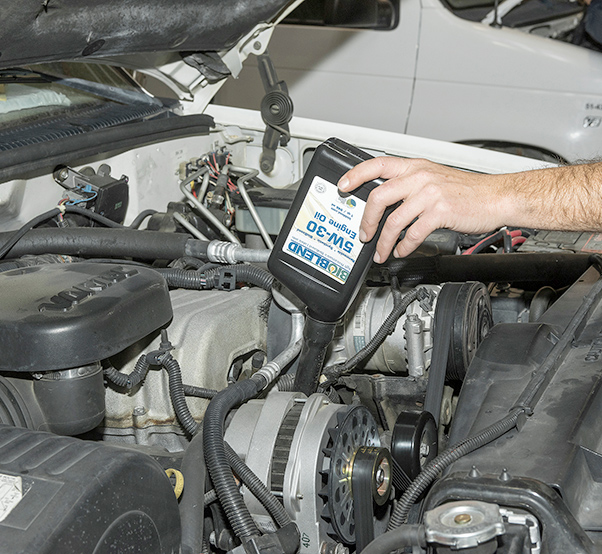 NASA is assisting with performance testing and validating of three new bio-based engine oils that developers said could lead to better gas mileage, longer oil-change intervals and reduced emissions.
Four vehicles and soon five at NASA's Armstrong Flight Research Center in California are using the new engine lubricant. The U.S. Department of Defense Bio-based Motor Oil Demonstration Program focuses on these new oils that are a blend of conventional synthetic oils with 25-40 percent bio-based material, such as domestically-produced soybean and canola oils and animal fat.
"All three bio-based motor oils used in the demonstration have American Petroleum Institute certification for use in gasoline engines," said Andy Shaban of the U.S. Defense Logistics Agency and a coordinator for the lubricant oil tests. "Using the oil does not require engine modifications and is expected to be comparable in cost to fully synthetic petroleum engine oil."
Shaban explained the bio-based synthetic oils are being demonstrated to validate their performance and to determine when, based on vehicle miles driven or idle time, the bio-based engine oils need to be changed based on laboratory test results.
Vehicles at NASA's Kennedy Space Center in Florida, Langley Research Center in Virginia, Johnson Space Center's White Sands Test Facility in New Mexico and other government agencies across the country also are part of the pilot project expected to conclude in 2019, he said. Project participants were chosen to represent the diversity of climate regions.
The demonstration vehicles use of the engine lubricants and laboratory analysis will provide information that will help evaluate current oil performance and determine oil change intervals. Of the three participating oil companies, one has its oil commercially available. The other two bio-based lubricants are in pilot production and expect to have their products commercially available soon, Shaban said.
At Armstrong, as at other federal facilities, the engine oil was drained in test vehicles and analyzed at a lab to develop a baseline of comparison to the synthetic lubricant, said Jason Denman, auto shop lead at Armstrong for Kay and Associates Inc. The new oil, which has a clear, gold tint like traditional engine oils, was poured in the engines.
Every six months samples will be collected with a tube inserted in the dipstick opening for a sample of about half a pint, Denman said. It will be analyzed for metal flakes and particulates, carbon content and breakdown of the additives that will give researchers clues as to how long the oil will last in actual use and engine wear.
Denman said he is enjoying helping on the research side of the center.
"I like being part of something that could be the new standard," he said. "Anything that can help the environment and what we leave behind is a benefit."
DOD used 1.1 million gallons of four-cycle engine oil annually in 180,000 vehicles, Shaban said. The entire federal government, including the military services, civilian agencies and the U.S. Postal Service, maintains 633,000 vehicles.
The DLA also is coordinating on the project with the Office of the Assistant Secretary of Defense for Energy, Installations and Environment in Washington, D.C., and the Air Force Research Laboratory, Advanced Power Technology Office in Ohio.