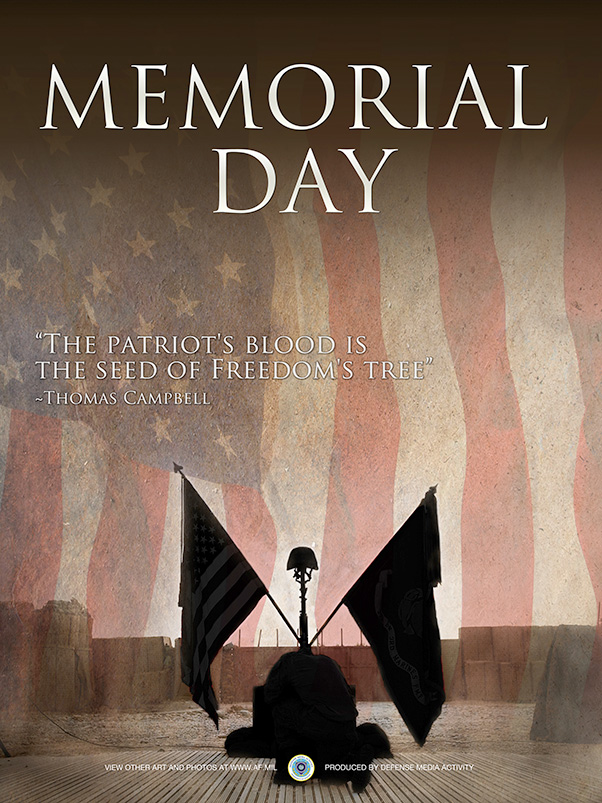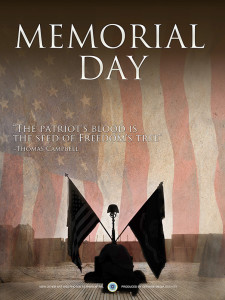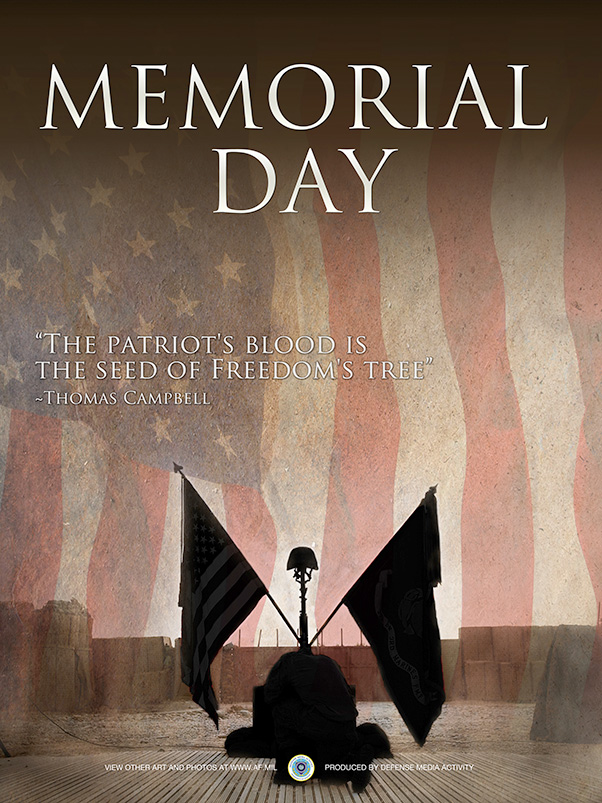 Lancaster Veterans Home
There will be a Memorial Day barbecue 11:30 a.m.-1:30 p.m., May 28 at the Lancaster Veterans Home at 30th Street West and Avenue I.
Sponsored by Coffee4Vets, Crazy Otto's and IBEW Local 11, the event will remember and honor Gunny R. Lee Emery. Special guest is Congressman Steve Knight. The event is open to all.
For more information, contact Terry L. Wagner at 760-559-4837, Guy Mulalley at 760-373-2460 or Juan Blanco at 661-860-7823.

Lancaster
The historic Lancaster Cemetery, part of the Antelope Valley Cemetery District, located in the heart of the City of Lancaster, will host a Memorial Day ceremony at 9 a.m., May 28 at the Veterans Court of Honor.
Cadets from Joe Walker Middle School Civil Air Patrol will post the Colors led by Traci Scott, Chief of Staff, Civil Air Patrol Pacific Region. Sylvia Gaxiola will sing the National Anthem and Bishop Henry Hearns will give the invocation.  Antelope Valley Blue Star Mothers and representatives from the Marine Corps League will place the military service wreaths at the flagpoles. Cemetery trustees Dave Owens, Richard Cook and Cynthia Poole will place a memorial wreath at the main flagpole.
Retired Air Force Lt. Colonel William "Flaps" Flanagan will be the guest speaker. Flanagan served with the 12th Tactical Reconnaissance Squadron in Vietnam. Flanagan is a 1976 graduate of the USAF Test Pilot School. He has more than 4,000 flying hours with 500 hours in the B-2 and has been mission qualified in the F-4, F-111, SR-71, T-38, and C-135 aircraft as well. In 1969 Flanagan flew 169 combat missions in the RF-4C Phantom in Southeast Asia. Flanagan was employed by the Northrop Grumman Corporation for 20 years as a flight test Weapon System Operator on the B-2 bomber, retiring in 2007.  
U.S. Navy veteran Phil Roberts and cemetery manager Dayle DeBry will perform the Bell Ceremony to honor those who have passed since last Memorial Day.  Sylvia Gaxiola will sing "Amazing Grace" following the Bell Ceremony. Trustee Chairman Dave Owens will read an original poem entitled, "Laid to Rest."
For more information, call Dayle DeBry, Manager at 661-942-6110.

Palmdale
The Antelope Valley Service Organization Association will hold its annual Memorial Day Ceremony at 11 a.m., May 28 at Desert Lawn Memorial Park, 2200 East Avenue S in Palmdale.   The event is free and open to the public. Seating is limited and attendees are encouraged to bring their own chairs.
Palmdale Mayor Jim Ledford will offer welcoming remarks and introduce the dignitaries.
Maj. Conrad Hernandez, Commander of Highland High Schools Air Force JROTC will serve as Master of Ceremonies. Local organizations participating in the Memorial Day event include Highland High School Air Force JROTC, American Legion Post 348, Elks Lodge 2027, VFW Post 3552, 348 Auxiliary, The American Legion Riders, the Blue Star Mothers of America — CA-14, and Palmdale Veterans Honor Guard.
The ceremony will include the raising of the Colors and Pledge of Allegiance, invocation and benediction by Margie Hernandez, National Anthem by Tiara Luke, Table of Honor Ceremony, laying of wreaths and a salute to veterans. The ceremony will conclude with taps by a member of the Palmdale Veterans Honor Guard.
The Memorial Day Ceremony is free and open to the public. The AVSOA comprises more than 30 area service clubs and encourages the community to participate in their events. Each year, the AVSOA implements services for Memorial Day, Flag Day POW-MIA Day and Veterans Day.
Immediately following the ceremony, there will be an observance held at the old Palmdale Cemetery, located at 20th St. East.
For more information, call 661-267-5611.

Mojave
There will be a special ceremony to mark Memorial Day at the Mojave Cemetery at 11 a.m., May 28.
The cemetery is located at 2040 Belshaw Street in Mojave.
Speakers include:
* Charles Wallis, a former U.S. Army field medical officer who led groups to overseas deployments to Belgium, Germany, Kuwait and Saudi Arabia. Wallis currently volunteers as baseball coach at Rosamond High School and serves as associate pastor at Rosamond Assembly of God Church. Wallis is East Kern County Coordinator for Youth for Christ and is involved in the Kern County Youth for Christ Juvenile Justice Ministry.
* Retired Navy Senior Chief Petty Officer Warren "Doc" Guest who served in Vietnam. Guest is a local radio personality and is an active member of the Mojave Elks Lodge BPOE #2059.

Tehachapi
There will be a Memorial Day ceremony at Philip Marx Central Park (located at Mojave and East Street, in downtown Tehachapi) at 10 a.m., May 28.
There will be a gueast speaker and a laying of the wreaths ceremony. Additionally, various veterans' organizations will have information booths. The Tomo-Kahni DAR are providing free hot dogs and drinks.