More than 2,500 students participated in the 27th annual Salute to Youth at the Antelope Valley Fairgrounds, where they had a chance to meet with industry leaders and learn what they can do to prepare themselves for future job opportunities.
"We believe that Salute to Youth is important for our students because it connects them directly with industry partners across 15 different industry sectors," explained Diane Walker, Director of Industry Liaison and Post-Secondary Partnerships for the AV Union High School District. "Students can get information directly from them, including what type of classes they should take and what type of experiences they should have to prepare themselves for careers in those particular industries."
More than 50 vendors were on hand to inspire and encourage students to discover their personal interests or help direct them on a path toward a certain career.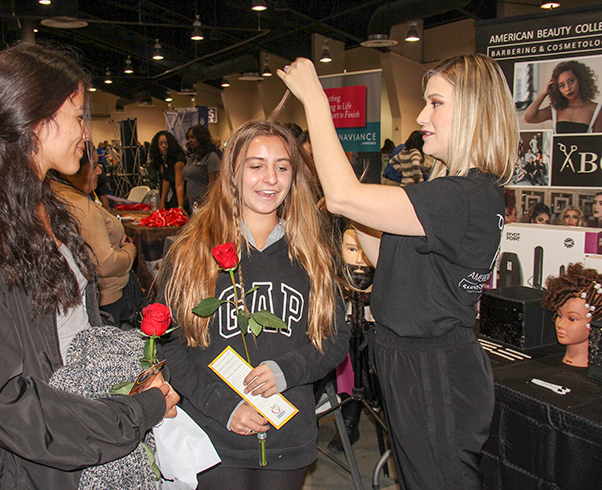 Eighth and ninth grade students received hands-on demonstrations and asked questions from employees working in varied areas including aerospace, medical, security, health and beauty, computer coding, and virtual reality.
Geologist James Papin works in Environmental Management and said he wears many hats while working at Edwards Air Force Base, Calif. "We do everything from advising on handling hazardous materials and waste, to erosion and snake control."
"Only about 10 percent of high school students will go on to a four-year college right out of high-school," said Matthew Winheim, Eastside School District STEAM Coordinator. "This event is good because students can see professionals not much older than themselves and can envision themselves in that field." Winheim was thankful that the vendors shared their time and talents. "They put in a lot of time and expense to inspire and help these students. That says a lot about the support we have from our community."