by Linda KC Reynolds
Staff writer
Military bases in the Antelope Valley have tighter ties with the surrounding communities than their counterparts throughout California, or even across the nation, according to David "Jester" Smith, master of ceremonies at the Installation of Officers and Directors ceremonial dinner Nov. 2 night for the Civilian-Military Support Group at Edwards Air Force Base.
In fact, Smith told the crowd of 100 gathered in the University of Antelope Valley Grand Ballroom that Edwards Air Force Base has "one of the best relations with the community" he's ever seen.
Smith acknowledged the presence of certain high-profile community members attending the dinner, including Lisa Moulton, district director for Congressman Steve Knight, R-Calif.; Donna Dennis-Hill, field representative for State Sen. Scott Wilk, R-Santa Clarita; Russell Williams, field representative for Assemblyman Tom Lackey, R-Palmdale; Donna Termeer, field deputy for Los Angeles County 5th District Supervisor Kathryn Barger; Kern County 2nd District Supervisor Zack Scrivner and his wife Christina; Dr. Les Uhazy, dean at Antelope Valley College, accompanied by his wife Jane; Alis Odenthal, retired manager at Southern California Edison; and Aida O'Connor, founder of the Civ-Mil Support Group.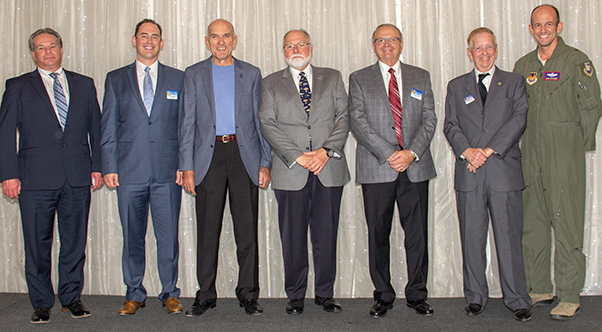 Allen Hoffman, a Boeing site manager at Edwards/NASA Armstrong and president of the Civ-Mil Support Group announced the presentation of colors by the Blue Eagles Honor Guard. "I love the whole U.S. Air Force and the Navy," Hoffman said.
Chief Master Sgt. Roosevelt Jones, command chief master sergeant for the 412th Test Wing at Edwards, led the Pledge of Allegiance and Chaplain Cam Martin recited the invocation acknowledging the presence of God to help "defend our liberties."
Brig. Gen. E. John "Dragon" Teichert, commander of the 412 Test Wing, administered the oath to incoming officers and directors on the Civ-Mil board.
Officers are Hoffman as president; Rhonda J. Nelson as vice president; Matthew Winheim as secretary; and David Norris as treasurer.
Incoming directors included George Nagy, who retained his board seat, as did Nelson, Norris and Winheim. Others who remained on the Board of Directors included Les Uhazy and Bob Slade. Three new directors on the board were Chris Spicher, Bill McCabe and Alexia Svejda.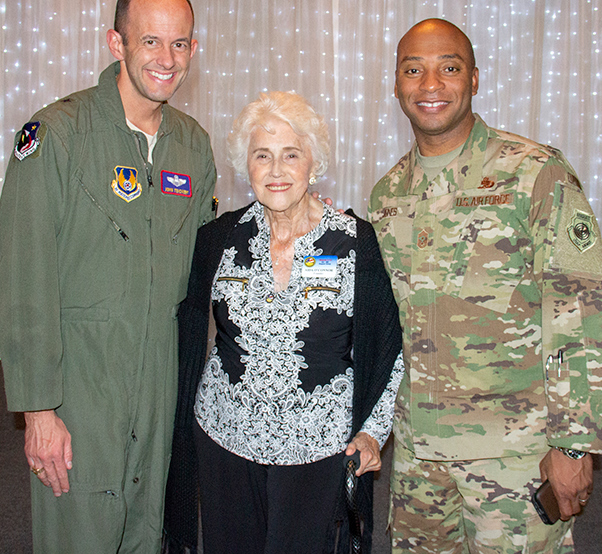 Although Mark Thompson and Mike Belzil will no longer serve on the board, each man will maintain membership in the Civ-Mil Group. They were recognized for their great contributions of time and energy over the years.
Teichert told the crowd that on May 2, 1776, France and Spain each donated $1 million of weapons and ammunition to the American Revolutionary Cause. Eight days later, the Second Continental Congress approved that the Colonies could form independent governments. Two months later, the Declaration of Independence was signed.
Back then, Teichert said, "Our partners encouraged us, and equipped us, and emboldened us."
In that same manner these days, Teichert said, "the only reason we could do anything we do at Edwards Air Force Base is because of our partners — especially the Civ-Mil Group."
Hoffman mentioned some of Civ-Mil's accomplishments. He reviewed past efforts with eyes set on the future.
"Our organization is a relatively small, but mighty, group of selfless individuals from across the Greater Antelope Valley, or Aerospace Valley, that has provided hundreds of thousands of dollars supporting the airmen, other service members and their families at Edwards for more than 28 years."
Some of the money went to an Emergency Relief Fund. Other dollars went to holiday projects for those serving overseas and their families back home. The Support Group ordered new flags for the Flag Park. Support Group members also worked on Quality of Life initiatives and they refurbished a pool table for the Airman Leadership School.
Group members distributed books recognizing the organization's 25th Anniversary to every Air Force Base, all regional libraries, school districts and other interested parties here in Aerospace Valley, Hoffman said.
"We're looking forward to putting the 50th Anniversary book together. It's important to document where we've been." That, Hoffman said, "shows where we're going."
On May 18 the Group had Civ-Mil Outreach Day at Edwards. "You got to see more than the hardware. You got to see how the people live," Hoffman said. Military Retirees Appreciation Day followed on May 19.
An Inaugural Golf Tournament took place Sept. 28 at Muroc Lake Golf Course.
"I'm not really a golfer, but I learned a lot about golfing," Hoffman said, adding he foresees the tournament becoming an annual event.
He lamented about the death of veteran George "Bud" Reams in September. Reams had been the Group's treasurer and long-time director.
"Bud meticulously kept our financial records current." Hoffman said Group member David Norris "stepped up" to fill the treasurer's role. Reams was voted an honorary lifetime member.
Another very visible veteran, Gunnery Sgt. R. Lee Ermey, died earlier this year. Those who knew him called him "Gunny." As a remembrance, the road at Avenue N and Sierra Highway will be dedicated in his name at 11:20 a.m. on Nov. 10 – a spot where some locals gather to watch aircraft at Plant 42 soar.
Hoffman called Gunny "an icon of the Antelope Valley and our nation."
"What's so fascinating about our directors?" Hoffman asked, rhetorically. "Everybody has a job, but they always make time for Civ-Mil."