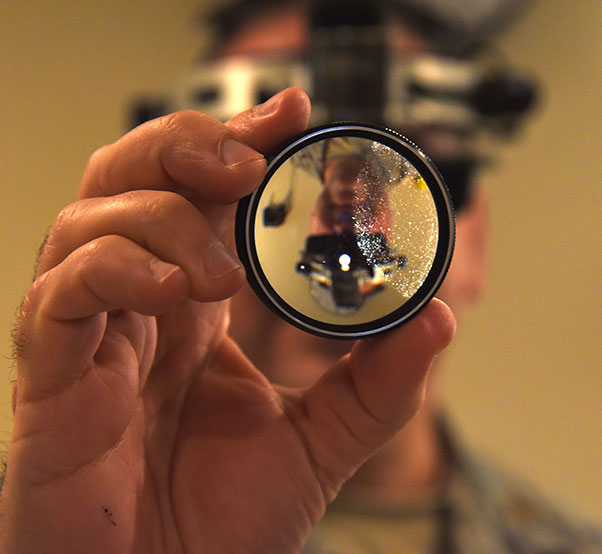 With recent advances in technology and the addition of a laser system in the KC-46A Pegasus, there are precautions that the Air Force must take in order to keep Airmen safe.
"When it comes to ocular safety, we perform a laser eye exam," said Staff Sgt. Aaron Prevost, 22nd Aerospace Medical Squadron optometry flight chief. "We're checking and getting a baseline for their vision."
These exams are performed on individuals, laser workers, who work with or in the same environment as the Large Aircraft Infrared Countermeasures system, or LAIRCM, which provides a defense system to protect large transport or rotary-wing aircraft. It also includes an infrared laser jammer countermeasure system to protect the aircraft from infrared guided threat missiles. Members working with or around the LAIRCM undergo an exam before encountering the equipment.
According to the DOD 6.055.05-Occupational Medical Examinations and Surveillance Manual, laser workers are considered to be at a high risk of accidental exposure due to their continuous involvement with a laser system. Workers are required to complete multiple visual tests before qualifications are given.
"What we would like to see during the exam is someone who is seeing 20/20 far and near, their intraocular pressures are normal and they're not having any color deficiencies in either eye," Prevost said. "We also want to make sure that the retina is responding normally and that there are no missing pieces or vision distortion."
By being proactive and having already obtained readings from an initial exam, if an incident were to occur the optometry clinic would be able to pull information and repeat the process to help pinpoint what damage was made to the laser worker's eye.
"The exam lets us capture what the real risk of lasers are as they impact the back of an eyeball," said Lt. Col. Richard Speakman, 22nd AMDS commander
The previous documentation can help the clinic conclude what is wrong with the patient and can inform the doctor on what actions need to be taken to provide treatment.
"They'll continue to get the treatment and the proper echelon of care until we figure out a solution," Prevost said.
The initial exam is not just used to receive a baseline, but it's also used to determine whether or not an individual is capable of working in a laser environment or if it would endanger them of completely losing sight.
"Let's say that the best they could see during the initial test was 20/100 and they could only see monocularly for example," Prevost said. "If something happened to the one good eye that they had, that's it."
With the addition of the KC-46 and various integrations that come along with it, additional safety measures are being taken to ensure not only that the mission continues, but also that the Airmen are cared for.
"Whatever happens, they can always say 'This is how I'm feeling and what I've noticed. Can I get this checked out?' 'Yeah! Let's do an evaluation and make sure that you are taken care of,'" Prevost said. "That way it helps identify safety hazards and it keeps the patient feeling good in terms of 'Oh, okay! I'm being looked out for.' and that's important."