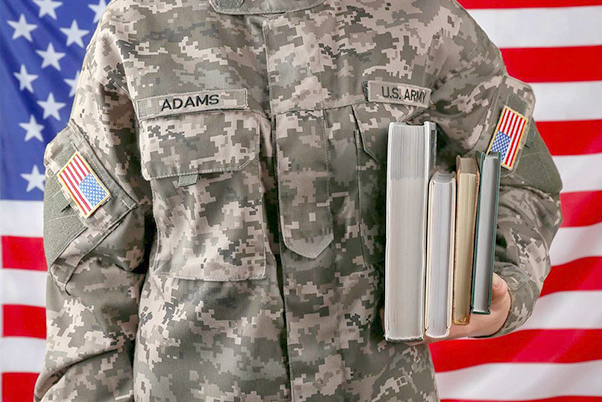 When it comes to the education benefits offered by the Veterans Administration, I'm currently a little jaded (we'll get to that later). However, that does not mean that the programs offered are not helpful. There are a number of different options available, along with avenues to access them.
If we walk through the life of Sally Servicemember, we meet her when she's in Basic Training. She is paying $100 per month out of her check for the first year to ensure she secures her G.I. Bill benefits. At this point in time, she has no idea what the G.I. Bill is and she doesn't really care. She just wants to make it through basic and on to her technical school. But, let's pause to understand what the G.I. Bill is and what it can offer service members.
Historically, our nation's service members have ridden a rollercoaster of political response and emotional feedback upon returning from foreign battlefields. Many veterans have struggled — just as they do today — to find their foothold back in society.
Luckily, the political machine in the 1940s was a little more focused on actual humans and their struggles than in recent years. The only thing the House and the Senate couldn't agree on was the section of the G.I. Bill that dealt with unemployment. Both factions signed off on the education and home loan benefits without question, according to the Veterans Administration Web site at https://www.benefits.va.gov/. This means that the G.I. Bill has existed since "President Franklin D. Roosevelt signed it into law June 22, 1944," according to the VA Web site.
Ultimately, the Veterans Administration was placed in charge of ensuring that service members received the education and training; home, farm, or business loans; and unemployment pay they had sacrificed to earn. It allowed service members to become college educated — something that was previously unattainable. The bill also allowed veterans to purchase homes, with an estimated 2.4 million World War II veterans taking advantage of this benefit. In the end, the unemployment benefit political officials were so worried would corrupt veterans only saw a usage rate of about 20 percent, according to the VA Web site.
The G.I. Bill has changed a few times since its inception — once in 1984 and once after Sept. 11, 2001. The first change — an effort to ensure the endurance of the bill — was made by a Mississippi congressman who added his moniker to the G.I. Bill, thus labeling it the Montgomery G.I. Bill. Our second and most recent change to the bill came after the attacks on our nation Sept. 11, 2001 — the Post-9/11 GI Bill. A few additional benefits were added like more money for educational expenses, a living allowance, a book stipend, and having the option to transfer your benefits to an immediate family member, according to the VA Web site.
There have been a myriad of different educational options initiated by the VA, so don't get the GI Bill confused with some of the others:
• Veterans Educational Assistance Program (VEAP) – This was offered to those who served from Jan. 1, 1977, to June 30, 1985. You contributed up to $2,700 and the government matched contributions 2-for-1. These veterans could earn up to 36 months of entitlement, but the catch was that these benefits had to be used within 10 years after separating from active duty – otherwise the funds would be returned to the contributor.
• Reserve Educational Assistance Program (REAP) – This program ended Nov. 25, 2015, because most benefits were included in the Post-9/11 GI Bill. Currently, veterans who are attending school using REAP benefits will remain eligible until Nov. 25, 2019. Those veterans who are not enrolled in school are no longer eligible, but should be able to take advantage of the Post-9/11 GI Bill.
Now, let's link back in with Sally. She has gotten the first few years of service under her belt while we were discussing the particulars of the G.I. Bill, and her leaders keep telling her to take some college courses in her spare time. When she goes to the education center on base, she finds out there is tuition assistance offered to active duty service members. She doesn't have to use her G.I. Bill right now at all. She starts taking a few general education classes, and all is right with the world.
Fast forward six months or a year … Sally has to change duty stations or deploy. She puts college on hold to focus on the mission. Don't get me wrong, she takes a course or two here and there over the years, but all of a sudden her first enlistment is up. What should she do? Sally makes the decision to finish her time in service and go to the local community college.
Sally meets with the school's VA representative and finds out how to use her G.I. Bill benefits. In no time she is taking a full load of courses and finishing her associate's degree. What's next? Sally works some odd jobs, but she realizes that an associate's degree in today's job market is mostly white noise. Sally reenlists.
This time around, Sally is wiser and more focused. She knows she needs to take every opportunity for education, whether it is a military or civilian course. Her motivation is unmatched. Within a few years (while serving on active duty), Sally has her bachelor's degree. She continues to work and excel. She gets promoted. Then, one day, it's time to retire.
Sally had a number of different jobs in the military. She was always willing to try something new. But, her degree is in a pretty general subject — she had to have something she could complete online with all the required traveling. No worries though, she met with a VA counselor during her outprocessing, and was assured of continued educational benefits.
Here is where the road diverges in the wood for many service members. We now have those who separated or retired with no disability and those who separated or retired with a VA disability rating.
The VA Vocational Rehabilitation and Employment (VR&E) program offers disabled veterans "help with job training, employment accommodations, resume development and job seeking skills coaching," according to their website. This part of the process is where we circle back to my opening statement about being jaded in regard to the process. Let's say Sally retired with a disability rating. She is encouraged to apply for VR&E services during transition, because she wants to pursue a teaching certificate. She already has her bachelor's degree, so it should be a fairly simple process. She just needs a little cash infusion to pay for the certification.
Sally drives to the closest VR&E office and meets with a counselor after a two-hour inprocessing with other veterans. She hears stories from some of the others waiting to be called for their individual appointments. When it's Sally's turn, they take the inprocessing sheet she filled out (honestly and accurately) and see that she already has a degree and some certifications from her previous military career field. She is basically told that she doesn't need the VA assistance as much as others because she already has education … and why doesn't she pursue a career in that field. The counselors are friendly, but don't give Sally much hope for a positive outcome. Nonetheless, they tell her the final decision will be mailed to her home. Fast forward a few weeks, and Sally gets a letter that states what she already figured — she isn't going to receive any benefits from VR&E.
The process of getting an education is difficult enough. For those of us who have had to stretch our educations over decades because of work demands, the process is even trickier. Remember that your best advisers are real people who have either stood in your boots or who have helped others navigate the process. Every community has a Disabled American Veteran office or American Legion (https://www.legion.org) post or Veterans of Foreign Wars organization. There are more veterans than you think no matter where you live, and the one thing veterans are great at is finding commonality with one another and creating communities where there previously were none.
If you are ready to earn a degree, a license, or a certification, start at https://www.benefits.va.gov. From there, reach out and talk to people in your community who can help you achieve your specific goal. The military got what they needed from you. Now it's time to get what you need from the military … and the VA.
I don't want to go the traditional college route … what else you got?
Cooperative (co-op) Training: The GI Bill is available to use with cooperative training. Cooperative training consists of individuals attending school part-time and work part-time. VA may provide educational assistance for pursuit of a program of education offered by an approved Institution of Higher Learning. The training must be full-time and consist of phases of school instruction alternated with training in a business or industrial establishment.
Correspondence Training: Correspondence training differs from distance learning in that you receive lessons in the mail. You have a certain amount of time to complete and return the lessons for a grade.
Entrepreneurship Training: Are you interested in starting your own business? Would you like to learn how to get started? Or are you a current business owner who wants to learn how to boost your small business operation? As a service member or veteran you now have an opportunity to use your education benefits to learn how to start or enhance a small business.
Flight Training: VA offers flight training benefits to those who want to advance their pilot qualifications. You must have a private pilot's license and valid medical certification before you start training. Payments are issued after the training is completed and the school submits your enrollment information to VA.
Licensing and Certification: Open new doors to employment by getting licensed or certified as a mechanic, medical technician, attorney, or other professional. Often required for work in certain fields, these tests may be eligible for GI Bill reimbursement.
Non-College Degree Programs: The GI Bill is available for training at non-college-degree Institutions. This includes the training in areas such as HVAC repair, truck driving, emergency medical training, and barber/beautician school.
On-The-Job Training and Apprenticeship: Advance your employment prospects by learning a trade or skill through participation in VA on-the-job training or apprenticeships. These programs typically involve entering into a training contract for a specific period of time with an employer or union. At the end of the training period, a job certification is issued or journeyman status achieved. Most veterans receive a salary from the employer or union during training. As your skills increase, so may your salary. GI Bill payments are issued monthly after VA receives certification of hours worked from your employer or union.
Editor's note: Information is from the https://www.benefits.va.gov website.