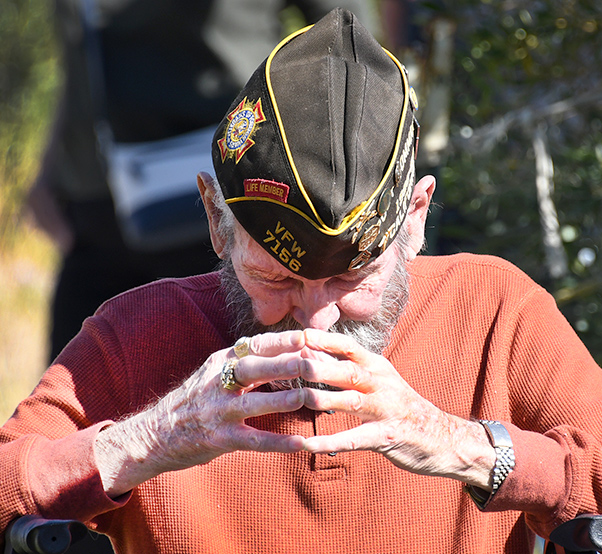 Dave Barr, guest speaker at Mojave Air & Spaceport's Legacy Park, began his Veteran's Day address by saying, "It's going to be commitment and attitude that will carry the day."
The annual Veterans Day ceremony was sponsored by Mojave Transportation Museum Foundation, Mojave Chamber of Commerce and Mojave Air & Spaceport.
"I gave a lot of thought to what I was going to speak about this morning — all the different ways we could have lived our lives," Barr said. "But I wanted to focus on the things that we have in common."
"There are a lot of veterans here, I can see there are first responders and I know there are a lot of us who know what it's like to believe in something so strongly that we are willing to put our lives on the line for it," he said.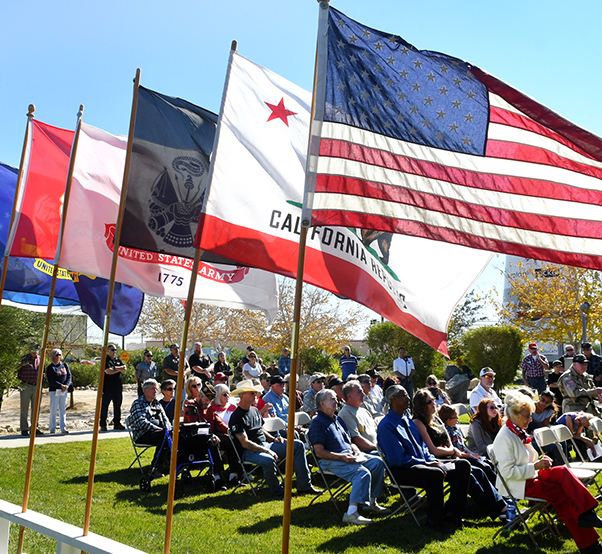 "In my life, I have had the privilege of serving four countries during times of conflict and my reason for doing so is, I didn't want the 'bad guys' to win," said Barr.
In 1969, at age 17, Dave began his military career with the U.S. Marine Corps, receiving 57 air medals while serving on a helicopter gunship in Vietnam.
He left the Marines in 1972, but felt the need to seek adventure and another cause. He chose to support peace and stability first in Israel, later in Zimbabwe/Rhodesia and finally in South Africa.
Following a fateful landmine explosion in 1981, Dave sustained life threatening injuries that ultimately resulted in the amputation of both of his legs and the loss of one eye.
"Commitment and attitude — what do they really mean in terms of the line of duty," asked Barr. "I believe commitment is strict adherence to one's belief. An unwavering pledge to do what is right and an unquestionable responsibility to do whatever is necessary to get a job done."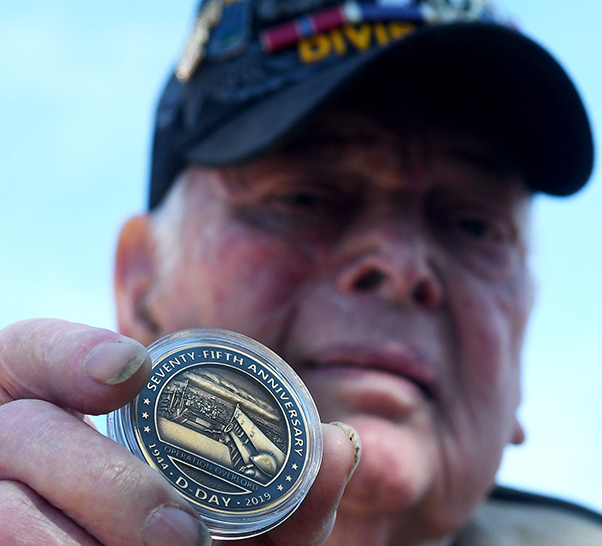 Then he asked, "What about attitude?" He explained that the dictionary tells us that attitude is behavior that displays what we believe and what we think.
"When we are fair, people know that we will give them the same respect that they give us. When we are strong, people know that we have principles that will not be compromised. When we are compassionate, people know that we know human nature and all that it is capable of, both good and bad," he explained.
Barr talked about the pressures of society telling us who we should hold up, athletes, sports figures or movie stars, who are paid large sums of money as heroes. "Actors portray real life heroes, but what price do they pay for their fame?" he asked.
"Do those uncomplicated heroes of our childhood still exist?" He answered his own question with, "You bet they do, but they aren't rich and famous. They don't get the attention that they so rightly deserve, but nonetheless, they have earned that title of hero, because they have shown an unwavering commitment to doing what they believed was right and an attitude of going beyond and above the call of duty, no matter what the price," he said. "And sometimes that price is very dear." he concluded.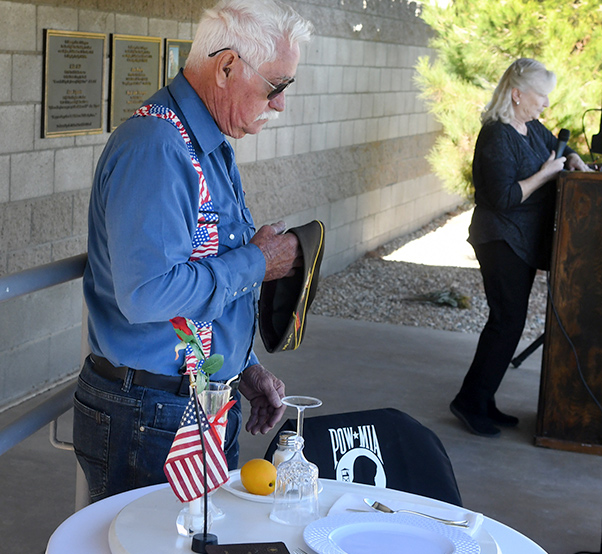 Barr said, "You can look back at the heroes of our childhood. For me, it was my father and my uncles." One uncle served aboard a Navy destroyer at D-Day, another uncle was in the Marines and was a Beach master at Guadalcanal and Iwo Jima. Barr's father was a crewmember aboard a PBY flying boat during the attack on Pearl Harbor.
"I think we can agree that the heroes of our childhood possessed those same two qualities — commitment and attitude, Barr said. "They weren't afraid to stand up for what they believed in, no matter what the cost. Sometimes the cost was very dear."
"They stood for what was right in a world that had gone all wrong," said Barr. "They were the strong silent types, they were stoic, they were understated, they simply got the job done and went on about their business quietly," said Barr. "Unfortunately, that generation of heroes are leaving us at an all too alarming rate."
In the audience was a close friend of Barr's, 95-year-old World War II veteran, William 'Bill' Galbraith, who served with the 101st Airborne, 506th Parachute Infantry Regiment and parachuted into Normandy on D-Day, June 6, 1944, at the age of 20.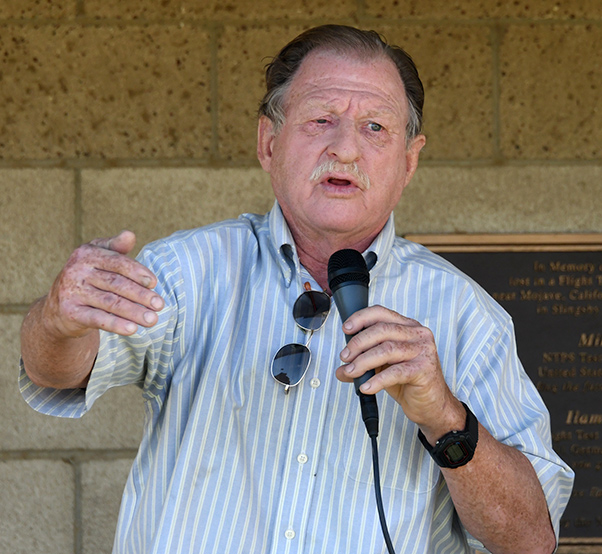 "When I was a young man, I used to salute my heroes for their courage and bravery," Barr said. "But now, as my generation and many of you older fellas who have served, we pass that sword of freedom on to the next generation."
"I salute those heroes today, not for their courage and bravery, but most of all for their commitment and attitude to service and duty," said Barr.
Sally and Ken Kendall presented the POW/MIA Table Tribute. Ken Kendall served with the U.S. Marine Corps in Vietnam.
Pastor Charles Lowery, U.S. Army Vietnam Veteran with Heirs with Christ Church in Mojave, gave the Invocation and Closing Prayer, Tim Lomba, U.S. Air Force Veteran sang the National Anthem. Pastor Lowery and Lomba led the audience in singing God Bless America.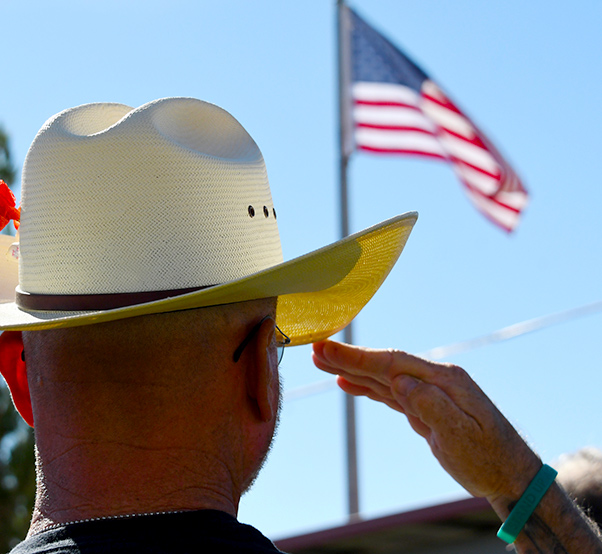 Barr is the author of four books, including Riding the Edge which details his trek around the world on his motorcycle. The second book, Riding the Ice, tells of his incredible 13,000 mile winter journey across a frozen Northern Europe, Russia and Siberia on a 1996 Harley-Davidson Sportster. The third and fourth books are two volumes, Four Flags, and tells of his odyssey as a professional soldier, seeing war at the 'sharp end' while he served in the military alongside men and women in foreign lands.
He established the Dave Barr Foundation to support charitable organizations, both in the U.S. and overseas, that are dedicated to improving the lives of disabled veterans. The Patriot Express, was created in 1996 as part of the Dave Barr Foundation. It is a series of motorcycle related events and fundraisers, designed to raise awareness, while providing donations, support, and counseling, to the families of our injured veterans, including the troops who return from duty with long-term medical care needs.