In 2015, a development contract was awarded to Northrop Grumman for the 21 century's first bomber.
Since then, speculation has ranged far and wide as to the capabilities and characteristics of the new aircraft.
Both the U.S. Air Force and Northrop Grumman have been highly secretive when it comes to details of the B-21's design, and the only images released have been artists' renditions
And while the late Sen. John McCain, R-Ariz., fought with the Defense Department in 2017 when the Senate Armed Services Committee was denied information on additional program spending, we now know that each aircraft will cost approximately $564 million in 2016 dollars.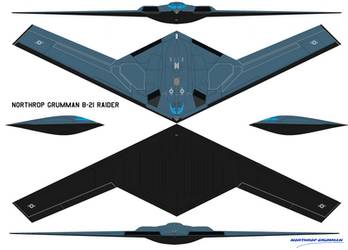 B-2 VS B-21
With so little known about the B-21, there is lots of speculation and people are asking questions. What is the difference between the B-2 and B-21? Will the B-21 will pick up where its predecessor left off?
At first glance they look very similar, a flying wing design Northrop has been working on for decades beginning with the YB-49 in 1940s, and the B-2 in the 1980s. The B-21 will be the culmination of decades of design and testing, and could be the aircraft the B-2 Spirit was always meant to be.
The B-2 was always originally intended to be operational at 60,000 feet. However, during the design phase, the U.S. Air Force demanded a low-altitude penetration capability. After fear of Russian radars neutralizing the B-2's low observable attributes, the official flight ceiling for the B-2 was dropped to 50,000 feet.
So, how high will the B-21 fly? It's likely the B-21 will reach the high-flying goal of 60,000 feet.
So, will the B-21 be a drone? It will have air-to-air capabilities, which means it will be able to control benign drones.

A recent Freedom of Information Act request revealed the B-21 Raider could be operated in a manned or unmanned configuration.
The B-21 will network with various American assets and share data with squadrons of planes and other aircraft, giving a complete picture of the battlefield. With Battle Space Networking it will be able to direct long-range missiles fired from other U.S. assets.
The initial Air Force request for proposal did ask for the aircraft to be capable of manned and unmanned operation. However, Air Force officials have shown little interest in having that capability on Day One of the plane's service life.
Some have said that, "in this modern age of unmanned aircraft, this may prove unwise; an unmanned option would increase the U.S. military's operational flexibility, providing much-needed endurance and persistence at only a marginal increase in cost."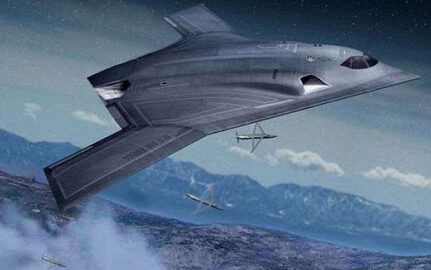 To date, the Air Force has confirmed that the B-21 will be manned — that is, it will carry aircrew — when it enters service around 2025 and that it will be
nuclear-certified about two years later. The service has also said no nuclear missions will take place without crew aboard. However, the service has not given a definitive answer on when the aircraft is expected to feature an uninhabited capability. It is reportedly "not a short-term priority" for the Air Force, and thus unlikely to be incorporated into early production models.
The B-21 Raider is currently under construction at the company's Air Force Plant 42 facility in Palmdale, Calif., and look set to make its first flight in December 2021, after which it will enter flight test at Edwards Air Force Base, Calif.